Kevin De Bruyne was the talk of the town on Wednesday, signing an extension to his current deal which takes him to the summer of 2025.
The Belgian's new deal will bring up a decade of service at the Etihad Stadium in which he has picked up two Premier League titles, one FA Cup and four League Cups.
Individually, De Bruyne also earned the 2020 PFA Player of the Year award for his phenomenal performances last season and has scored 65 goals and provided an astonishing 105 assists in his 255 matches to date.
The 29-year-old putting pen to paper on a contract extension unsurprisingly grabbed the attentions of the back pages, social media and sports bulletins.
You can see how a selection of the media reacted below…
CITY+ | WATCH FULL-MATCH REPLAYS OF EVERY CITY GAME
iNews: The pieces are starting to fall into place
Oliver Young-Myles: "City have completed three crucial deals over the past six months. The club-record signing of Ruben Dias from Benfica in October has proven transformative, while Pep Guardiola and Kevin De Bruyne have both signed lengthy contract extensions, in November and April respectively.
"There is certainly an argument to be made that Guardiola, Dias and De Bruyne are the three most important members of City's first-team picture; Guardiola has reaffirmed his ability as one of the finest tactical thinkers in the game this season, Dias has plugged the gaping hole left by Vincent Kompany to emerge as the new leader in defence, while De Bruyne is the orchestrator for most of their attacking moves.
"Standing still isn't an option for a club with City's ambition though and crucial as those deals are, others will be in the pipeline."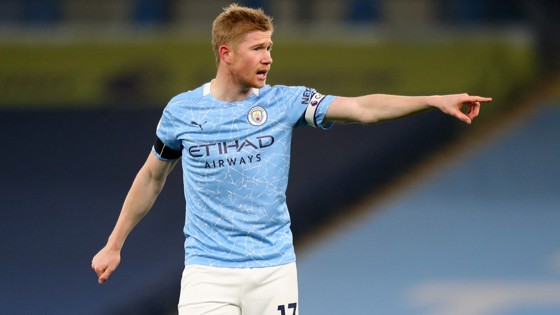 GALLERY: Kevin De Bruyne: City career in pictures
Sky Sports: Could De Bruyne end his career at City?
Fraser Dainton: "He certainly seemed to be talking that way - he's very happy and settled in Manchester and in incredible form.
"It really just seems to be a case of how long he can keep that form going; he's been their players' player of the year three times out of the last five and this season he's been magnificent: eight goals and 16 assists for Man City.
"He creates goals, he scores goals and he's at the heart of everything Man City do. He's incredibly important to their chances of winning the Quadruple.
"On the back of the announcement about Sergio Aguero leaving this news will be very important for City fans.
"They'll be building a statue to him - they should probably build one for De Bruyne considering the amount of success he's had and the influence he's had."
The Athletic*: De Bruyne represents value for money
Sam Lee: "Guardiola has repeatedly made the case that the club will not splash out huge money for targets, something which has alarmed some fans when it comes to the race for Haaland, and the club have generally stuck to around the £60 million mark for their biggest signings — although chairman Khaldoon Al Mubarak has said they would break that for the right players.
"They have a very clear idea of what represents value for money and that has once again been demonstrated in their determination in pushing through De Bruyne's new deal.
"Despite rarely featuring in the Player of the Year conversation, the Belgian has been a vital player for City this season.
"In the early months he shouldered much of the creative burden while his team-mates struggled for form, as City improved in the new year he continued to contribute at a high level and now, following a spell out injured, he has been back to his best."
*subscription required
Manchester Evening News: De Bruyne's closing on Manchester City history
Simon Bajkowski: "De Bruyne, voted as the Premier League Player of the Year last season, remains an integral part of a Pep Guardiola side that is threatening to make even more history as they chase four trophies; the Belgian scored the opening goal of the 2-1 Champions League win over Dortmund on Tuesday and captained his side to victory.
"He is already well on his way to entering the club record books, needing 28 assists in all competitions and 18 in the Premier League to overtake David Silva as the player with the most assists in City history.
"Agreeing and announcing terms with De Bruyne before the season is over will boost everyone as they go in search for an unprecedented Quadruple."
NBC: De Bruyne convinced by Guardiola's long-term ambitions?
Andy Edwards: "To say legend status is in De Bruyne's future, and already well within reach, would be an understatement for inarguably one of the most gifted players the Premier League has ever seen.
"Perhaps De Bruyne's decision was made with certain assurances that Pep Guardiola will remain Manchester City manager for some, if not most or all, of the term of the new contract."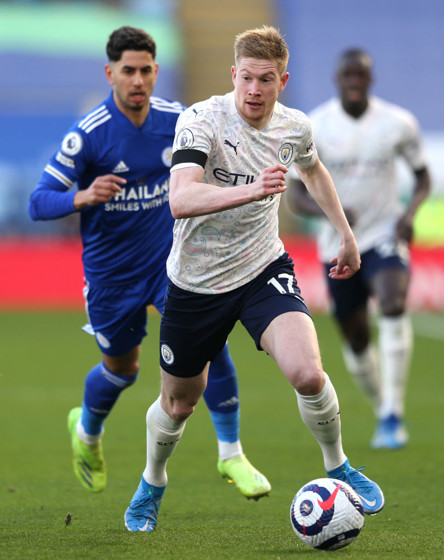 Mail Online: De Bruyne contract a major fillip for City
Jack Gaughan: "The news serves as a major fillip for City and the central midfielder is understood to have been given assurances of the club's plans as they strive to win a first Champions League crown.
"De Bruyne will hit a decade at the Etihad Stadium if he fulfils his latest new contract – mirroring the longevity of Sergio Aguero, David Silva and Vincent Kompany."