Kevin De Bruyne has hailed City's reaction to conceding an equaliser against Borussia Dortmund as Phil Foden netted a late winner in the Champions League quarter final first leg.
The Belgian playmaker opened the scoring early in the first half, finishing off a fluid move after Emre Can lost the ball in midfield for the visitors.
Dortmund skipper Marco Reus struck the leveller after 84 minutes, but with the clock ticking towards stoppage time, Foden coolly slotted in the winner to provide Pep Guardiola's side with the advantage heading into next week's second leg.
De Bruyne, who captained City on the night, was proud of the reaction that City showed after conceding.
"When they came back to 1-1, it a shame but it happens," he said.
"The reaction from us was good.
CITY+ | WATCH FULL-MATCH REPLAYS OF EVERY CITY GAME
"2-1 is a tricky score but at least we go ahead with the second leg. In the first half we had a little bit of difficulty creating chances but we did better in the second half. We maybe should have scored more.
"They play really well between the lines and it happens, the reaction was good and we had a good game."
The attacking midfielder expertly handed City the lead after 19 minutes, blasting beyond Marwin Hitz after an accurate cut-back from Riyad Mahrez.
De Bruyne was involved in the winner too, superbly crossing to the back post for Ilkay Gundogan to set up Foden.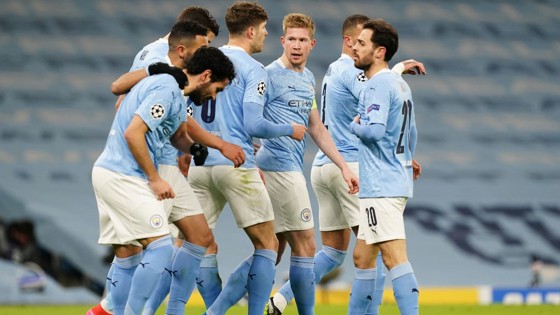 The 29-year-old was just happy that City pounced on the chances and that he could provide for his teammates.
"I can't really remember the beginning of the action but Phil played it across to Riyad and we pounced on the opportunity," he said when recalling the opener. "It was good for us.
"I try to look up before I get the ball, I try to get a picture of what is happening and I was seeing Phil and Gundo running to the second ball so I tried to chip it.
"It was good that it went just above the defender. It was a good action, that's all that matters."
City face Leeds United in the Premier League on Saturday, before coming up against Dortmund for the second leg of the tie next Wednesday.
De Bruyne feels that City have done incredibly well so far this season and need to keep taking it game by game during this gruelling fixture schedule.
"The season started in September this way and never stopped," he said. "I think we've had no midweek off. It's been an incredible run of games. I think the team responded really well to the challenge.
"We are able to compete for every trophy and that is what everybody wants to do.
"We try to take it game by game and now we need to prepare ourselves for Saturday [against Leeds]."