An investigation into what, and who, is behind Ilkay Gundogan's phenomenal form…
34 games, 16 goals, 3 assists.
In a season brimming with superlatives to describe Pep Guardiola's men, Ilkay Gundogan's individual numbers have been particularly impressive.
With the final two months of the campaign still to come, the midfielder is already enjoying the most fruitful attacking return of his career, with his goals and assists surpassing anything previously seen from the midfielder.
Nonetheless, Gundogan has been quick to highlight the vital contributions of the entire squad in making his purple patch a possibility.
CITY+ | WATCH FULL-MATCH REPLAYS OF EVERY CITY GAME
And following his decisive impact in our FA Cup quarter-final victory over Everton, in which he opened the scoring in the 83rd minute, the German emphasised this point.
"We play incredible football, a great system that fits me well and have great players that I profit from as well," he reflected after being asked about his form in front of goal.
"I just try to put in the hard work as everyone else does.
"We try to stick all together to support each other, to be there for each other. That's important, we need to be a team, we need to stay all together and help each other to win big games."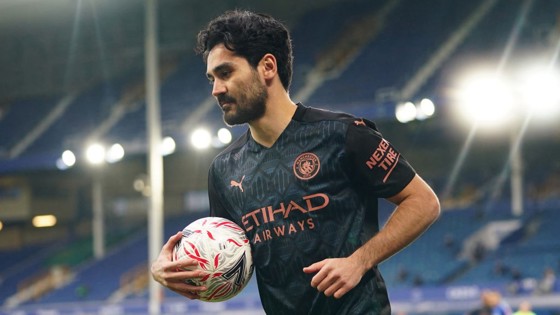 While Ilkay has undoubtedly thrived in recent months, he has always stressed that this has been made possible by subtle tactical switches and crucially, selfless contributions from his teammates.
And based on his post-match thoughts under the Goodison Park lights, his role in our collective success transcends any individual accolades or personal achievements he might garner along the way.
The midfielder has unquestionably flourished thanks to the relentless work ethic of the team around him, but he too reciprocates that favour to help Guardiola's men reach their full potential.
The full backs
The ever-adapting role of the full back not only requires the focal necessity of keeping the ball out of the net, but also places an increasing emphasis on providing width when in possession with overlapping, forward runs.
Guardiola's vintage are no different, making a huge contribution to City's build-up play, but their unique positional trends have proved essential in both the team's and Gundogan's phenomenal form.
Our 4-3-3 system affords Gundogan greater freedom to get forward, support the attack and receive possession in advanced areas.
In response, one of the full backs, usually the right-sided one, has drifted centrally alongside the player at the base of the midfield triumvirate to aid our build-up play.
And comparing the right-back's touch maps in both matches against Liverpool this season emphasises this subtle tweak.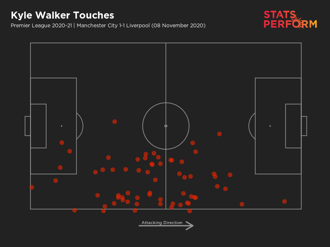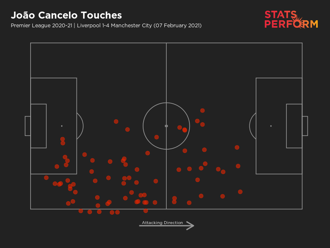 There is an increased involvement in play from a central position from Joao Cancelo in February's Anfield win when compared to Kyle Walker in our draw at the Etihad Stadium.
Whereas Gundogan started as one of two defensive midfielders in November, he was afforded greater freedom to get forward as part of the midfield three in the reverse fixture.
And that 4-1 triumph was one of Gundogan's stand-out performances, taking centre stage by grabbing two goals and an assist as we ruthlessly dispatched the current Premier League champions.
Nonetheless, Joao Cancelo's positional discipline alongside Rodrigo from a central position and contribution to maintaining our tempo helped facilitate the German's intrepid attacking display.
It's yet another demonstration of how, while the individual may be firing on all cylinders, it's the collective which provides the ammunition.
The defensive block
And this trend of meticulous defensive cover also continues when City are out of possession.
With Gundogan afforded the freedom to get forward, greater emphasis is placed upon the holding midfielder to be aggressive in winning back possession and nipping any potential counter attacks in the bud.
The inverted full back provides welcome support to the likes of either Rodrigo or Fernandinho to ensure there isn't an overload in a central position, and this is reflected in a sample taken of six Premier League matches across January and February 2021.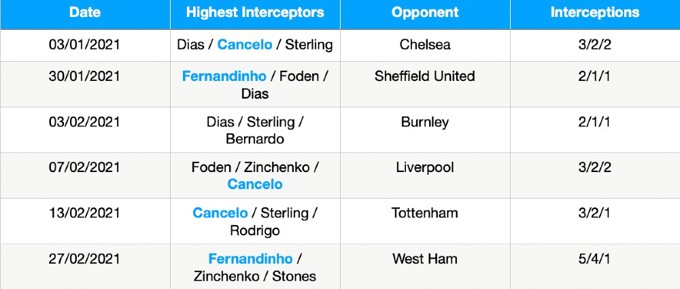 In five of those six matches, either the centrally drifting full back or the recognised defensive midfielder was one of the three highest interceptors across the entire team.
This relentless protective block gives Gundogan greater licence going forward, allowing him to become a more potent attacking threat with his late runs into the box.
While this doesn't paint the full picture, it again shows how the efforts of the group can allow the individual to flourish.
The False Nine
With main strikers Sergio Aguero and Gabriel Jesus both missing segments of the campaign, Guardiola has occasionally deployed an interchangeable 'false nine', allowing the wide men and an advanced midfielder to fluidly switch positions.
While Gundogan has remained a part of the midfield three, it appears that a greater emphasis has been placed on him to get forward if a recognised striker is absent.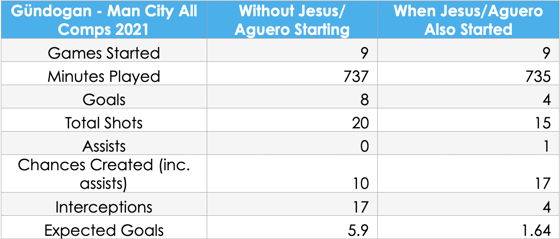 Across the nine matches in 2021 where City have operated without an established front man, Gundogan's expected goals stand at 5.9, compared to 1.64 when a centre forward has been on the field in the same number of games.
His physical goal return has also been more potent when linking up with a false nine, with the eight goals in nine matches doubling the amount yielded when a recognised forward has been on the field.

Nonetheless, this is far from to declare the German a more lethal weapon at Guardiola's disposal when given greater licence to get among the goals.

subscribe to the official man city podcast
Instead, the midfielder adapts to become a provider when an experienced gunslinger is starting at the sharp end, creating 17 chances across those nine matches compared to 10 without.

Whether he's striking the match or lighting the blue touch paper, Gundogan is always reinventing his role to suit the team.

And just like the rest of Guardiola's men, his pragmatism, adaptability, and selflessness towards his own individual game brings the best out of the collective.