Everything you need to know ahead of Manchester City's UEFA Champions League semi-final first leg clash with Real Madrid.
TEAM NEWS
City make four changes from the side that beat Watford 5-1 on Saturday.
John Stones, Bernardo, Riyad Mahrez and Phil Foden return, while four-goal hero against the Hornets Gabriel Jesus retains his place.
Joao Cancelo (suspended), Fernandinho, Raheem Sterling and Jack Grealish make way.
TEAMS
City: Ederson, Stones, Zinchenko, Dias (c), Laporte, Rodrigo, De Bruyne, Bernardo, Foden, Mahrez, Jesus
Subs: Steffen, Carson, Ake, Sterling, Gundogan, Grealish, Fernandinho, Egan-Riley, Mbete, Palmer, McAtee, Lavia
Real Madrid: Courtois, Carvajal, Militão, Alaba, Mendy, Valverde, Kroos, Modric, Rodrygo, Benzema, Vinícius Júnior
WHEN AND WHERE
City welcome Spanish La Liga leaders Real Madrid to the Etihad Stadium on Tuesday 26 April, with kick-off scheduled for 20:00 (UK).
The match is being broadcast live in the UK on BT Sport 2 and BT Sport Ultimate, while those living around the world can find out how to tune in via our global TV Listings at the foot of this page.
You can also follow the key moments of the action over on Twitter: @ManCity.
MAN CITY APP COVERAGE
As always, the official Man City app offers extensive coverage of our Champions League quarter-final first leg.
Minute-by-minute updates, statistics and analysis can be accessed from 18:00 via our Matchday Centre, while our special guests will offer their expert insight from the Matchday Live studio an hour later.
Alistair Mann will guide you through the action at the Etihad Stadium from kick-off with live audio commentary, while those with push notifications turned on will also be alerted to both the team news and when any goals go in.
A detailed match report plus reaction from Pep Guardiola and players can be found soon after the final whistle, while highlights from the game will also be made available from 23:00 (UK).
CITY+ subscribers can also enjoy a full 90-minute replay of our Champions League clash from midnight.
MATCHDAY LIVE
Shaun Wright-Phillips and Shaun Goater are special guests for Tuesday's Matchday Live broadcast.
The duo will offer their expert insight and cast their eye over Guardiola's current crop from 18:45 (UK) on all our official digital platforms.
They will reconvene at half-time for a quick debrief on the first 45 minutes, with more detailed analysis following the final whistle.
Matchday Live makes for essential viewing if you enjoy a City-centric twist to your game day experience.
To get involved and ask our special guests a question, you can send a WhatsApp to: +447537186538.
Injury News
Pep Guardiola says he will make a final decision on the fitness of Kyle Walker and John Stones on Tuesday ahead of our Champions League semi-final first leg with Real Madrid but admits the pair are 'doubts'.
Walker has been sidelined with an ankle knock since our quarter-final second leg tie away at Atletico Madrid earlier this month.
Stones meanwhile missed last Saturday's Premier League win against Watford after having come off reporting muscle tightness during our 3-0 win against Brighton last week.
The boss also revealed at the weekend that both Kevin De Bruyne and Nathan Ake had played through the pain barrier in the course of the Watford win.
Joao Cancelo will definitely miss the game through suspension.
Pep Guardiola preview
"It's an honour to be here in the semi-final playing Real Madrid. In the last decade we start to be there and it's an honour to be here. We will try to do a good game.
"We have to have the desire to compete against them. To play against Real Madrid is an incredible test. We want to try it. We need to suffer, to stick together, when we have the ball try to attack.
"This game will not be won by me or Carlo (Real boss Ancelotti) - it's the players.
"Being in the semi-final is so good. One day we will not be here because it's so demanding – look at the big teams who are not here.
"I say to the players, enjoy that moment. You never know if we will be back here at any stage. We try to be ourselves in the good moments and bad moments."
MATCH PROGRAMME
Our official matchday programme is the perfect way to get you in the mood for our Champions League quarter-final clash.
It's packed full of exclusive interviews, in-depth features, Pep Guardiola's notes, superb photography and all the stats and facts you could want to keep you entertained before kick-off.
CITY+ | SUBSCRIBE TO ACCESS EXCLUSIVE CONTENT
As well as being available for purchase at the ground, supporters who may not be able to attend the game can still order the City matchday programme online for home delivery.
Fans can also order a programme subscription, which saves 25p per issue and includes free postage and packing in the UK.
Order your City v Real Madrid programme, HERE
Last time out
Gabriel Jesus scored four and assisted one for Rodrigo as City moved four points clear at the top of the Premier League table thanks to a 5-1 win over Watford at the Etihad Stadium last Saturday

Pep Guardiola's side made the perfect start and took the lead after just four minutes, with Jesus directing Oleksandr Zinchenko's driven cross into the net.
19 minutes later, Jesus doubled the lead from close range, heading in Kevin de Bruyne's superb cross.
The visitors worked themselves back into the game and halved the deficit just before the half-hour mark as Hassane Kamara raced through the left flank and fired across Ederson into the bottom corner.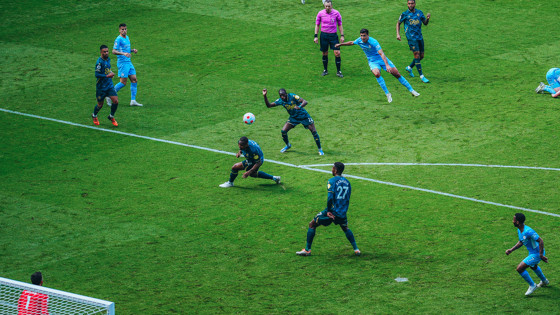 The entertainment continued as we restored the two-goal lead just minutes after conceding through a ferocious Rodrigo strike which flew past Ben Foster and nestled into the top corner.
Just seconds after the interval, Jesus pounced on Kamara's sloppy pass and rounded Foster, who brought the striker down. The Brazilian picked himself up and calmly slotted the penalty into the bottom left corner to claim his first top-flight hat-trick and the match ball.
p>The 25-year-old wasn't done yet and got his fourth goal of the game in the 53rd minute, coolly finishing after De Bruyne's cutback, making him the first player to score four times in a single Premier League game since September 2020.
As for Real Madrid, they secured a 1-3 victory in La Liga on Wednesday 20 April and have the benefit of extra rest and recovery after no weekend game.
FORM GUIDE
Guardiola's side have lost just once in our last 13 matches across all competitions.

Carlo Ancelotti's side have also lost once in their last six games in all competitions, their latest defeat coming to English side Chelsea in the second-leg of the UEFA Champions League quarter-finals.
TV LISTINGS
| | |
| --- | --- |
| Albania | Tring Sport 1 |
| Algeria | beIN SPORTS CONNECT, beIN Sports English, beIN Sports Premium 1, TOD,beIN 4K Arabia |
| Andorra | RMC Sport 1 |
| Angola | SuperSport Football Plus ROA, SuperSport MaXimo 1, Supersport Grandstand ROA, DStv Now |
| Anguilla | Flowsports.co, Flow Sports App |
| Antigua and Barbuda | Flow Sports App, Flowsports.co |
| Argentina | Fox Sports Argentina, ESPN Argentina, Star+ |
| Armenia | Vivaro.tv |
| Aruba | Flowsports.co, Flow Sports App |
| Australia | Stan Sport |
| Austria | DAZN, Sky Sport Austria 5, Sky Sport Austria 1 |
| Azerbaijan | CBC Sport Azerbaijan |
| Bahamas | Flow Sports App, Flowsports.co |
| Bahrain | beIN Sports Premium 1, beIN Sports English, beIN SPORTS CONNECT, TOD,beIN 4K Arabia |
| Bangladesh | Sony LIV |
| Barbados | Flowsports.co, Flow Sports App |
| Belgium | Club RTL, Proximus Pickx, Pickx+ Sports 1 |
| Belize | ESPN Norte |
| Benin | Supersport Grandstand ROA, SuperSport Football Plus ROA, SuperSport MaXimo 1, Canal+ Sport 3 Afrique |
| Bermuda | Flow Sports App, Flowsports.co |
| Bhutan | Sony LIV |
| Bolivia | Star+, ESPN |
| Botswana | SuperSport Football Plus ROA, SuperSport MaXimo 1, Supersport Grandstand ROA, DStv Now |
| Brazil | HBO Max |
| British Virgin Islands | Flowsports.co, Flow Sports App |
| Brunei | beIN Sports 1 Thailand, beIN Sports Connect Malaysia, beIN Sports Connect |
| Bulgaria | MAX Sport 3 |
| Burkina Faso | SuperSport MaXimo 1, Canal+ Sport 3 Afrique, DStv Now, SuperSport Football Plus ROA, Supersport Grandstand ROA |
| Burundi | Supersport Grandstand ROA, Canal+ Sport 3 Afrique, DStv Now, SuperSport MaXimo 1, SuperSport Football Plus ROA |
| Cambodia | beIN Sports Connect, beIN Sports 1 Thailand |
| Cameroon | DStv Now, SuperSport Football Plus ROA, SuperSport MaXimo 1, Canal+ Sport 3 Afrique, Supersport Grandstand ROA |
| Canada | DAZN |
| Cape Verde | SuperSport MaXimo 1, DStv Now, Canal+ Sport 3 Afrique, SuperSport Football Plus ROA, Supersport Grandstand ROA |
| Cayman Islands | Flowsports.co, Flow Sports App |
| Central African Republic | SuperSport Football Plus ROA, Supersport Grandstand ROA, Canal+ Sport 3 Afrique, SuperSport MaXimo 1 |
| Chad | beIN 4K Arabia, DStv Now, Canal+ Sport 3 Afrique, beIN SPORTS CONNECT,beIN Sports Premium 1, TOD, SuperSport MaXimo 1, Supersport Grandstand ROA, beIN Sports English, SuperSport Football Plus ROA |
| Chile | Star+, ESPN Chile |
| China | PPTV Sport China, QQ Sports Live, iQiyi |
| Colombia | ESPN, Star+ |
| Comoros | Supersport Grandstand ROA, SuperSport MaXimo 1, SuperSport Football Plus ROA |
| Congo | Supersport Grandstand ROA, DStv Now, SuperSport Football Plus ROA,SuperSport MaXimo 1, Canal+ Sport 3 Afrique |
| Congo DR | SuperSport Football Plus ROA, SuperSport MaXimo 1, Supersport Grandstand ROA |
| Costa Rica | Star+, ESPN Norte |
| Cote D'Ivoire | Supersport Grandstand ROA, SuperSport MaXimo 1, Canal+ Sport 3 Afrique,DStv Now, SuperSport Football Plus ROA |
| Cyprus | Cytavision on the Go, Cytavision Sports 3 |
| Czech Republic | Premier Sport 2 |
| Denmark | Viaplay Denmark, TV3+ HD |
| Djibouti | beIN SPORTS CONNECT, beIN Sports Premium 1, SuperSport Football Plus ROA, Canal+ Sport 3 Afrique, beIN Sports English, beIN 4K Arabia, TOD,SuperSport MaXimo 1, DStv Now, Supersport Grandstand ROA |
| Dominica | Flowsports.co, Flow Sports App |
| Dominican Republic | ESPN Norte, Star+ |
| Ecuador | Star+, ESPN |
| Egypt | beIN Sports Premium 1, TOD, beIN SPORTS CONNECT, beIN Sports English,beIN 4K Arabia |
| El Salvador | ESPN Norte, Star+ |
| Equatorial Guinea | SuperSport MaXimo 1, SuperSport Football Plus ROA, DStv Now, Supersport Grandstand ROA, Canal+ Sport 3 Afrique |
| Eritrea | SuperSport MaXimo 1, DStv Now, SuperSport Football Plus ROA, Supersport Grandstand ROA |
| Estonia | Viaplay Estonia |
| Ethiopia | SuperSport MaXimo 1, Supersport Grandstand ROA, SuperSport Football Plus ROA, DStv Now |
| Finland | C More Sport 1, C More Suomi |
| France | Free, RMC Sport en direct, RMC Sport 1, Canal+ France |
| Gabon | Canal+ Sport 3 Afrique, DStv Now, SuperSport Football Plus ROA, Supersport Grandstand ROA, SuperSport MaXimo 1 |
| Gambia | Canal+ Sport 3 Afrique, SuperSport Football Plus ROA, SuperSport MaXimo 1,Supersport Grandstand ROA, DStv Now |
| Germany | Amazon Prime Video |
| Ghana | DStv Now, SuperSport Football Plus ROA, SuperSport MaXimo 1, Supersport Grandstand ROA, Canal+ Sport 3 Afrique |
| Greece | Cosmote Sport 1 HD |
| Grenada | Flowsports.co, Flow Sports App |
| Guatemala | ESPN Norte, Star+ |
| Guinea | DStv Now, SuperSport Football Plus ROA, Canal+ Sport 3 Afrique, Supersport Grandstand ROA, SuperSport MaXimo 1 |
| Guinea-Bissau | SuperSport MaXimo 1, DStv Now, SuperSport Football Plus ROA, Supersport Grandstand ROA, Canal+ Sport 3 Afrique |
| Honduras | Star+, ESPN Norte |
| Hong Kong | beIN Sports 3 Hong Kong, beIN Sports Connect Hong Kong |
| Hungary | M4 Sports |
| Iceland | Viaplay Iceland |
| India | JioTV, Sony LIV |
| Indonesia | Vidio |
| Iran | beIN SPORTS CONNECT, beIN Sports Premium 1, beIN 4K Arabia, beIN Sports English, TOD |
| Iraq | beIN SPORTS CONNECT, beIN 4K Arabia, beIN Sports Premium 1, TOD, beIN Sports English |
| Ireland | BTSport.com, TalkSport Radio UK, BBC Radio 5 Live, RTE 2, BT Sport 2,LiveScore App, BT Sport App |
| Israel | 5Sport 4K, 5Sport |
| Italy | Sky Sport 4K, Mediaset Infinity, NOW TV, Canale 5, Sky Sport Football, SKY Go Italia, Sky Sport Uno, Sky Sport 251 |
| Jamaica | Flow Sports App, Flowsports.co |
| Jordan | beIN Sports Premium 1, TOD, beIN SPORTS CONNECT, beIN Sports English,beIN 4K Arabia |
| Kenya | DStv Now, SuperSport MaXimo 1, SuperSport Football Plus ROA, Supersport Grandstand ROA |
| Kosovo | ArtMotion |
| Kuwait | beIN 4K Arabia, beIN SPORTS CONNECT, TOD, beIN Sports Premium 1, beIN Sports English |
| Laos | beIN Sports 1 Thailand, beIN Sports Connect |
| Latvia | Viaplay Latvia |
| Lebanon | beIN SPORTS CONNECT, beIN Sports English, beIN 4K Arabia, beIN Sports Premium 1, TOD |
| Lesotho | DStv Now, Supersport Grandstand ROA, SuperSport Football Plus ROA,SuperSport MaXimo 1 |
| Liberia | SuperSport Football Plus ROA, SuperSport MaXimo 1, DStv Now, Supersport Grandstand ROA |
| Libya | beIN SPORTS CONNECT, beIN Sports Premium 1, beIN 4K Arabia, TOD, beIN Sports English |
| Lithuania | Viaplay Lithuania |
| Luxembourg | RMC Sport 1, Pickx+ Sports 1 |
| Macau | iQiyi |
| Madagascar | SuperSport MaXimo 1, DStv Now, SuperSport Football Plus ROA, Supersport Grandstand ROA |
| Malawi | Supersport Grandstand ROA, SuperSport Football Plus ROA, SuperSport MaXimo 1, DStv Now |
| Malaysia | beIN Sports Connect Malaysia, beIN Sports 3 Malaysia |
| Maldives | Sony LIV |
| Mali | Canal+ Sport 3 Afrique, Supersport Grandstand ROA, SuperSport Football Plus ROA, DStv Now, SuperSport MaXimo 1 |
| Mauritania | beIN SPORTS CONNECT, TOD, beIN 4K Arabia, SuperSport Football Plus ROA,Supersport Grandstand ROA, SuperSport MaXimo 1, DStv Now, beIN Sports English, beIN Sports Premium 1, Canal+ Sport 3 Afrique |
| Mauritius | Supersport Grandstand ROA, DStv Now, SuperSport MaXimo 1, SuperSport Football Plus ROA, RMC Sport 1 |
| Mayotte | Supersport Grandstand ROA, SuperSport MaXimo 1, SuperSport Football Plus ROA |
| Mexico | HBO Max |
| Moldova | Prime |
| Monaco | RMC Sport 1 |
| Montserrat | Flow Sports App, Flowsports.co |
| Morocco | beIN Sports English, beIN SPORTS CONNECT, beIN Sports Premium 1, TOD,beIN 4K Arabia |
| Mozambique | SuperSport MaXimo 1, SuperSport Football Plus ROA, Supersport Grandstand ROA, DStv Now |
| Namibia | DStv Now, SuperSport MaXimo 1, Supersport Grandstand ROA, SuperSport Football Plus ROA |
| Nepal | Sony LIV |
| Netherlands | Ziggo Sport Select, Ziggo Sport 14 |
| Nicaragua | Star+, ESPN Norte |
| Niger | DStv Now, SuperSport MaXimo 1, Canal+ Sport 3 Afrique, Supersport Grandstand ROA, SuperSport Football Plus ROA |
| Nigeria | SuperSport MaXimo 1, Canal+ Sport 3 Afrique, SuperSport Football Plus Nigeria, DStv Now |
| Norway | TV 2 Play, TV2 Sport |
| Oman | beIN Sports Premium 1, beIN SPORTS CONNECT, beIN Sports English, TOD,beIN 4K Arabia |
| Pakistan | Sony LIV |
| Palestinian Territory | beIN SPORTS CONNECT, TOD, beIN Sports English, beIN 4K Arabia, beIN Sports Premium 1 |
| Panama | Flowsports.co, ESPN Norte, Flow Sports App, Star+ |
| Paraguay | Star+, ESPN |
| Peru | Star+, ESPN |
| Poland | IPLA, Polsat Sport Premium 1 |
| Portugal | Eleven Sports 1 |
| Qatar | beIN SPORTS CONNECT, beIN 4K Arabia, beIN Sports Premium 1, TOD, beIN Sports English |
| Reunion | SuperSport Football Plus ROA, SuperSport MaXimo 1, Supersport Grandstand ROA |
| Romania | Orange TV Go, Digi Sport 1 Romania, Digi Online |
| Rwanda | SuperSport Football Plus ROA, SuperSport MaXimo 1, Canal+ Sport 3 Afrique,Supersport Grandstand ROA |
| Saint Helena | SuperSport MaXimo 1, SuperSport Football Plus ROA, Supersport Grandstand ROA |
| Saint Kitts and Nevis | Flow Sports App, Flowsports.co |
| Saint Lucia | Flowsports.co, Flow Sports App |
| Saint Vincent and the Grenadines | Flowsports.co, Flow Sports App |
| San Marino | Canale 5 |
| Sao Tome And Principe | SuperSport Football Plus ROA, Supersport Grandstand ROA, SuperSport MaXimo 1 |
| Saudi Arabia | beIN SPORTS CONNECT, beIN 4K Arabia, TOD |
| Senegal | SuperSport Football Plus ROA, DStv Now, Supersport Grandstand ROA, Canal+ Sport 3 Afrique, SuperSport MaXimo 1 |
| Seychelles | Flow Sports App, Flowsports.co, SuperSport Football Plus ROA, SuperSport MaXimo 1, Supersport Grandstand ROA, DStv Now |
| Sierra Leone | Canal+ Sport 3 Afrique, DStv Now, SuperSport MaXimo 1, Supersport Grandstand ROA, SuperSport Football Plus ROA |
| Singapore | beIN Sports 3, beIN Sports Connect Singapore |
| Slovakia | Premier Sport 2 |
| Somalia | SuperSport MaXimo 1, beIN Sports English, beIN Sports Premium 1, TOD,SuperSport Football Plus ROA, Supersport Grandstand ROA, beIN 4K Arabia,beIN SPORTS CONNECT |
| South Africa | Supersport Grandstand, SuperSport MaXimo 1, SuperSport Premier League,DStv App |
| South Sudan | beIN Sports English, DStv Now, beIN 4K Arabia, TOD, beIN SPORTS CONNECT,beIN Sports Premium 1 |
| Spain | Movistar+, Movistar Liga de Campeones |
| Sri Lanka | Sony LIV |
| Sudan | beIN 4K Arabia, SuperSport MaXimo 1, SuperSport Football Plus ROA, beIN Sports English, TOD, DStv Now, Supersport Grandstand ROA, beIN SPORTS CONNECT, beIN Sports Premium 1 |
| Swaziland | SuperSport Football Plus ROA, DStv Now, SuperSport MaXimo 1, Supersport Grandstand ROA |
| Sweden | TV4 Sweden, C More Sweden, Discovery+ |
| Switzerland | Blue Sport, Canal+ France, RMC Sport 1, Blue Sport 1, Blue Sport 3 |
| Syria | beIN Sports Premium 1, beIN Sports English, TOD, beIN SPORTS CONNECT,beIN 4K Arabia |
| Tanzania | SuperSport MaXimo 1, SuperSport Football Plus ROA, Supersport Grandstand ROA, DStv Now |
| Thailand | beIN Sports Connect, beIN Sports 1 Thailand, AIS PLAY |
| Togo | DStv Now, Canal+ Sport 3 Afrique, SuperSport Football Plus ROA, SuperSport MaXimo 1, Supersport Grandstand ROA |
| Trinidad and Tobago | Flow Sports App, Flowsports.co |
| Tunisia | beIN Sports Premium 1, beIN SPORTS CONNECT, beIN Sports English, beIN 4K Arabia, TOD |
| Turkey | Exxen, TV8 |
| Turks and Caicos Islands | Flow Sports App, Flowsports.co |
| Uganda | SuperSport Football Plus ROA, Supersport Grandstand ROA, SuperSport MaXimo 1, DStv Now |
| Ukraine | Megogo |
| United Arab Emirates | TOD, beIN SPORTS CONNECT, beIN Sports English, beIN Sports Premium 1,beIN 4K Arabia |
| United Kingdom | BTSport.com, TalkSport Radio UK, BT Sport Ultimate, BT Sport App, BT Sport 2,BBC Radio 5 Live |
| United States | Paramount+, TUDNxtra, TUDN USA, Univision, TUDN App, TUDN.com, Univision NOW |
| Uruguay | Star+, ESPN |
| Venezuela | Star+, ESPN |
| Vietnam | FPT Play |
| Yemen | beIN 4K Arabia, beIN Sports Premium 1, beIN SPORTS CONNECT, TOD, beIN Sports English |
| Zambia | SuperSport MaXimo 1, Supersport Grandstand ROA, SuperSport Football Plus ROA |
| Zimbabwe | SuperSport MaXimo 1, Supersport Grandstand ROA, DStv Now, SuperSport Football Plus ROA |
News about Man City v Real Madrid