Pep Guardiola says every member of the City squad is willing to do what it takes to solve any potential selection issues in the coming weeks.
The City boss revealed that Kevin De Bruyne and Nathan Ake had both pushed through the pain barrier to feature in Saturday's 5-1 victory over Watford, while John Stones and Kyle Walker were also ruled out against the Hornets.
And with the first leg of our Champions League semi-final against Real Madrid on the horizon, Guardiola was asked whether he was concerned about any potential defensive dilemmas.
However, the boss insisted that he had every confidence in his players to step up to the plate, heaping praise on their dedication to the collective.
"When it (injuries) happens in November or December for a long time it is a problem," the City boss explained.
"When you have seven games, potentially eight, to the end of the season… if Gabriel Jesus (for example) has to play right-back, he will do it. It's not a problem.
"In that moment when the players feel like we are in trouble in several positions, then they do extra. I don't have doubts about that.
"After, if the opponent is better and there is a bad performance, there is a bad performance.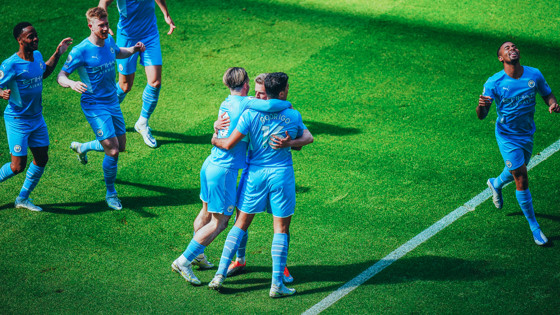 "You can see today we can do things better, we have to improve. But you saw from minute one how they want to win the next game and the next one and give us the opportunity to win against Leeds.
"I can trust them. We can trust each other, and they can trust each other. You see the desire from everyone, the players are incredible, they made 40 metres at 5-1 to receive the ball.
"This is the only secret we have for the success of last seasons. A lot of money to buy the top, top players, but also the desire to run for each other.
"When we have less than one month of the season we are going to do it."
Asked for a further update on Walker and Stones, Guardiola revealed that the England duo remained doubts for Tuesday's showdown with Real Madrid at the Etihad Stadium.
Walker hasn't featured since City's Champions League quarter-final second leg away to Atletico Madrid, while Stones reported muscle tightness following our 3-0 win over Brighton in midweek.
And the City boss will wait until Tuesday before making a final assessment.
He said of Walker and Stones: "Both are doubts. We will know on Tuesday morning, basically.
"We will decide if we take a risk or not take a risk and if the players like Nathan (Ake) feel better. We will see.
"I could say it is a day to take a risk but at the end if you are not able and you are not ready because have pain and you cannot run or shoot then you cannot play. We will know on Tuesday."
City are taking part in just our third Champions League semi-final when we lock horns with Los Blancos and Guardiola has called for his players to try and enjoy the occasion.
The boss also believes our home support will have a huge part to play in the match.
"It's the semi final of the Champions League. I ask our fans to take a train, a car, a bus to be with us. We need them," Guardiola declared.
"This is the third time this Club has played semi of the Champions League against a team who have a few Champions Leagues in the trophy cabinet.
"It is a special night for us. We have to enjoy it and give everything we have in our soul. And after we will see what happens."