Find out everything you need to know ahead of City's Premier League meeting with Nottingham Forest.
WHEN AND WHERE
Pep Guardiola's side welcome Forest to the Etihad Stadium on Saturday 23 September, with kick-off scheduled for 15:00 (UK).
For the second league fixture in succession, we won't be broadcast live on TV in the UK, but you can keep across all of the action via the official Man City app, as well as the key moments on Twitter: @ManCity.
Supporters living around the world can find out how they can tune in via our global TV listings, courtesy of liversoccertv.com
MAN CITY APP COVERAGE
Our official app allows you to follow all of the action from the Etihad in one place.
Minute-by-minute text updates will begin in our Matchday Centre two hours before kick-off, while our Matchday Live show will begin at 14:00 (UK).
Paul Dickov, Stuart Pearce and Robert Earnshaw are special guests on the latest Matchday Live show, offering their expert insight at half-time and in greater detail after the final whistle.
They will also answer viewer questions throughout the broadcast, with audience participation actively encouraged on Matchday Live. To get in touch, send a WhatsApp to: +447537186538
During the game you can listen to live audio commentary from Alistair Mann and former City captain Shaun Goater while our text commentary continues.
Make sure to have push notifications turned on as well, so you can be alerted to key moments in the action, including goals, red cards and the team news.
Highlights and a full-match replay on CITY+ and Recast, can be viewed following full-time.
CITY+ | SIGN UP TO ACCESS EXCLUSIVE CONTENT
TEAM NEWS
Josko Gvardiol, Jeremy Doku and Manuel Akanji all return as City make three changes in total for Saturday's Premier League home clash with Nottingham Forest.
The trio come into the starting line up in place of Nathan Ake, Sergio Gomez and Bernardo Silva from the side that started Tuesday's Champions League match against Red Star Belgrade.
Meanwhile Jack Grealish, who has missed our last three games with a thigh issue, also returns to the matchday squad and is named by City manager Pep Guardiola on the bench.
Today's game came too soon for Mateo Kovacic though the Croatian midfielder is nearing a return to full fitness.
Bernardo is unavailable after being forced off against Red Star in midweek with Guardiola revealing at Friday's pre-match press conference that he is expected to be sidelined for a week or two through injury.
The pair join John Stones (hip) and Kevin De Bruyne (hamstring) who remain unavailable for selection having been sidelined since last month.
Teams
CITY XI: Ederson, Walker (C), Akanji, Dias, Gvardiol, Rodrigo, Nunes, Foden, Alvarez, Doku, Haaland
Subs: Ortega Moreno, Carson, Phillips, Ake, Grealish, Gomez, Bobb, Lewis
Forest: Turner, Aurier (C), Boly, Niakhate, Aina, Tavares, Mangala, Sangare, Dominguez, Gibbs-White, Awoniyi
Subs: Vlachodimos, Worrall, Kouyate, Wood, Hudson-Odoi, Elanga, Yates, Origi, Montiel
SUBSCRIBE TO THE OFFICIAL MAN CITY PODCAST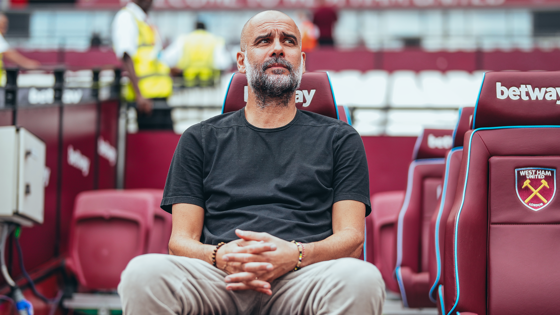 PREVIOUS MEETING
In our last meeting with Forest at the Etihad in August last year, Erling Haaland scored his second successive home hat-trick as goal-hungry City cruised to a 6-0 win.
We also faced Steve Cooper's men in February this year, where we were held to a 1-1 draw at the City Ground.
LAST TIME OUT
Goals from Jeremy Doku, Bernardo Silva and Erling Haaland secured a 3-1 victory over West Ham as City fought back from a half-time deficit to maintain our 100% record in the Premier League last weekend.
We were in UEFA Champions League action in midweek, securing a 3-1 victory over Red Star Belgrade to kick-off the defence of our European crown in perfect fashion.
As for Forest, they fought back from a goal down to earn a precious point at home to Burnley last Monday.
MATCH OFFICIALS
Referee: Anthony Taylor. 
Assistants: Gary Beswick, Adam Nunn. 
Fourth official: Dean Whitestone. 
VAR: Michael Salisbury. Assistant VAR: Derek Eaton.
GLOBAL TV LISTINGS
| | |
| --- | --- |
| Algeria | beIN SPORTS CONNECT |
| Angola | SuperSport OTT 4, SuperSport Premier League ROA, SuperSport Football Plus ROA, DStv Now, SuperSport MaXimo 2 |
| Anguilla | Csport.tv |
| Antigua and Barbuda | Csport.tv |
| Argentina | Star+, ESPN Argentina |
| Armenia | Setanta Sports 1 |
| Aruba | Csport.tv |
| Australia | Optus Sport |
| Azerbaijan | Setanta Sports 1 |
| Bahamas | Csport.tv |
| Bahrain | beIN SPORTS CONNECT |
| Barbados | Csport.tv |
| Belarus | Setanta Sports 1 |
| Belize | Paramount+ |
| Benin | SuperSport OTT 4, SuperSport MaXimo 2, SuperSport Premier League ROA, SuperSport Football Plus ROA |
| Bolivia | Star+ |
| Bosnia and Herzegovina | Moja TV, Arena Sport 1P |
| Botswana | SuperSport Football Plus ROA, DStv Now, SuperSport OTT 4, SuperSport MaXimo 2, SuperSport Premier League ROA |
| Brazil | Star+, NOW NET e Claro, ESPN, GUIGO |
| British Virgin Islands | Csport.tv |
| Brunei | Astro Go |
| Burkina Faso | SuperSport OTT 4, SuperSport MaXimo 2, DStv Now, SuperSport Premier League ROA, SuperSport Football Plus ROA |
| Burundi | SuperSport MaXimo 2, SuperSport Football Plus ROA, SuperSport Premier League ROA, SuperSport OTT 4, DStv Now |
| Cameroon | SuperSport OTT 4, SuperSport MaXimo 2, DStv Now, SuperSport Premier League ROA, SuperSport Football Plus ROA |
| Canada | fuboTV Canada |
| Cape Verde | SuperSport OTT 4, DStv Now, SuperSport Football Plus ROA, SuperSport Premier League ROA, SuperSport MaXimo 2 |
| Cayman Islands | Csport.tv |
| Central African Republic | SuperSport OTT 4, SuperSport Premier League ROA, SuperSport Football Plus ROA, SuperSport MaXimo 2 |
| Chad | SuperSport MaXimo 2, SuperSport OTT 4, beIN SPORTS CONNECT, DStv Now, SuperSport Football Plus ROA, SuperSport Premier League ROA |
| Chile | Star+ |
| China | QQ Sports Live, Migu, iQiyi |
| Cocos Islands | Sky Sport NOW |
| Colombia | ESPN, Star+ |
| Comoros | SuperSport Premier League ROA, SuperSport OTT 4, SuperSport MaXimo 2, SuperSport Football Plus ROA |
| Congo | SuperSport OTT 4, SuperSport Premier League ROA, SuperSport MaXimo 2, DStv Now, SuperSport Football Plus ROA |
| Congo DR | SuperSport MaXimo 2, SuperSport Football Plus ROA, SuperSport Premier League ROA, SuperSport OTT 4 |
| Costa Rica | Paramount+ |
| Cote D'Ivoire | SuperSport OTT 4, SuperSport MaXimo 2, DStv Now, SuperSport Premier League ROA, SuperSport Football Plus ROA |
| Czech Republic | Skylink, Canal+ Sport |
| Denmark | Viaplay Denmark |
| Djibouti | SuperSport OTT 4, SuperSport Premier League ROA, beIN SPORTS CONNECT, SuperSport MaXimo 2, DStv Now, SuperSport Football Plus ROA |
| Dominica | Csport.tv |
| Dominican Republic | Paramount+, Csport.tv |
| Ecuador | ESPN, Star+ |
| Egypt | beIN SPORTS CONNECT |
| El Salvador | Paramount+ |
| Equatorial Guinea | SuperSport Premier League ROA, SuperSport Football Plus ROA, DStv Now, SuperSport OTT 4, SuperSport MaXimo 2 |
| Eritrea | SuperSport Football Plus ROA, SuperSport OTT 4, SuperSport Premier League ROA, SuperSport MaXimo 2, DStv Now |
| Estonia | Viaplay Estonia, Setanta Sports 1 |
| Ethiopia | SuperSport MaXimo 2, SuperSport Premier League ROA, DStv Now, SuperSport OTT 4, SuperSport Football Plus ROA |
| Fiji | Sky Sport NOW |
| Finland | Elisa Viihde Viaplay |
| Gabon | SuperSport OTT 4, DStv Now, SuperSport MaXimo 2, SuperSport Premier League ROA, SuperSport Football Plus ROA |
| Gambia | DStv Now, SuperSport Football Plus ROA, SuperSport Premier League ROA, SuperSport MaXimo 2, SuperSport OTT 4 |
| Georgia | Setanta Sports 1 |
| Ghana | SuperSport Football Plus ROA, SuperSport Premier League ROA, SuperSport MaXimo 2, SuperSport OTT 4, DStv Now |
| Grenada | Csport.tv |
| Guatemala | Paramount+ |
| Guinea | SuperSport MaXimo 2, SuperSport Football Plus ROA, SuperSport Premier League ROA, DStv Now, SuperSport OTT 4 |
| Guinea-Bissau | SuperSport Premier League ROA, SuperSport OTT 4, DStv Now, SuperSport Football Plus ROA, SuperSport MaXimo 2 |
| Honduras | Paramount+ |
| Hong Kong | Now E, Now Player, 620 Now Premier League TV, 621 Now Premier League 1 |
| Hungary | Match4 |
| Iceland | SíminnSport |
| India | Hotstar VIP, JioTV |
| Indonesia | Vidio |
| Iran | beIN SPORTS CONNECT |
| Iraq | beIN SPORTS CONNECT |
| Israel | Sport 2, Sport 1 |
| Italy | Sky Sport Uno, NOW TV, SKY Go Italia |
| Jamaica | Csport.tv |
| Jordan | beIN SPORTS CONNECT |
| Kazakhstan | Setanta Sports 1 |
| Kenya | SuperSport Premier League ROA, SuperSport OTT 4, DStv Now, SuperSport MaXimo 2, SuperSport Football Plus ROA |
| Kiribati | Sky Sport NOW |
| Korea Republic | SPOTV ON 2 |
| Kosovo | Arena Sport 1P |
| Kuwait | beIN SPORTS CONNECT |
| Kyrgyzstan | Setanta Sports 1 |
| Latvia | Viaplay Latvia, Setanta Sports 1 |
| Lebanon | beIN SPORTS CONNECT |
| Lesotho | SuperSport Football Plus ROA, SuperSport Premier League ROA, SuperSport OTT 4, SuperSport MaXimo 2, DStv Now |
| Liberia | DStv Now, SuperSport Premier League ROA, SuperSport MaXimo 2, SuperSport Football Plus ROA, SuperSport OTT 4 |
| Libya | beIN SPORTS CONNECT |
| Lithuania | Setanta Sports 1, Viaplay Lithuania |
| Macau | iQiyi |
| Madagascar | SuperSport OTT 4, SuperSport Premier League ROA, SuperSport Football Plus ROA, DStv Now, SuperSport MaXimo 2 |
| Malawi | SuperSport OTT 4, DStv Now, SuperSport Premier League ROA, SuperSport Football Plus ROA, SuperSport MaXimo 2 |
| Malaysia | Astro Go, sooka, Astro SuperSport 3 |
| Mali | SuperSport OTT 4, SuperSport Premier League ROA, DStv Now, SuperSport MaXimo 2, SuperSport Football Plus ROA |
| Malta | GO TV Anywhere, TSN2 Malta |
| Marshall Islands | Sky Sport NOW |
| Mauritania | SuperSport MaXimo 2, beIN SPORTS CONNECT, SuperSport OTT 4, SuperSport Premier League ROA, DStv Now, SuperSport Football Plus ROA |
| Mauritius | DStv Now, SuperSport Football Plus ROA, SuperSport MaXimo 2, SuperSport OTT 4, SuperSport Premier League ROA |
| Mayotte | SuperSport OTT 4, SuperSport Football Plus ROA, SuperSport Premier League ROA, SuperSport MaXimo 2 |
| Mexico | Paramount+ |
| Moldova | Setanta Sports 1 |
| Montenegro | Arena Sport 1P |
| Montserrat | Csport.tv |
| Morocco | beIN SPORTS CONNECT |
| Mozambique | DStv Now, SuperSport OTT 4, SuperSport Football Plus ROA, SuperSport MaXimo 2, SuperSport Premier League ROA |
| Namibia | SuperSport Football Plus ROA, SuperSport Premier League ROA, SuperSport OTT 4, DStv Now, SuperSport MaXimo 2 |
| Nauru | Sky Sport NOW |
| Netherlands | Viaplay Netherlands |
| New Zealand | SKY Go NZ, Sky Sport NOW |
| Nicaragua | Paramount+ |
| Niger | SuperSport Premier League ROA, DStv Now, SuperSport MaXimo 2, SuperSport OTT 4, SuperSport Football Plus ROA |
| Nigeria | SuperSport OTT 4, SuperSport Football Plus Nigeria, DStv Now, SuperSport MaXimo 2, SuperSport Premier League Nigeria |
| Niue | Sky Sport NOW |
| North Macedonia | Arena Sport 1P |
| Norway | Viaplay Norway |
| Oman | beIN SPORTS CONNECT |
| Palau | Sky Sport NOW |
| Palestine | beIN SPORTS CONNECT |
| Panama | Csport.tv, Paramount+ |
| Paraguay | Star+ |
| Peru | Star+ |
| Poland | Viaplay Poland |
| Portugal | Eleven Sports 1 Portugal, DAZN Portugal |
| Qatar | beIN SPORTS CONNECT |
| Reunion | SuperSport MaXimo 2, SuperSport OTT 4, SuperSport Football Plus ROA, SuperSport Premier League ROA |
| Romania | Digi Sport 2 Romania, Digi Online |
| Rwanda | SuperSport OTT 4, SuperSport MaXimo 2, SuperSport Premier League ROA, SuperSport Football Plus ROA |
| Saint Helena | SuperSport Premier League ROA, SuperSport Football Plus ROA, SuperSport MaXimo 2, SuperSport OTT 4 |
| Saint Kitts and Nevis | Csport.tv |
| Saint Lucia | Csport.tv |
| Saint Vincent and the Grenadines | Csport.tv |
| Samoa | Sky Sport NOW |
| Sao Tome And Principe | SuperSport MaXimo 2, SuperSport Premier League ROA, SuperSport Football Plus ROA, SuperSport OTT 4 |
| Saudi Arabia | beIN SPORTS CONNECT |
| Senegal | SuperSport OTT 4, SuperSport Premier League ROA, SuperSport Football Plus ROA, SuperSport MaXimo 2, DStv Now |
| Serbia | Arena Sport 1P |
| Seychelles | SuperSport MaXimo 2, SuperSport OTT 4, Csport.tv, SuperSport Premier League ROA, DStv Now, SuperSport Football Plus ROA |
| Sierra Leone | SuperSport MaXimo 2, DStv Now, SuperSport Premier League ROA, SuperSport Football Plus ROA, SuperSport OTT 4 |
| Singapore | StarHub TV+ |
| Slovakia | Canal+ Sport, Skylink |
| Slovenia | Arena Sport 1 Premium |
| Solomon Islands | Sky Sport NOW |
| Somalia | SuperSport OTT 4, SuperSport Premier League ROA, SuperSport MaXimo 2, SuperSport Football Plus ROA, beIN SPORTS CONNECT |
| South Africa | DStv App, SuperSport OTT 4, SuperSport Premier League, SuperSport MaXimo 2 |
| South Sudan | DStv Now, beIN SPORTS CONNECT |
| Spain | DAZN |
| Sudan | SuperSport MaXimo 2, SuperSport Football Plus ROA, DStv Now, SuperSport OTT 4, beIN SPORTS CONNECT, SuperSport Premier League ROA |
| Swaziland | SuperSport OTT 4, SuperSport Football Plus ROA, DStv Now, SuperSport Premier League ROA, SuperSport MaXimo 2 |
| Sweden | Viaplay Sweden |
| Syria | beIN SPORTS CONNECT |
| Tajikistan | Setanta Sports 1 |
| Tanzania | SuperSport MaXimo 2, DStv Now, SuperSport Premier League ROA, SuperSport Football Plus ROA, SuperSport OTT 4 |
| Thailand | True ID |
| Togo | SuperSport MaXimo 2, SuperSport Football Plus ROA, SuperSport Premier League ROA, DStv Now, SuperSport OTT 4 |
| Tonga | Sky Sport NOW |
| Trinidad and Tobago | Csport.tv |
| Tunisia | beIN SPORTS CONNECT |
| Turkey | TOD, beIN CONNECT Turkey |
| Turkmenistan | Setanta Sports 1 |
| Turks and Caicos Islands | Csport.tv |
| Tuvalu | Sky Sport NOW |
| Uganda | SuperSport OTT 4, SuperSport MaXimo 2, SuperSport Premier League ROA, DStv Now, SuperSport Football Plus ROA |
| Ukraine | Setanta Sports Ukraine |
| United Arab Emirates | beIN SPORTS CONNECT |
| United States | nbcsports.com, SiriusXM FC, UNIVERSO, UNIVERSO NOW, Telemundo Deportes En Vivo, USA Network, NBC Sports App |
| Uruguay | Star+ |
| Uzbekistan | Setanta Sports 1 |
| Vanuatu | Sky Sport NOW |
| Venezuela | ESPN, Star+ |
| Yemen | beIN SPORTS CONNECT |
| Zambia | SuperSport Football Plus ROA, SuperSport MaXimo 2, SuperSport OTT 4, SuperSport Premier League ROA |
| Zimbabwe | SuperSport Football Plus ROA, SuperSport OTT 4, DStv Now, SuperSport MaXimo 2, SuperSport Premier League ROA |
News about Man City v N Forest