Find out everything you need to know ahead of our final home Premier League match of the season against Chelsea.
WHEN AND WHERE
We play for the final time at the Etihad Stadium this season on Sunday 21 May with the game scheduled for kick-off at 16:00 (UK).
The game will be shown live in the UK on Sky Sports Main Event, Sky Sports Premier League and Sky Ultra HD. You can also keep across all of the action via the official app, as well as the key moments on Twitter: @ManCity.
Supporters living around the world can find out how they can tune in via our global listings, courtesy of livesoccertv.com.
TITLE permutaTIONS
Nottingham Forest v Arsenal | Saturday 20 May | 17:30 (UK)
City v Chelsea | Sunday 21 May | 16:00 (UK)
An Arsenal loss will crown City champions for the third season in a row before we kick a ball this weekend.
An Arsenal draw will mean a City draw or win against Chelsea will crown us champions.
An Arsenal win will mean a City win against Chelsea will seal the title for Pep Guardiola's men.
MAN CITY APP COVERAGE
Our official app allows you to follow all of the action from one place.
Minute-by-minute text updates will begin in our Matchday Centre two hours before kick-off, while our Matchday Live show will begin at 15:00 (UK). 
We have special guests on the latest Matchday Live show, offering their expert insight before, during and after the action.
They will also answer viewer questions throughout the broadcast, with audience participation actively encouraged on Matchday Live. To get in touch, send a WhatsApp to: +447537186538.
During the game you can also listen to live audio commentary from Alistair Mann and Andy Morrison while our text commentary continues.
Make sure to have push notifications turned on as well, so you can be alerted to key moments in the action, including goals, red cards and the team news.
Short highlights from the match will be available from 20:00 (UK) while extended highlights, as well as a full-match replay, available on CITY+ and Recast, can be accessed from midnight.
CITY+ | SIGN UP TO ACCESS EXCLUSIVE CONTENT
PEP GUARDIOLA PREVIEW
The boss will be facing the media at his pre-match press conference from 13:30 (UK) on Friday 19 May, where he will provide all the latest team news updates, and you can follow it live on mancity.com and our official app.
SUBSCRIBE TO THE OFFICIAL MAN CITY PODCAST
Don't worry if you are unable to watch Pep's press conference as it happens as we'll have a written review and video recap soon after it has concluded.
PREVIOUS MEETING
Our last home clash against the Blues came in the FA Cup in January this year, where we secured a 4-0 win.
Riyad Mahrez (2), Julian Alvarez and Phil Foden sent us through to the next stage of the competition.
Our last home league encounter with the London side saw a moment of magic from Kevin De Bruyne inspire us to three points and strengthen our position at the top of the Premier League back in January 2022.
LAST TIME OUT
Our last Premier League game saw llkay Gundogan score two and assist another to inspire a 3-0 victory over Everton at Goodison Park last Sunday.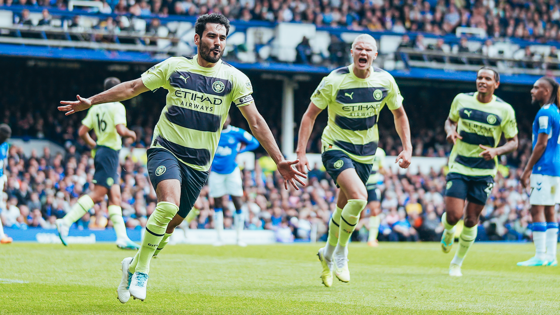 Gundogan, on his 300th City appearance, opened the scoring with a beautiful flicked finish in the 36th minute before providing for Erling Haaland to head home his 52nd goal of the season just two minutes later.
Gundogan added his second and City's third shortly after half-time with a perfectly executed free-kick.
Since then, we have sealed our place in a second Champions League final in three seasons with a 4-0 thrashing of Real Madrid on Wednesday night.
Chelsea were held to a 2-2 draw at Stamford Bridge by Nottingham Forest in their last encounter.
MATCH OFFICIALS
Referee: Michael Oliver
Assistants: Stuart Burt, Lee Betts. 
Fourth official: Robert Jones. 
VAR: John Brooks. Assistant VAR: Simon Bennett.
GLOBAL TV LISTINGS
| | |
| --- | --- |
| Algeria | beIN SPORTS CONNECT |
| American Samoa | Premier League TV |
| Angola | SuperSport MaXimo 1, DStv Now, SuperSport Premier League ROA, SuperSport MaXimo 2 |
| Anguilla | Csport.tv |
| Antigua and Barbuda | Csport.tv |
| Argentina | ESPN Argentina, Star+ |
| Armenia | Setanta Sports 1 |
| Aruba | Csport.tv |
| Australia | Optus Sport |
| Austria | Sky Go, Sky Sport Premier League, Sky Sport UHD |
| Azerbaijan | Ictimai TV, Setanta Sports 1 |
| Bahamas | Csport.tv |
| Bahrain | beIN SPORTS CONNECT |
| Barbados | Csport.tv |
| Belarus | Setanta Sports 1 |
| Belgium | Play Sports, Play Sports 2, VOOsport World 1 |
| Belize | Paramount+ |
| Benin | SuperSport MaXimo 1, SuperSport Premier League ROA, SuperSport MaXimo 2 |
| Bolivia | Star+ |
| Botswana | DStv Now, SuperSport MaXimo 1, SuperSport MaXimo 2, SuperSport Premier League ROA |
| Brazil | ESPN, Star+, GUIGO, NOW NET e Claro |
| British Virgin Islands | Csport.tv |
| Brunei | Astro Go |
| Bulgaria | Play Diema Xtra, Diema Sport 2 |
| Burkina Faso | SuperSport MaXimo 1, SuperSport Premier League ROA, DStv Now, SuperSport MaXimo 2 |
| Burundi | SuperSport MaXimo 1, SuperSport Premier League ROA, DStv Now, SuperSport MaXimo 2 |
| Cameroon | SuperSport MaXimo 2, SuperSport Premier League ROA, DStv Now, SuperSport MaXimo 1 |
| Canada | fuboTV Canada |
| Cape Verde | SuperSport Premier League ROA, DStv Now, SuperSport MaXimo 2, SuperSport MaXimo 1 |
| Cayman Islands | Csport.tv |
| Central African Republic | SuperSport MaXimo 2, SuperSport MaXimo 1, SuperSport Premier League ROA |
| Chad | DStv Now, SuperSport MaXimo 1, beIN SPORTS CONNECT, SuperSport MaXimo 2, SuperSport Premier League ROA |
| Chile | ESPN Chile, Star+ |
| China | iQiyi, Migu, QQ Sports Live |
| Cocos Islands | Sky Sport NOW, Sky Sport Premier League |
| Colombia | Star+ |
| Comoros | SuperSport Premier League ROA, SuperSport MaXimo 2, SuperSport MaXimo 1 |
| Congo | SuperSport Premier League ROA, SuperSport MaXimo 1, DStv Now, SuperSport MaXimo 2 |
| Congo DR | SuperSport MaXimo 1, SuperSport MaXimo 2, SuperSport Premier League ROA |
| Costa Rica | Paramount+ |
| Cote D'Ivoire | SuperSport MaXimo 1, SuperSport Premier League ROA, SuperSport MaXimo 2, DStv Now |
| Czech Republic | Canal+ Sport, Skylink |
| Denmark | V Sport Ultra HD, Viaplay Denmark |
| Djibouti | beIN SPORTS CONNECT, SuperSport MaXimo 2, SuperSport MaXimo 1, SuperSport Premier League ROA, DStv Now |
| Dominica | Csport.tv |
| Dominican Republic | Paramount+, Csport.tv |
| Ecuador | Star+ |
| Egypt | beIN SPORTS CONNECT |
| El Salvador | Paramount+ |
| Equatorial Guinea | SuperSport MaXimo 2, SuperSport Premier League ROA, SuperSport MaXimo 1, DStv Now |
| Eritrea | SuperSport MaXimo 1, SuperSport MaXimo 2, DStv Now, SuperSport Premier League ROA |
| Estonia | Setanta Sports 1, Viaplay Estonia |
| Ethiopia | SuperSport MaXimo 2, DStv Now, SuperSport Premier League ROA, SuperSport MaXimo 1 |
| Fiji | Sky Sport Premier League, Premier League TV, Sky Sport NOW |
| Finland | V Sport Ultra HD, Elisa Viihde Viaplay, V Sport Premium, V Sport 2 Finland |
| France | Free, Canal+ France |
| Gabon | SuperSport MaXimo 2, SuperSport Premier League ROA, DStv Now, SuperSport MaXimo 1 |
| Gambia | SuperSport MaXimo 2, SuperSport MaXimo 1, SuperSport Premier League ROA, DStv Now |
| Georgia | Setanta Sports 1 |
| Germany | Sky Go, Sky Sport Premier League, WOW, Sky Sport UHD |
| Ghana | SuperSport MaXimo 1, SuperSport Premier League ROA, SuperSport MaXimo 2, DStv Now |
| Grenada | Csport.tv |
| Guatemala | Paramount+ |
| Guinea | DStv Now, SuperSport Premier League ROA, SuperSport MaXimo 2, SuperSport MaXimo 1 |
| Guinea-Bissau | SuperSport MaXimo 2, SuperSport MaXimo 1, DStv Now, SuperSport Premier League ROA |
| Honduras | Paramount+ |
| Hong Kong | Now Player, 621 Now Premier League 1, Now E, 620 Now Premier League TV |
| Hungary | TV2 Play, Spíler1 |
| India | Hotstar VIP, JioTV |
| Indonesia | Vidio |
| Iran | beIN SPORTS CONNECT |
| Iraq | beIN SPORTS CONNECT |
| Ireland | Sky Sports Premier League, Sky Sports Main Event, BBC Radio 5 Live, SKY GO Extra, Sky Ultra HD |
| Italy | NOW TV, SKY Go Italia, Sky Sport 4K, Sky Sport Football |
| Jamaica | Csport.tv |
| Jordan | beIN SPORTS CONNECT |
| Kazakhstan | Setanta Sports 1 |
| Kenya | SuperSport Premier League ROA, SuperSport MaXimo 2, DStv Now, SuperSport MaXimo 1 |
| Kiribati | Sky Sport NOW, Sky Sport Premier League |
| Kuwait | beIN SPORTS CONNECT |
| Kyrgyzstan | Setanta Sports 1 |
| Latvia | Viaplay Latvia, Setanta Sports 1 |
| Lebanon | beIN SPORTS CONNECT |
| Lesotho | SuperSport Premier League ROA, DStv Now, SuperSport MaXimo 2, SuperSport MaXimo 1 |
| Liberia | SuperSport MaXimo 2, DStv Now, SuperSport MaXimo 1, SuperSport Premier League ROA |
| Libya | beIN SPORTS CONNECT |
| Lithuania | Setanta Sports 1, Viaplay Lithuania |
| Macau | iQiyi |
| Madagascar | SuperSport Premier League ROA, SuperSport MaXimo 1, DStv Now, SuperSport MaXimo 2 |
| Malawi | SuperSport MaXimo 1, DStv Now, SuperSport MaXimo 2, SuperSport Premier League ROA |
| Malaysia | Astro Go, sooka, Astro SuperSport 3 |
| Mali | SuperSport Premier League ROA, DStv Now, SuperSport MaXimo 2, SuperSport MaXimo 1 |
| Marshall Islands | Sky Sport NOW, Sky Sport Premier League |
| Mauritania | SuperSport MaXimo 2, SuperSport MaXimo 1, SuperSport Premier League ROA, DStv Now, beIN SPORTS CONNECT |
| Mauritius | SuperSport MaXimo 1, SuperSport Premier League ROA, DStv Now, SuperSport MaXimo 2 |
| Mayotte | SuperSport Premier League ROA, SuperSport MaXimo 1, SuperSport MaXimo 2 |
| Mexico | Paramount+ |
| Moldova | Setanta Sports 1 |
| Montserrat | Csport.tv |
| Morocco | beIN SPORTS CONNECT |
| Mozambique | DStv Now, SuperSport MaXimo 1, SuperSport Premier League ROA, SuperSport MaXimo 2 |
| Myanmar | Skynet Myanmar |
| Namibia | DStv Now, SuperSport MaXimo 1, SuperSport Premier League ROA, SuperSport MaXimo 2 |
| Nauru | Sky Sport Premier League, Sky Sport NOW |
| Netherlands | Viaplay Netherlands |
| New Zealand | Sky Sport Premier League, Sky Sport NOW |
| Nicaragua | Paramount+ |
| Niger | SuperSport MaXimo 1, SuperSport Premier League ROA, SuperSport MaXimo 2, DStv Now |
| Nigeria | SuperSport MaXimo 2, SuperSport Premier League Nigeria, SuperSport MaXimo 1, DStv Now |
| Niue | Sky Sport Premier League, Sky Sport NOW |
| Norway | V Sport Ultra HD, V Sport Premier League, Viaplay Norway |
| Oman | beIN SPORTS CONNECT |
| Palau | Sky Sport Premier League, Sky Sport NOW |
| Palestine | beIN SPORTS CONNECT |
| Panama | Csport.tv, Paramount+ |
| Paraguay | Star+ |
| Peru | Star+ |
| Poland | Viaplay Poland |
| Portugal | Eleven Sports 1 Portugal |
| Qatar | beIN SPORTS CONNECT |
| Reunion | SuperSport MaXimo 2, SuperSport MaXimo 1, SuperSport Premier League ROA |
| Romania | Orange TV Go, Digi Online, Orange Sport 4 Romania, Digi Sport 1 Romania |
| Rwanda | SuperSport Premier League ROA, SuperSport MaXimo 1, SuperSport MaXimo 2 |
| Saint Helena | SuperSport Premier League ROA, SuperSport MaXimo 2, SuperSport MaXimo 1 |
| Saint Kitts and Nevis | Csport.tv |
| Saint Lucia | Csport.tv |
| Saint Vincent and the Grenadines | Csport.tv |
| Samoa | Sky Sport Premier League, Sky Sport NOW, Premier League TV |
| Sao Tome And Principe | SuperSport MaXimo 2, SuperSport MaXimo 1, SuperSport Premier League ROA |
| Saudi Arabia | beIN SPORTS CONNECT |
| Senegal | SuperSport MaXimo 2, DStv Now, SuperSport MaXimo 1, SuperSport Premier League ROA |
| Seychelles | SuperSport MaXimo 2, SuperSport Premier League ROA, Csport.tv, DStv Now, SuperSport MaXimo 1 |
| Sierra Leone | DStv Now, SuperSport MaXimo 1, SuperSport MaXimo 2, SuperSport Premier League ROA |
| Singapore | StarHub TV+ |
| Slovakia | Skylink, Canal+ Sport |
| Solomon Islands | Sky Sport NOW, Sky Sport Premier League |
| Somalia | beIN SPORTS CONNECT, SuperSport MaXimo 2, SuperSport Premier League ROA, SuperSport MaXimo 1 |
| South Africa | SuperSport MaXimo 2, SuperSport Premier League, SuperSport MaXimo 1, DStv App |
| South Sudan | DStv Now, beIN SPORTS CONNECT |
| Spain | DAZN |
| Sudan | beIN SPORTS CONNECT, DStv Now, SuperSport Premier League ROA, SuperSport MaXimo 2, SuperSport MaXimo 1 |
| Swaziland | DStv Now, SuperSport MaXimo 2, SuperSport Premier League ROA, SuperSport MaXimo 1 |
| Sweden | Viaplay Sweden, V Sport Ultra HD, V Sport Premium |
| Switzerland | Sky Sport Premier League, Canal+ France |
| Syria | beIN SPORTS CONNECT |
| Tajikistan | Setanta Sports 1 |
| Tanzania | SuperSport MaXimo 2, SuperSport MaXimo 1, SuperSport Premier League ROA, DStv Now |
| Thailand | True Premier Football HD 1, True Premier Football HD 2 |
| Togo | SuperSport MaXimo 1, SuperSport Premier League ROA, DStv Now, SuperSport MaXimo 2 |
| Tonga | Sky Sport NOW, Premier League TV, Sky Sport Premier League |
| Trinidad and Tobago | Csport.tv |
| Tunisia | beIN SPORTS CONNECT |
| Turkey | beIN CONNECT Turkey |
| Turkmenistan | Setanta Sports 1 |
| Turks and Caicos Islands | Csport.tv |
| Tuvalu | Sky Sport NOW, Sky Sport Premier League |
| Uganda | SuperSport MaXimo 1, DStv Now, SuperSport Premier League ROA, SuperSport MaXimo 2 |
| Ukraine | Setanta Sports Ukraine |
| United Arab Emirates | beIN SPORTS CONNECT |
| United Kingdom | Sky Ultra HD, Sky Sports Main Event, Sky Sports Premier League, SKY GO Extra, BBC Radio 5 Live |
| United States | nbcsports.com, SiriusXM FC, USA Network, NBC Sports App |
| Uruguay | Star+ |
| Uzbekistan | Setanta Sports 1 |
| Vanuatu | Sky Sport NOW, Sky Sport Premier League, Premier League TV |
| Venezuela | Star+ |
| Vietnam | VieON, K+ SPORT 1 |
| Yemen | beIN SPORTS CONNECT |
| Zambia | SuperSport MaXimo 1, SuperSport MaXimo 2, SuperSport Premier League ROA |
| Zimbabwe | SuperSport MaXimo 1, DStv Now, SuperSport Premier League ROA, SuperSport MaXimo 2 |
News about Man City v Chelsea