Bernardo Silva was proud of the way Manchester City edged out a stubborn Aston Villa 2-0, and moved briefly top of the Premier League table in the process.
The Portuguese midfielder rifled an exquisite effort into the top corner of Emiliano Martinez's net with just under ten minutes to go to break the deadlock on a frustrating night at the Etihad Stadium.
Ilkay Gundogan added further gloss to the scoreline from the spot in the 89th minute, and Bernardo was delighted by how the team dug in to get the three points over the line.
GALLERY: Bernardo and Gundogan late double enough to down Villans
He said: "It was a very important win, a tough game for us, just three more points and on to the next one.
"It felt like an important win because we got to 75th minute without scoring, so to get those two goals, we're very happy."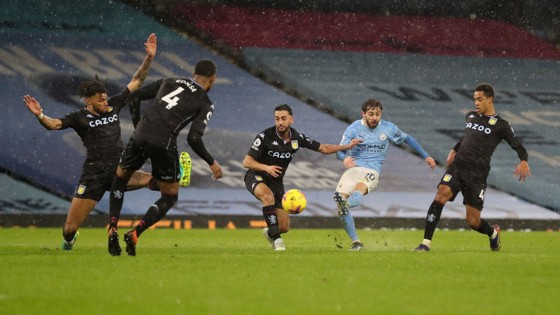 You would not have known it from the finish, but Bernardo's 79th minute strike was his first Premier League goal of the season.
And while he was clearly ecstatic to be back on the scoresheet again, he insists it was far more important for the team to build on recent results.
"It's been a long time (since I scored) and I'm happy to score and help the team," the Portuguese midfielder reflected.
"The most important thing is we are leaders for now.
"The team is doing very well. (There is) still a long way to go but we are happy with our momentum and we want to keep going.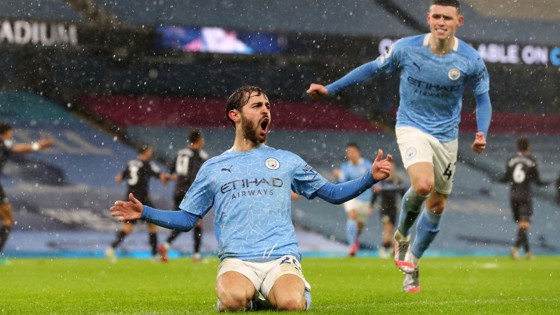 There were questions about whether the offside flag should have been raised in the build-up to our opening goal, with Rodrigo coming from behind the Villa defence to dispossess Tyrone Mings.
But while Bernardo was not entirely sure whether the goal should have stood, he emphasised the importance of playing to referee Jon Moss' whistle.
"I haven't checked it yet," he shrugged.
"Our player was offside but when their defender touched it, he stops being offside, I think. But I haven't checked it."