Fans of cult movie The Big Lebowski may recall the opening introduction to the story's main protagonist, 'The Dude', played by Jeff Bridges.
Narrator Sam Shepherd, AKA 'The Stranger' describes The Dude's ways and lifestyle, eventually proclaiming "Sometimes, there's a man. I won't say a hero - because what's a hero? --but sometimes there's a man, who is the man for his time and place, he fits right in there…"
OK, what's all this got to do with City?
The reason for the above quotations is that on September 4, 1982, Bobby McDonald was that man, and the game against Watford, was very much his time and he most certainly did fit right in there.
In fact, at least for 90 minutes, he became our very own Supermac.
City were at home to Watford having won the first two matches of the 1982/83 season and were looking to continue a 100% First Division record.
The Watford side of the early 1980s were a force to be reckoned with; physical, hard-working, and fast – and having beaten Everton and Southampton, the newly-promoted Hornets came to Maine Road as early league leaders.
Managed by Graham Taylor and with Elton John as chairman, Watford would gp on to finish runners-up to Liverpool – but this was the day when one man kept them at bay.
With just four minutes played, Joe Corrigan came off second best in a challenge with Nigel Callaghan and after lengthy treatment, he was helped from the pitch by Roy Bailey having dislocated his shoulder.
With only one sub – Dennis Tueart – John Bond had to figure out who was the best option to take over in goal and Paul Power and McDonald both established left-backs, it was 'Bobby Mac' who donned the green jersey.
Watford must have thought they were in for a field day with McDonald standing no higher than 5 feet 10 inches.
What followed was extraordinary.
Through a mixture of good fortune, ability and bravery, McDonald flung himself around the goal, diving, punching and generally doing whatever was needed to keep out the likes of Luther Blissett, Gerry Armstrong, Ross Jenkins, Callaghan, and a very young John Barnes.
'EL MAGO - David Silva: A Decade Of Magic' now available
As City fans started to sing "Scotland's No.1" and "Bobby Mac, Bobby Mac, Bobby Mac!", McDonald seemed to grow an extra few inches and the roar of appreciation as City reached the halfway stage with the score still 0-0, was for the stand-in keeper and nobody else.
The question was: could he do it again for the second half?
The answer would be a resounding 'yes'. Watford hit the woodwork, saw efforts scrambled clear and were denied by McDonald time after time and then, on 76 minutes, Tueart rises to head the ball past Steve Sherwood and send Maine Road wild.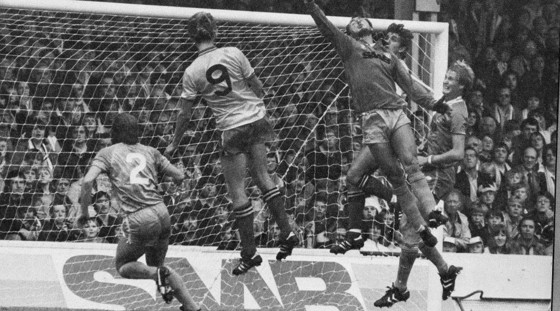 City led 1-0 and the clock was ticking down. The Kippax was in full voice, wishing the minutes away and then, on 88 minutes, Armstrong fires a shot that McDonald saves superbly – there was no luck or fluke about it and Corrigan would have been delighted by it.
A couple of minutes later, the final whistle blew, McDonald was mobbed by team-mates and the standing ovation the 27-year-old Scot received was deafening - he'd done it -City had won 1-0 and were top of the table and he'd kept Watford out for 86-plus minutes.
SHOP: Our 'We're Not Really Here' range
The following day, it was McDonald who rightly stole the headlines and he recalled the events afterwards, saying: "My first touch of the ball in the whole match was the goal-kick after Joe had been taken off and it felt very strange at the time.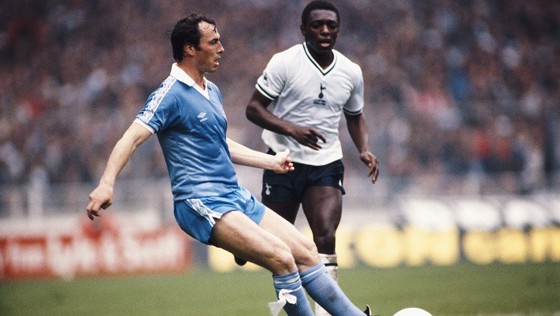 "There was a mark in the middle of the six-yard box and I kept myself aware of it to help my positional sense. I don't know what came over me at one stage when I started to roll the ball out and chase it.
"I had taken the regulation four steps going after it and I suppose the referee could have blown me up for an offence. But he snapped now kick it' and that was all the warning I needed. It was a necessity on the day, but I don't want to go through it again.
"I made a couple of important stops. One effort was hit at me in the first half. Then Blissett fired one at an angle and I managed to catch it between my legs. I think the shot I stopped from Armstrong was my best, it was much closer to being a goal. 
"I appreciated the reaction from the supporters. The lads all said "well done' straight after the whistle went."
For anyone who witnessed the game – and this writer was lucky enough to have been one them – it was an unforgettable afternoon of victory against all odds.
Sometimes there's a man… and on this occasion, it was our very own Supermac.