Everything you need to know ahead of City's FA Cup fourth round trip to Cheltenham Town…
TEAM NEWS
City make 10 changes from the side that beat Aston Villa 2-0 on Wednesday evening.
WHEN AND WHERE
City travel to the Jonny-Rocks Stadium to tackle the League Two side on Saturday, 23 January, with kick-off at 17.30 (UK).
In the UK the game will be shown live on BBC One. Fans living abroad can check out our global TV listings at the foot of the page to find out how they can tune in to Sunday's league clash.
If you're unable to watch the game, you can get minute by minute coverage in our Matchday Centre here on mancity.com and we'll also have live updates on Twitter: @ManCity.
A full-match replay will be available to watch on CITY+ from midnight after the game.
WE'RE NOT REALLY HERE
Michael Brown will be amongst the special guests joining Kyle Walker (the presenter not the player!) on our We're Not Really Here matchday show.
The former midfielder, who made more than 500 career appearances all told in a successful career that took in spells with City, Spurs and Sheffield United amongst a number of clubs, will be on hand to provide expert his analysis and opinion on our FA Cup fourth round clash.
We're Not Really Here provides a City focused perspective to your pre-match build-up and begins one hour before kick-off at 16:30 (UK).
CITY+ | SIGN UP TO ACCESS EXCLUSIVE CONTENT
The show will then return at half-time to give a run down on the first 45 minutes and, five minutes after the final whistle, we'll have half an hour of post-match reaction.
We're Not Really Here is available to watch on all of our official digital platforms, whilst during the game there will be live commentary and footage of fans around the world, which you can enjoy exclusively on mancity.com and our official app.
TEAM NEWS
Pep Guardiola has confirmed that Kevin De Bruyne and Kyle Walker will miss the Cup clash, after picking up injuries in the 2-0 win over Aston Villa.
Sergio Aguero will also be unavailable after testing positive for Covid-19.
Nathan Ake remains sidelined with injury, however Aymeric Laporte is available after training this week.
PEP PREVIEW
"I know the Premier League is the most important competition and the Champions League is the second most important one.
"We have reached four finals in a row in the Carabao Cup and this is because every game is important. We don't drop any competition.
"Cheltenham deserve my respect.
"I am going to play the team against Cheltenham, we are training exactly how we want to do to try and beat them."
FORM GUIDE
Pep Guardiola's side head into the game on the back of a superb run of form that has seen City go unbeaten in our last 16 games in all competitions and win our last nine games in a row.
Our last outing on Wednesday night saw us secure a crucial 2-0 win against Aston Villa at the Etihad which helped move us up into top briefly for the first time this season.
SUBSCRIBE TO THE OFFICIAL MAN CITY PODCAST
We booked our place in the fourth round with a 3-0 win over Birmingham in the round three.
Cheltenham currently sit in sixth position in the League Two table after amassing 37 points from their first 23 games.
Town booked their place in the fourth round thanks a 2-1 win over Mansfield Town (after extra time) in their third round encounter earlier this month.
They drew 1-1 at home to Newport County in midweek during their latest League Two fixture.
LAST MEETING
This will be the first ever competitive meeting between the two sides.
Official Man City Start Page and Wallpapers
Get the Official Manchester City Start page for your Chrome browser. Add the extension to your browser, for the latest news and wallpapers in your desktop tab.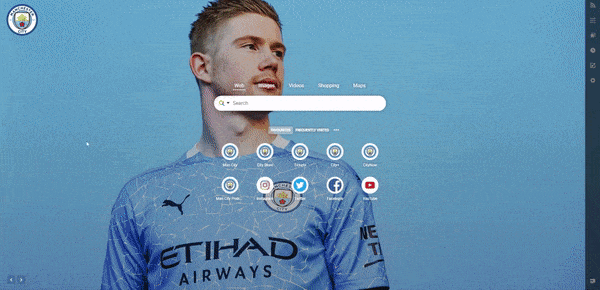 MATCH OFFICIALS
Referee: Stuart Attwell
Assistant Referee: Constantine Hatzidakis
Assistant Referee: Ian Hussin
Fourth Official: Andrew Madley
TV listings
| | |
| --- | --- |
| Albania | SuperSport 4 Digitalb |
| Algeria | beIN SPORTS CONNECT, beIN Sports HD 2 |
| Angola | DStv Now, SuperSport Maximo, SuperSport Premier League ROA |
| Anguilla | ESPNPlay Caribbean |
| Antigua and Barbuda | ESPNPlay Caribbean |
| Argentina | ESPN Play Sur, ESPN Sur |
| Aruba | ESPNPlay Caribbean |
| Australia | ESPN, WatchESPN Australia, Kayo Sports |
| Austria | DAZN |
| Bahrain | beIN Sports HD 2, beIN SPORTS CONNECT |
| Bangladesh | SONY TEN 2 HD, SONY TEN 2 |
| Barbados | ESPNPlay Caribbean |
| Belgium | Eleven Sports 3 Belgium |
| Belize | ESPNPlay Caribbean, ESPN2 Norte, ESPN Play Norte |
| Benin | SuperSport Maximo, SuperSport Premier League ROA |
| Bhutan | SONY TEN 2 HD |
| Bolivia | ESPN Play Sur, ESPN Sur |
| Bosnia and Herzegovina | SportKlub 1 Serbia |
| Botswana | DStv Now, SuperSport Maximo, SuperSport Premier League ROA |
| Brazil | DAZN |
| British Virgin Islands | ESPNPlay Caribbean |
| Brunei | Astro Go |
| Bulgaria | Play Diema Xtra, Diema Sport 2 |
| Burkina Faso | SuperSport Maximo, SuperSport Premier League ROA, DStv Now |
| Burundi | SuperSport Premier League ROA, SuperSport Maximo, DStv Now, Startimes World Football |
| Cameroon | DStv Now, SuperSport Maximo, StarTimes App, SuperSport Premier League ROA |
| Canada | Sportsnet World Now, Sportsnet One |
| Cape Verde | SuperSport Maximo, SuperSport Premier League ROA, DStv Now |
| Cayman Islands | ESPNPlay Caribbean |
| Central African Republic | SuperSport Premier League ROA, SuperSport Maximo |
| Chad | beIN Sports HD 2, SuperSport Maximo, DStv Now, beIN SPORTS CONNECT, SuperSport Premier League ROA |
| Chile | ESPN Sur, ESPN Play Sur |
| China | PPTV Sport China |
| Colombia | ESPN Sur, ESPN Play Sur |
| Comoros | SuperSport Maximo, SuperSport Premier League ROA |
| Congo | Startimes World Football, DStv Now, StarTimes App, SuperSport Premier League ROA |
| Congo DR | StarTimes App |
| Cook Islands | Sky Sport 7 beIN Sports |
| Costa Rica | ESPN2 Norte, ESPN Play Norte |
| Cote D'Ivoire | SuperSport Premier League ROA, DStv Now, SuperSport Maximo |
| Croatia | Sportklub 1 Croatia |
| Cuba | ESPNPlay Caribbean |
| Denmark | 6'eren, Eurosport Player Denmark, Viaplay Denmark |
| Djibouti | beIN Sports HD 2, SuperSport Maximo, beIN SPORTS CONNECT, DStv Now |
| Dominica | ESPNPlay Caribbean |
| Dominican Republic | ESPNPlay Caribbean, ESPN2 Norte, ESPN Play Norte |
| Ecuador | ESPN Sur, ESPN Play Sur, ESPN Andina |
| Egypt | beIN SPORTS CONNECT, beIN Sports HD 2 |
| El Salvador | ESPN Play Norte, ESPN2 Norte |
| Equatorial Guinea | DStv Now, SuperSport Maximo, SuperSport Premier League ROA |
| Eritrea | DStv Now, SuperSport Premier League ROA, SuperSport Maximo |
| Ethiopia | DStv Now, SuperSport Premier League ROA, SuperSport Maximo |
| Fiji | Sky Sport 7 beIN Sports |
| Finland | V Sport Premium, V Sport Jalkapallo, Viaplay Finland |
| France | beIN SPORTS CONNECT, beIN Sports MAX 6, beIN Sports MAX 4, Free |
| Gabon | SuperSport Maximo, SuperSport Premier League ROA, DStv Now |
| Gambia | SuperSport Maximo, DStv Now, SuperSport Premier League ROA |
| Georgia | Adjarasport TV |
| Germany | DAZN |
| Ghana | StarTimes App, Startimes World Football, SuperSport Maximo, DStv Now, SuperSport Premier League ROA |
| Greece | Cosmote Sport 3 HD |
| Grenada | ESPNPlay Caribbean |
| Guadeloupe | ESPNPlay Caribbean |
| Guatemala | ESPN Play Norte, ESPN2 Norte |
| Guinea | StarTimes App, SuperSport Premier League ROA, Startimes World Football, DStv Now, SuperSport Maximo |
| Guinea-Bissau | SuperSport Premier League ROA, DStv Now, SuperSport Maximo |
| Haiti | ESPNPlay Caribbean |
| Honduras | ESPNPlay Caribbean, ESPN2 Norte, ESPN Play Norte |
| Hong Kong | myTV SUPER |
| Hungary | Spíler1 |
| Iceland | Stöð 2 Sport 2 |
| India | SONY TEN 2, SONY TEN 2 HD |
| Indonesia | beIN Sports Connect Indonesia, beIN Sports 1 Indonesia |
| International | Bet365 |
| Iran | beIN SPORTS CONNECT, beIN Sports HD 2 |
| Iraq | beIN SPORTS CONNECT, beIN Sports HD 2 |
| Ireland | BBC One, BBC Radio 5 Live, BBC iPlayer, BBC Sport Web |
| Israel | Sport 2 |
| Italy | DAZN |
| Jamaica | ESPNPlay Caribbean |
| Japan | DAZN |
| Jordan | beIN Sports HD 2, beIN SPORTS CONNECT |
| Kazakhstan | Setanta Sports Kazakhstan |
| Kenya | Startimes World Football, StarTimes App, SuperSport Premier League ROA, DStv Now |
| Kiribati | Sky Sport 7 beIN Sports |
| Korea Republic | SPOTV ON |
| Kuwait | beIN SPORTS CONNECT, beIN Sports HD 2 |
| Lebanon | beIN SPORTS CONNECT, beIN Sports HD 2 |
| Lesotho | SuperSport Maximo, DStv Now |
| Liberia | SuperSport Maximo, DStv Now, SuperSport Premier League ROA |
| Libya | beIN SPORTS CONNECT, beIN Sports HD 2 |
| Luxembourg | Eleven Sports 3 Belgium |
| Macedonia | SportKlub 1 Serbia |
| Madagascar | DStv Now, StarTimes App, SuperSport Premier League ROA, SuperSport Maximo |
| Malawi | DStv Now, SuperSport Premier League ROA, SuperSport Maximo, StarTimes App |
| Malaysia | Astro Go, Astro Supersport 4 |
| Maldives | SONY TEN 2, SONY TEN 2 HD |
| Mali | DStv Now, SuperSport Maximo, SuperSport Premier League ROA |
| Malta | GO TV Anywhere, TSN6 Malta |
| Marshall Islands | Sky Sport 7 beIN Sports |
| Martinique | ESPNPlay Caribbean |
| Mauritania | DStv Now, beIN SPORTS CONNECT, beIN Sports HD 2 |
| Mauritius | SuperSport Premier League ROA, DStv Now |
| Mexico | ESPN2 Norte, ESPN Play Norte |
| Montenegro | SportKlub 1 Serbia |
| Montserrat | ESPNPlay Caribbean |
| Morocco | beIN SPORTS CONNECT, beIN Sports HD 2 |
| Mozambique | StarTimes App, SuperSport Premier League ROA, SuperSport Maximo, DStv Now, Startimes World Football |
| Namibia | SuperSport Maximo, SuperSport Premier League ROA, DStv Now |
| Nauru | Sky Sport 7 beIN Sports |
| Nepal | SONY TEN 2 HD, SONY TEN 2 |
| Netherlands | Ziggo Sport 14, Ziggo Sport Select |
| New Zealand | beIN Sports Connect New Zealand, ESPN, Sky Sport 7 beIN Sports |
| Nicaragua | ESPN2 Norte, ESPN Play Norte |
| Niger | SuperSport Maximo, DStv Now, SuperSport Premier League ROA |
| Nigeria | SuperSport Maximo, Startimes World Football, StarTimes App, SuperSport Premier League Nigeria |
| Niue | Sky Sport 7 beIN Sports |
| Norway | Viaplay Norway, V Sport 1 |
| Oman | beIN SPORTS CONNECT, beIN Sports HD 2 |
| Pakistan | SONY TEN 2, SONY TEN 2 HD |
| Palau | Sky Sport 7 beIN Sports |
| Palestinian Territory | beIN SPORTS CONNECT, beIN Sports HD 2 |
| Panama | ESPN Play Norte, ESPN2 Norte |
| Paraguay | ESPN Play Sur, ESPN Sur |
| Peru | ESPN Play Sur, ESPN Sur |
| Philippines | beIN Sports 1 HD |
| Poland | Eleven Sports 4 Poland |
| Portugal | Sport TV LIVE, Sport TV2 |
| Puerto Rico | ESPNPlay Caribbean |
| Qatar | beIN SPORTS CONNECT, beIN Sports HD 2 |
| Romania | Eurosport Player Romania |
| Russia | Match! Football 3, Sportbox.ru, matchtv.ru |
| Rwanda | Startimes World Football, SuperSport Premier League ROA, StarTimes App, SuperSport Maximo |
| Saint Bartelemey | ESPNPlay Caribbean |
| Saint Kitts and Nevis | ESPNPlay Caribbean |
| Saint Lucia | ESPNPlay Caribbean |
| Saint Martin | ESPNPlay Caribbean |
| Saint Vincent and the Grenadines | ESPNPlay Caribbean |
| Samoa | Sky Sport 7 beIN Sports |
| Sao Tome And Principe | SuperSport Premier League ROA, SuperSport Maximo |
| Senegal | SuperSport Maximo, SuperSport Premier League ROA, DStv Now |
| Serbia | SportKlub 1 Serbia |
| Seychelles | DStv Now, SuperSport Maximo, SuperSport Premier League ROA |
| Sierra Leone | SuperSport Maximo, DStv Now, SuperSport Premier League ROA |
| Slovenia | SportKlub 1 Slovenia |
| Solomon Islands | Sky Sport 7 beIN Sports |
| Somalia | beIN SPORTS CONNECT, beIN Sports HD 2 |
| South Africa | SuperSport Premier League, DStv App, SuperSport Maximo, StarTimes App, Startimes World Football |
| South Sudan | SuperSport Premier League ROA, beIN Sports HD 2, DStv Now, beIN SPORTS CONNECT |
| Spain | DAZN |
| Sri Lanka | SONY TEN 2 HD, SONY TEN 2 |
| Sudan | SuperSport Maximo, beIN Sports HD 2, beIN SPORTS CONNECT, DStv Now |
| Swaziland | DStv Now, SuperSport Maximo, SuperSport Premier League ROA |
| Sweden | Viaplay Sweden, V Sport Premium |
| Switzerland | DAZN |
| Syria | beIN Sports HD 2, beIN SPORTS CONNECT |
| Tanzania | StarTimes App, SuperSport Maximo, Startimes World Football, SuperSport Premier League ROA, DStv Now |
| Togo | SuperSport Premier League ROA, SuperSport Maximo, DStv Now |
| Tonga | Sky Sport 7 beIN Sports |
| Trinidad and Tobago | ESPNPlay Caribbean |
| Tunisia | beIN Sports HD 2, beIN SPORTS CONNECT |
| Tuvalu | Sky Sport 7 beIN Sports |
| U.S. Virgin Islands | ESPNPlay Caribbean |
| Uganda | SuperSport Premier League ROA, SuperSport Maximo, DStv Now, Startimes World Football, StarTimes App |
| Ukraine | Setanta Sports Ukraine |
| United Arab Emirates | beIN SPORTS CONNECT, beIN Sports HD 2 |
| United Kingdom | BBC iPlayer, BBC Sport Web, BBC Radio 5 Live, BBC One |
| United States | ESPN+ |
| Uruguay | ESPN Sur, ESPN Play Sur |
| Vanuatu | Sky Sport 7 beIN Sports |
| Venezuela | ESPN Sur, ESPN Andina, ESPN Play Sur |
| Yemen | beIN Sports HD 2, beIN SPORTS CONNECT |
| Zambia | SuperSport Maximo, StarTimes App, SuperSport Premier League ROA |
| Zimbabwe | SuperSport Premier League ROA, DStv Now, SuperSport Maximo |