Everything you need to know ahead of City's Premier League trip to take on Brighton and Hove Albion…
TEAM NEWS
Phil
Foden
is recalled to the starting XI as City make six changes to the side that beat Newcastle United 4-3 last Friday.
Raheem Sterling, Kyle Walker and Sergio Aguero are not fully fit.
Kevin De Bruyne makes a welcome return and will be on the subs' bench.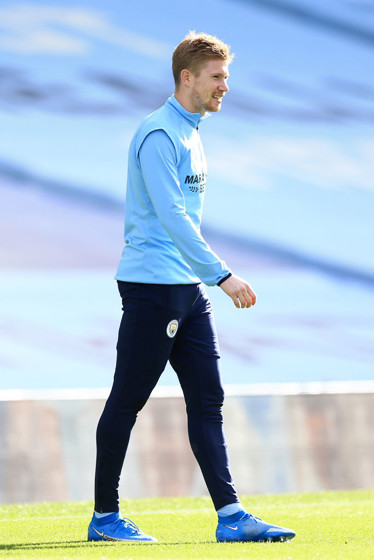 TEAMS
City: Ederson, Zinchenko, Cancelo, Dias, Stones, Gündogan (c) Rodrigo, Bernardo, Torres, Mahrez, Foden
Subs: Steffen, Aké, Jesus, Laporte, Kevin De Bruyne, Mendy, Fernandinho, Garcia, Palmer
WHEN AND WHERE
City will travel to the Amex Stadium to take on Brighton on Tuesday 18th May, with kick-off scheduled for 19:00 GMT (7pm UK).
Fans in the UK can watch the game live on BT Sport 1 and BT Sport Ultimate, as well as the BT Sport App and BTSport.com, whilst supporters from abroad can check out how they can tune in via the TV listings at the foot of the page.
DOWNLOAD THE OFFICIAL MAN CITY APP
If you are unable to watch the game, you can follow minute-by-minute updates here on ManCity.com and the Man City App courtesy of our Matchday Centre.
City+ subscribers can also watch a full-match replay at midnight following the game.

You can watch full-match replays of every City game with a CITY+ subscription.
Find out more and sign up, here.
WE'RE NOT REALLY HERE
As always, we will be broadcasting our We're Not Really Here (#WNRH) show across all of our digital platforms, and this begins 60 minutes before kick-off at 18:00 GMT (6pm UK).
Former City duo Richard Dunne and Kevin Horlock will join Cel Spellman in the WNRH studios offering a City-focused approach to your matchday coverage.
The show will then return at both half-time and at the final whistle where our special guests will share their thoughts on the game, discuss the opinions of our fans and hear from Pep Guardiola in his post-match interview.
As always, viewer interaction is always welcomed, and fans can get involved with We're Not Really Here on Twitter by using the #WNRH.
PEP PREVIEW
"We prepare for the Brighton game like we have done all season.
"Working to prepare for Brighton helps us for the (Champions League) final.
"I am not focused on Chelsea. We wouldn't prepare well if we weren't prepared for Brighton and Everton.
"On Tuesday we are going to play a game to win again, it's the best way to arrive for the final.
"As a squad when we arrived back we were focused. We have to prepare, they trained really well.
"I saw the team after two days off, they are so focused.
"We will play the next game and prepare for the final.
"I have no doubts about the incredible commitment to do what we have to do to win the three games we still have."
FORM GUIDE
City set a new record for the most consecutive away league wins in the history of the top four tiers of English football last week.
Our victory at Newcastle on Friday evening was our 12th away league win in a row, eclipsing the previous record of 11 held by Chelsea (2008) and ourselves (2017).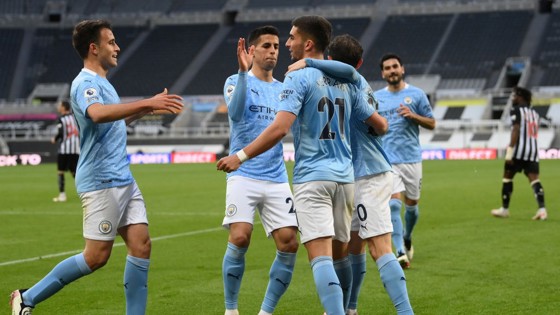 Brighton's 1-1 draw against West Ham United on Saturday evening represented their 14th stalemate this season, which is currently a league-high.
Graham Potter's side are also unbeaten at home in over two months, with Leicester City dealing their last defeat at the Amex at the beginning of March.
They presently sit in 17th place in the Premier League, 11 points clear of the relegation zone.
LAST MEETING
City were made to work hard for the three points at the Etihad Stadium back in January against the Seagulls, with a Phil Foden strike securing a 1-0 win.

Bernardo Silva struck the woodwork and Raheem Sterling missed an added time penalty, with visitors belying their lowly position in the Premier League.

City have won all five of the previous league meetings between the sides.
MATCH OFFICIALS
Referee: Stuart Attwell.
Assistants: Constantine Hatzidakis, Nick Hopton.
Fourth official: Graham Scott.
VAR: Jonathan Moss.
Assistant VAR: Timothy Wood.
TV LISTINGS
| | |
| --- | --- |
| Albania | SuperSport 2 Digitalb |
| Algeria | beIN Sports Premium 2, beIN SPORTS CONNECT |
| Angola | SuperSport MaXimo 2, SuperSport Variety 2 ROA, DStv Now |
| Anguilla | Flowsports.co, Flow Sports App |
| Antigua and Barbuda | Flow Sports App, Flowsports.co |
| Argentina | ESPN2 Sur |
| Aruba | Flowsports.co, Flow Sports App, RUSH |
| Australia | Optus Sport |
| Bahamas | Flowsports.co, Flow Sports App, RUSH |
| Bahrain | beIN Sports Premium 2, beIN SPORTS CONNECT |
| Barbados | Flowsports.co, RUSH, Flow Sports App |
| Benin | SuperSport Variety 2 ROA, SuperSport MaXimo 2 |
| Bermuda | RUSH, Flowsports.co, Flow Sports App |
| Bolivia | ESPN2 Sur |
| Botswana | SuperSport Variety 2 ROA, SuperSport MaXimo 2, DStv Now |
| Brazil | NOW NET e Claro, GUIGO, ESPN Brasil |
| British Virgin Islands | Flowsports.co, RUSH, Flow Sports App |
| Burkina Faso | DStv Now, SuperSport Variety 2 ROA, SuperSport MaXimo 2 |
| Burundi | SuperSport Variety 2 ROA, DStv Now, SuperSport MaXimo 2 |
| Cameroon | DStv Now, SuperSport Variety 2 ROA, SuperSport MaXimo 2 |
| Canada | DAZN |
| Cape Verde | SuperSport MaXimo 2, DStv Now, SuperSport Variety 2 ROA |
| Cayman Islands | Flowsports.co, RUSH, Flow Sports App |
| Central African Republic | SuperSport Variety 2 ROA, SuperSport MaXimo 2 |
| Chad | beIN SPORTS CONNECT, beIN Sports Premium 2, DStv Now, SuperSport MaXimo 2, SuperSport Variety 2 ROA |
| Chile | ESPN2 Sur |
| China | QQ Sports Live |
| Colombia | ESPN2 Colombia |
| Comoros | SuperSport Variety 2 ROA, SuperSport MaXimo 2 |
| Congo | SuperSport Variety 2 ROA, DStv Now, SuperSport MaXimo 2 |
| Costa Rica | Sky HD |
| Cote D'Ivoire | DStv Now, SuperSport MaXimo 2, SuperSport Variety 2 ROA |
| Curacao | RUSH |
| Cyprus | Cytavision Sports 4, Cytavision on the Go |
| Denmark | Xee, Viaplay Denmark |
| Djibouti | DStv Now, beIN Sports Premium 2, beIN SPORTS CONNECT |
| Dominica | Flow Sports App, Flowsports.co, RUSH |
| Dominican Republic | Sky HD, RUSH |
| Egypt | beIN Sports Premium 2, beIN SPORTS CONNECT |
| El Salvador | Sky HD |
| Equatorial Guinea | SuperSport Variety 2 ROA, DStv Now, SuperSport MaXimo 2 |
| Eritrea | SuperSport Variety 2 ROA, DStv Now, SuperSport MaXimo 2 |
| Ethiopia | SuperSport MaXimo 2, DStv Now, SuperSport Variety 2 ROA |
| Finland | Elisa Viihde Viaplay, V Sport Urheilu |
| France | RMC Sport en direct |
| French Guiana | RUSH |
| Gabon | DStv Now, SuperSport MaXimo 2, SuperSport Variety 2 ROA |
| Gambia | SuperSport MaXimo 2, DStv Now, SuperSport Variety 2 ROA |
| Ghana | SuperSport Variety 2 ROA, SuperSport MaXimo 2, DStv Now |
| Grenada | RUSH, Flowsports.co, Flow Sports App |
| Guadeloupe | RUSH |
| Guatemala | Sky HD |
| Guinea | SuperSport MaXimo 2, SuperSport Variety 2 ROA, DStv Now |
| Guinea-Bissau | DStv Now, SuperSport MaXimo 2, SuperSport Variety 2 ROA |
| Guyana | RUSH |
| Haiti | RUSH |
| Honduras | Sky HD |
| Iceland | SíminnSport |
| Indonesia | Mola TV, mola.tv, Mola TV App |
| Iran | beIN Sports Premium 2, beIN SPORTS CONNECT |
| Iraq | beIN Sports Premium 2, beIN SPORTS CONNECT |
| Ireland | BT Sport 1, BT Sport App, BTSport.com |
| Israel | Sport 1 |
| Italy | SKY Go Italia, Sky Sport Arena, NOW TV |
| Jamaica | Flowsports.co, RUSH, Flow Sports App |
| Japan | DAZN |
| Jordan | beIN SPORTS CONNECT, beIN Sports Premium 2 |
| Kenya | SuperSport MaXimo 2, SuperSport Variety 2 ROA, DStv Now |
| Kosovo | IPKO TVim |
| Kuwait | beIN Sports Premium 2, beIN SPORTS CONNECT |
| Lebanon | beIN Sports Premium 2, beIN SPORTS CONNECT |
| Lesotho | DStv Now |
| Liberia | SuperSport Variety 2 ROA, SuperSport MaXimo 2, DStv Now |
| Libya | beIN Sports Premium 2, beIN SPORTS CONNECT |
| Madagascar | SuperSport Variety 2 ROA, SuperSport MaXimo 2, DStv Now |
| Malawi | DStv Now, SuperSport MaXimo 2, SuperSport Variety 2 ROA |
| Mali | SuperSport MaXimo 2, SuperSport Variety 2 ROA, DStv Now |
| Malta | GO TV Anywhere, TSN1 Malta |
| Martinique | RUSH |
| Mauritania | beIN Sports Premium 2, beIN SPORTS CONNECT, DStv Now |
| Mauritius | SuperSport MaXimo 2, SuperSport Variety 2 ROA, DStv Now |
| Mexico | Sky HD, Blue To Go Video Everywhere |
| Montserrat | Flowsports.co, Flow Sports App, RUSH |
| Morocco | beIN SPORTS CONNECT, beIN Sports Premium 2 |
| Mozambique | SuperSport MaXimo 2, SuperSport Variety 2 ROA, DStv Now |
| Myanmar | Skynet Myanmar |
| Namibia | SuperSport MaXimo 2, DStv Now, SuperSport Variety 2 ROA |
| Netherlands | Ziggo Sport Voetbal |
| New Zealand | Spark Sport |
| Nicaragua | Sky HD |
| Niger | SuperSport MaXimo 2, SuperSport Variety 2 ROA, DStv Now |
| Norway | TV2 Sumo, TV2 Sport |
| Oman | beIN Sports Premium 2, beIN SPORTS CONNECT |
| Palestinian Territory | beIN SPORTS CONNECT, beIN Sports Premium 2 |
| Panama | Flow Sports App, Sky HD, Flowsports.co |
| Paraguay | ESPN2 Sur |
| Peru | ESPN2 Sur |
| Portugal | Sport TV LIVE, Sport TV4 |
| Puerto Rico | RUSH |
| Qatar | beIN SPORTS CONNECT, beIN Sports Premium 2 |
| Russia | Okko Sport |
| Rwanda | SuperSport MaXimo 2, SuperSport Variety 2 ROA |
| Saint Kitts and Nevis | Flowsports.co, Flow Sports App |
| Saint Lucia | Flow Sports App, Flowsports.co, RUSH |
| Saint Vincent and the Grenadines | Flow Sports App, Flowsports.co |
| Sao Tome And Principe | SuperSport Variety 2 ROA, SuperSport MaXimo 2 |
| Senegal | SuperSport Variety 2 ROA, SuperSport MaXimo 2, DStv Now |
| Seychelles | Flow Sports App, Flowsports.co, SuperSport Variety 2 ROA, DStv Now |
| Sierra Leone | DStv Now, SuperSport Variety 2 ROA |
| Somalia | beIN SPORTS CONNECT, beIN Sports Premium 2 |
| South Africa | SuperSport PSL, DStv App, SuperSport MaXimo 2 |
| South Sudan | SuperSport MaXimo 2, beIN Sports Premium 2, DStv Now, beIN SPORTS CONNECT, SuperSport Variety 2 ROA |
| Spain | DAZN |
| Sudan | beIN SPORTS CONNECT, beIN Sports Premium 2, DStv Now |
| Suriname | RUSH |
| Swaziland | SuperSport MaXimo 2, DStv Now, SuperSport Variety 2 ROA |
| Sweden | Viaplay Sweden |
| Syria | beIN Sports Premium 2, beIN SPORTS CONNECT |
| Tanzania | SuperSport MaXimo 2, SuperSport Variety 2 ROA, DStv Now |
| Timor-Leste | Mola TV, mola.tv |
| Togo | SuperSport Variety 2 ROA, SuperSport MaXimo 2, DStv Now |
| Trinidad and Tobago | Flow Sports App, RUSH, Flowsports.co |
| Tunisia | beIN Sports Premium 2, beIN SPORTS CONNECT |
| Turks and Caicos Islands | Flowsports.co, Flow Sports App, RUSH |
| U.S. Virgin Islands | RUSH |
| Uganda | SuperSport MaXimo 2, SuperSport Variety 2 ROA, DStv Now |
| United Arab Emirates | beIN SPORTS CONNECT, beIN Sports Premium 2 |
| United Kingdom | BTSport.com, BT Sport 1, BT Sport App, BT Sport Ultimate |
| Uruguay | ESPN2 Sur |
| Vietnam | K +PC |
| Yemen | beIN SPORTS CONNECT, beIN Sports Premium 2 |
| Zambia | SuperSport Variety 2 ROA, SuperSport MaXimo 2 |
| Zimbabwe | SuperSport Variety 2 ROA, SuperSport MaXimo 2, DStv Now |
News about Brighton v Man City