Pep Guardiola says he is hopeful Sergio Aguero will be fit for the final Premier League game of the season.
With Sunday's game against Everton the last chance for City fans to see their idol play at the Etihad, the focus is on when our record goal-scorer will be available again.
Having missed the Newcastle game, Aguero will again be absent for the trip to Brighton, but Guardiola remains cautiously optimistic he will return in time for the weekend.
"Sergio has niggles, it's a little disturbance in his leg muscle and adductor but it's not a big issue. He is still not fit to play (against Brighton)," said Pep.
"Can he make the weekend? I hope so, I hope so.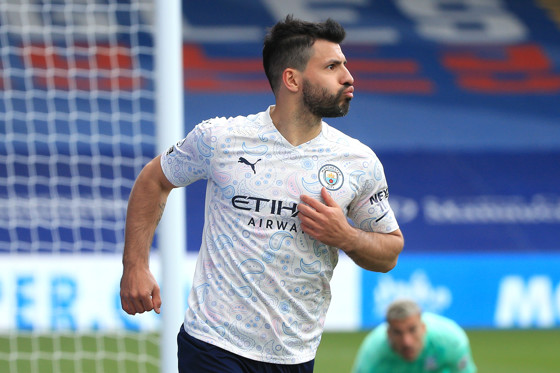 "He felt something before Newcastle, today he still wasn't fit but hopefully against Everton he will be ready to play."
The City boss was also asked whether Aguero could feature in the Champions League final and whether his legendary status at the Club could come into team selection thinking.
"Right now he's injured," said Pep. "If he would be fit I would say I would be cold. I have to take the best decision to win that game.
"If I believe Sergio being fit helps us, then he is going to play that's for sure.
"To help us to score the goals you need to play. But it's the final of the Champions League, I have to make the best decision to win that game.
"It was always difficult, but previously I remembered the starting XI for Barcelona was so clear and defined, whereas here, we rotate a lot and everyone can play.
"Still, right now I'm not clear about the way we are going to play and who plays, that's why I need to take a look in the next 10 days or 11 days and then after we take the decision.
SHOP | OUR SERGIO AGUERO RANGE
"Every three days is a tough job for guys like them who train good and have good quality but don't play.
"I've said many times this is the toughest moment. That's why the relationship between the player and the manager has to be a little distant."
And the boss admitted he won't be surprised if some of his squad are attentive in the coming days with places in the final at stake.
"They listen a little bit more, yeah. They aren't stupid, they want to play that's why they are so nice to me.
"When I make a selection they would normally be who they are, grumpy and upset with me, that's normal!"