Manchester City is remembering one of its most famous sons, Bert Trautmann, today on what would have been his 100th birthday.
Iconic goalkeeper Trautmann was born a century ago on this day in 1923 and we're celebrating his rich life and legendary career across mancity.com and our official app throughout the day.
Former Prisoner of War Trautmann made 545 appearances for the Blues between 1949 and 1964, ensuring he still stands fourth on the all-time appearance list, behind only Mike Doyle, Joe Corrigan and Alan Oakes.
Trautmann, who sadly died in 2013, wrote his name into City folklore when he continued to play during the 1956 FA Cup final, despite breaking his neck in a challenge with Birmingham City striker Peter Murphy, helping ensure we won 3-1.
Trautmann's path to legendary status is, perhaps, like no other footballer as we explore below.
BIOGRAPHY
Player name in full: Bernhard Carl "Bert" Trautmann
Dates: 1949-1964
Number of appearances: 545
He grew up during times of inter-war strife in Germany, becoming a paratrooper and ultimately serving on the Russian front line.
Towards the end of the war he was finally captured by the British and was kept at various Prisoner of War camps until eventually being moved to POW Camp 50 in Ashton-in-Makerfield near St. Helens where he remained until 1948.
During this time he started playing football, as an outfield player, but during one game he was moved to goalkeeper and this became his regular position.
With the closure of the POW camp imminent, he declined an offer of repatriation and stayed in England, working as a farmer and then in bomb disposal, while playing amateur football regularly for St. Helen's Town.
His reputation grew quickly and the first club to offer him a contract was Manchester City.
In October 1949, Trautmann signed for the club as an amateur and turned professional shortly after.
Many fans were unhappy about signing a former member of the Luftwaffe and various groups protested. But in 1950 he played his first match in London and at the end of the game the players formed a line either side of the tunnel and applauded him off while the crowd afforded him a standing ovation.
With the best keeper in the country in goal, City's fortunes steadily turned around after several seasons of struggling.
In six years up to and including the 1955/56 campaign, Trautmann missed just five League games and was the rock of the defence.
He was inspirational as City reached the 1955 FA Cup final, losing 3-1 to Newcastle United during which he became the first German to play in the famous showpiece, but a year later, he was to write his name into the history books.
City returned to Wembley beating Birmingham City 3-1 to win the Cup and this match became famous as the 'Trautmann Final'.
With 17 minutes to play, he dived at an incoming ball and was knocked out in a collision in which he was hit on the neck by Peter Murphy's right knee.
No substitutes were permitted in those days, so dazed and unsteady, he carried on. For the remaining time he defended his goal and at the end, he was hailed as the hero.
He admitted that he had spent the last part of the match "in a kind of fog".
His heroics that season earned him the Footballer of the Year award.
He retired in May 1964, although the City fans were given one final chance to show their admiration for him in a testimonial match which included Denis Law, Tom Finney, Stanley Matthews and Jimmy Armfield.
He was awarded the OBE in 2004 for his efforts to improve Anglo-German relations through football and continued his work courtesy of the Trautmann Foundation into his final years.
Perhaps there is no greater tribute than that of the one Lev Yashin once gave of Trautmann. The Russian keeper, regarded by many as the greatest goalkeeper of all time, said, when asked to name the greatest goalkeeper ever: "There have only been two world-class goalkeepers. One was Lev Yashin, the other was the German boy who played in Manchester: Trautmann."
A true legend in every sense of the word and a wonderful ambassador for Manchester City Football Club.
FACTS & FIGURES
His testimonial at Maine Road in 1964 was a City/United XI v an International XI in front of 47,000, although the official figure was believed to be nearer 60,000.
Trautmann received an OBE in 2004 for strengthening Anglo-German relations.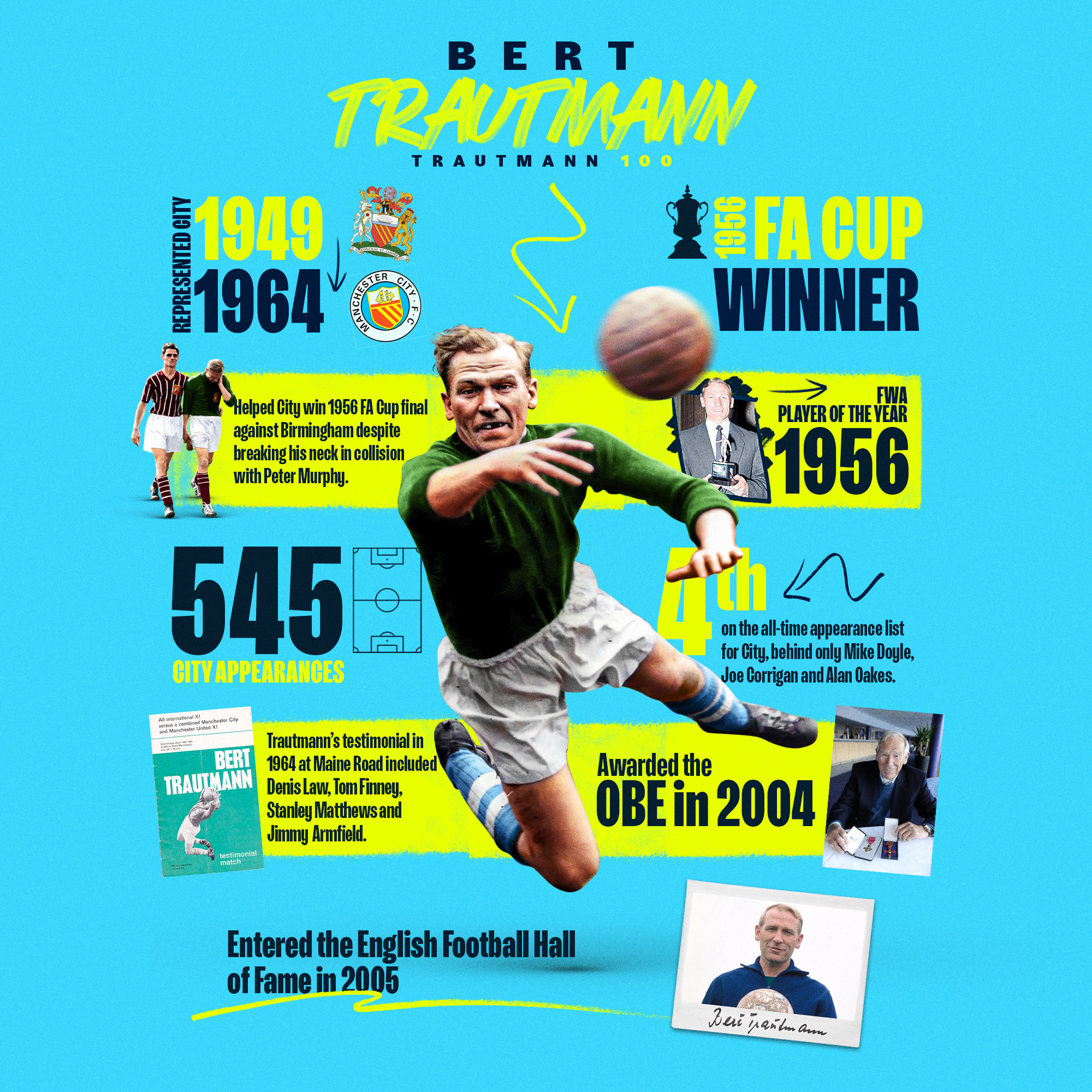 Trautmann was remembered during the City v Newcastle game in 2013, shortly after his death, with the matchday programme front cover dedicated to him and the first team squad warming up in goalkeeping shirts with 'Trautmann 1' on the back.
Oscar-winning German actor David Kross portrayed Trautmann in a story about his life in the 2018 biopic 'The Keeper'.
WHAT THEY SAID
Check out a selection of quotes from football royalty talking about the legend of Trautmann.
Bert Trautmann, he was my hero. I could relate totally to Trautmann. His strength was his ability to dive head-long at opponents' feet, and I played in the same style.
Ex-Arsenal keeper Bob Wilson
Don't stop to think where you're going to hit it with Trautmann. Hit it first and think afterwards. If you look up and work it out he will read your thoughts and stop it.
Former United manager Matt Busby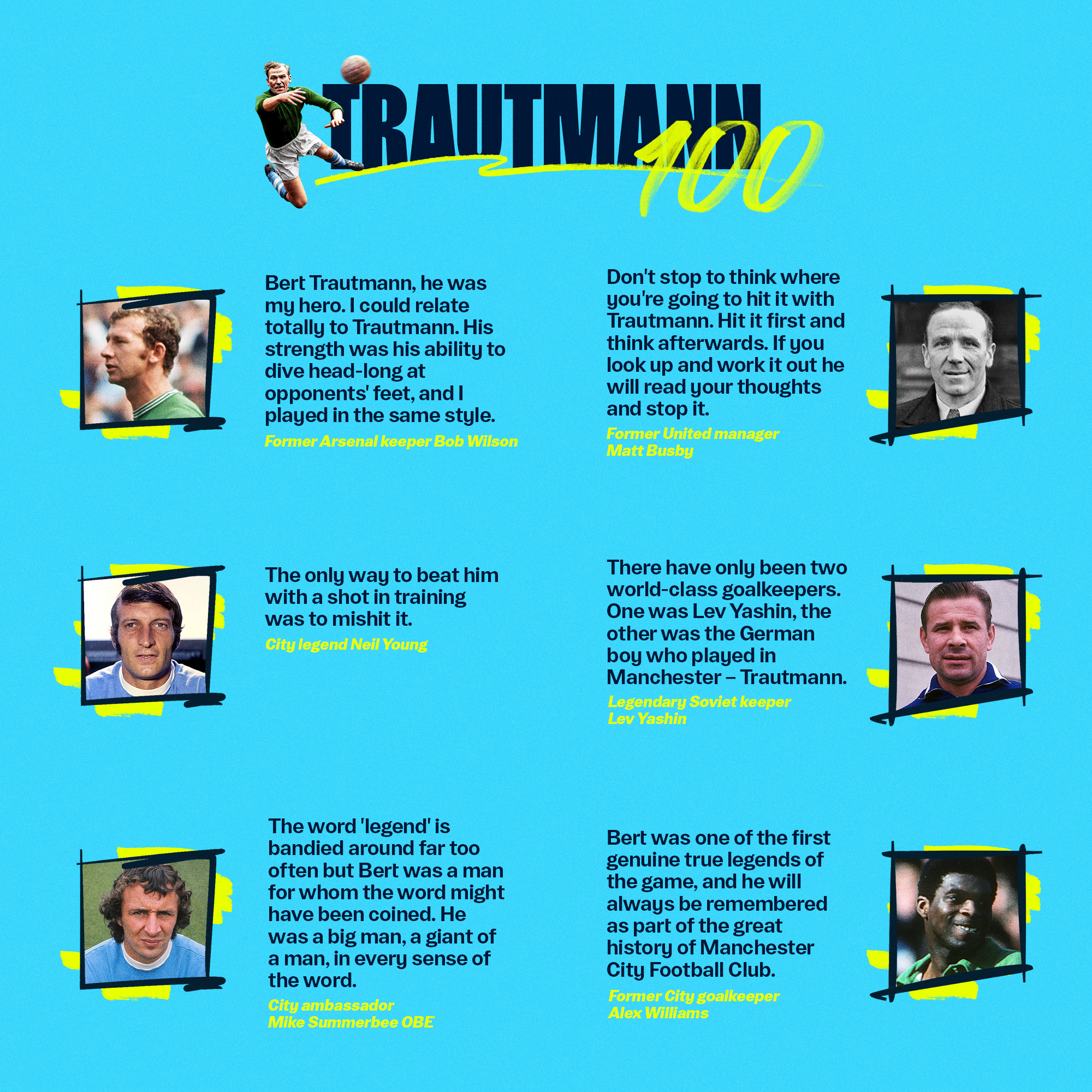 The only way to beat him with a shot in training was to mishit it.
City legend Neil Young
There have only been two world-class goalkeepers. One was Lev Yashin, the other was the German boy who played in Manchester – Trautmann.
Legendary Soviet keeper Lev Yashin
The word 'legend' is bandied around far too often but Bert was a man for whom the word might have been coined. He was a big man, a giant of a man, in every sense of the word.
City ambassador Mike Summerbee OBE
Bert was one of the first genuine true legends of the game, and he will always be remembered as part of the great history of Manchester City Football Club.
Former City goalkeeper Alex Williams