Media Watch
1
Media Watch: Sterling revved up for title decider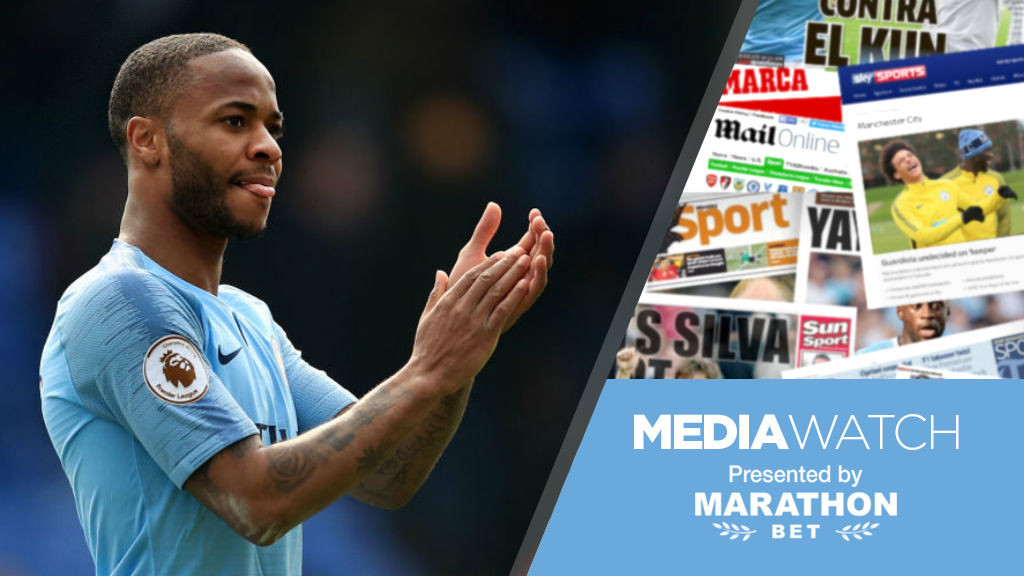 Two days to go until Manchester City's title decider at Brighton and the media build-up to what promises to be a dramatic and thrilling season finale is already in full swing.
Fresh from picking up one prestigious individual award last night, Raheem Sterling reveals how he is revved up to play his part in trying to help City retain our Premier League crown this weekend.
A number of pundits have also had their say on Sunday's trip to the south coast– and it makes for encouraging reading! - while the Seagulls' striker Glenn Murray has also spoken about the prospect of tackling Pep Guardiola's side.
And there's also news of what would be a landmark appearance for City goalkeeper Ederson at the Amex Stadium where a win for City will guarantee we retain our league crown.
But we start this morning's round-up with winger Sterling who last night received the prestigious Football Writers' Association Footballer of the Year award in London.
And the Daily Mail reports both on Sterling's pride at being recognised in such a way – and his excitement about Sunday's title crunch, as well as how it was a twin celebration for City with Nikita Parris collecting the FWA Women's Footballer of the Year prize.
The Mail report: "A stunning season with Manchester City and England has been complemented by impressive work off the pitch fighting racism in football and society.
READ: Raheem Sterling's crucial Manchester City impact
WATCH: Vincent Kompany's all time City XI
"Sterling's heroics saw him crowned PFA Young Player of the Year and then voted as the FWA Footballer of the Year, which the 24-year-old picked up at the Landmark Hotel in London on Thursday.
"'It's a massive achievement, a massive honour,' Sterling said. 'To be recognised is always a lovely feeling, especially by the writers. It makes it even more special.
"'It is an award that I will cherish, especially with the people that have won it before me so I am really, really glad and proud.'
"Sterling collected 62 per cent of the poll by FWA members and beat Liverpool centre-back Virgil Van Dijk to the award by more than 100 votes.
"He will be hoping to get the better of the Dutchman once again this Sunday, when the most fascinating title race in years goes down to the wire.
"'We know how big an occasion it is,' Sterling said. 'But I'd much rather be on our side, to know if we win the game, it's ours.
"'It will be a tough day, that's for sure. We know Brighton won't just sit there and let us score goals. They're safe and it is going to be a really tough day, to be honest with you, but it is one I am really looking forward to.'"
"It proved a special night for City as England striker Nikita Parris collected the FWA Women's Footballer of the Year.

'It feels amazing to be voted for by the Football Writers' Association,' she said. 'I am really grateful for the award and I hope the night is special, with two Manchester City players getting the award. Many congratulations to Raheem, I think he has been fantastic this year.
'It has been a fantastic season for us, winning two trophies and will really be fighting for that league trophy next year. It is a fantastic time for women's football and the England team.'
Meanwhile TV pundits Mark Lawrenson and Paul Merson have both had their say on our trip to the Amex Stadium – and the pair are adamant that City have both the quality and composure to claim the three points needed to secure a second successive title.
Former Liverpool and Brighton defender Lawrenson, writing in his BBC column, scribed: "It is hard to see anything but a City win here simply because of what we have seen from them in the past few weeks.
"It is not just that they have kept on winning that is impressive - and they have triumphed in their past 13 league games - it's the way have managed those matches brilliantly.
"City have never been behind in any of those games, and they have conceded only three goals. At the other end, whenever they have really needed a goal, they have got one.
READ: Etihad player of the season: Final three announced
WATCH: City 1-0 Leicester | Brief highlights
"They have had to keep winning to stay above Liverpool and defend their title, and I can't believe they will fall at the very final hurdle, against a team who are 17th in the table."
"There could still be some nervous moments for Pep Guardiola's side, the longer the score stays at 0-0 or even 1-0, and if there are reports coming in of Liverpool getting goals at Anfield, but they are used to dealing with that kind of pressure.
"I am expecting them to win comfortably but, even if it comes to the crunch in the final 10 minutes and City still need a goal, I think they will get it.
"However they manage it, a win would mean City are champions and end an absolutely brilliant title race.
"Lawrenson's prediction: 0-3."
There's an identical scoreline prediction from former Arsenal and England striker Merson, now a pundit with Sky Sports.
He told the broadcaster: "I just can't see Man City not winning. Nothing shocks me in football after the Champions League this week. But when you look at this week, the two teams who came back are very good teams, with very good players.
"Even though it was a miracle, people will say miracles happen, Brighton have a chance.

"They're grinding results out as well. At the start of the season they were wiping the floor with teams, now they're not but they're keeping clean sheets, being hard to beat and nicking goals.
"There was a bit of panic with Man City on Monday - no disrespect but Vincent Kompany's shot should have gone 50 yards over! But they should be fine.
"Merson's prediction: 0-3"
Meanwhile, the Manchester Evening News' Simon Bajkowski carries a fascinating line on how City keeper Ederson could create his own notable individual landmark if, as expected, he plays in Sunday's league finale.
Writes Bajkowski: "The Brazilian has accrued 20 clean sheets this season as the last line of a defence that is the joint-meanest in the league, and another shut-out against Brighton will guarantee him at least one hand on the Golden Glove - Liverpool's Alisson also has 20 clean sheets.
"And while he won't get an award for it, Ederson can also do something no City player has done since Joe Hart in the 2012/13 season if he completes the 90 minutes at the Amex Stadium.
READ: Ederson in race for the Golden Glove
WATCH: City's Etihad lap of appreciation
"Signed from Benfica in the summer of 2017, the 25-year-old started all but the last two league games of his debut campaign and made such an impression that a new seven-year contract was announced the morning after the final day.
"A key part of the club's plans for many years to come, Ederson has not missed a single minute of Premier League football this season with just 90 left to play.
"No other City player has manager the feat in the last six years, with Hart the last Blue to achieve it in Roberto Mancini's final season."
Finally, Brighton striker Murray has looked ahead to Sunday's clash and told the Brighton and Hove Independent it is the type of high-profile encounter, professionals dream of playing in.
The Brighton and Hove Independent report: "Pep Guardiola's side have won 13 successive Premier League matches and top-scorer Murray admits playing in games like this is why people become professional footballers.
"Murray said: "It's going to be another fantastic fixture to be involved in. They're going for the Premier League and we'll be trying to keep the integrity of the league and give a good account of ourselves.

"It's really nice to be involved in games that matter. This is why you want to be a professional to play against the best.
"This week we possibly play against the best in the Premier League."
"Murray supported Manchester United growing up and looking at the title race, he said: "It doesn't really matter who wins. It's just about us and about giving a good account of ourselves.
"It's just nice to be involved in games like that at the end of the league."