Media Watch
1
Media Watch: City demonstrate gulf in class
MEDIA WATCH: This morning's back pages are full of praise for City's derby display
Manchester City produced a dazzling second-half display to beat Manchester United 2-0 on Wednesday, a result that saw us return to the summit of the Premier League table with just three games remaining.
And the press have been full of praise this morning, with the back pages stuffed full of tributes to Pep Guardiola's side.
BBC Sport's Phil McNulty says City were vastly superior and deserved to win by a healthier margin.
"Manchester City made 'The Theatre Of Dreams' a house of pain for Manchester United as they brutally demonstrated the gulf between a modern, upwardly mobile club and one in a state of disrepair," he writes.
"Old Trafford's leaking roof, the result of a pre-match thunderstorm, was almost symbolic of the current condition of United as City - once airily dismissed as "the noisy neighbours" by Sir Alex Ferguson - brutally emphasised their vast superiority with a punishing performance to take a measure of control in the Premier League title race.
"The facts of the matter are simple.
"City's 2-0 victory margin barely scratches at how much better they were than United. It means they are now a point ahead of second-placed Liverpool and know three wins from their last three games will retain their title.
"This was City's game in hand, identified as potentially their most hazardous assignment."
READ: Super City set new goals record
READ: United 0-2 City | Match Report
The Guardian's chief football writer, Daniel Taylor, says this felt like a seismic night in the race for the Premier League title.
"Every season there is always one game in the title race when the team who are going to win the Premier League know it is going to be their year," Taylor writes. "One game when everything turns in their favour, all the hard work comes together and the supporters can think it is going to be a season to cherish.
"For Manchester City, was this that night? It certainly felt that way even if they still have to negotiate a tricky assignment at Burnley on Sunday before closing their season with a home game against Leicester and a trip to Brighton. City have made it 11 league wins in a row and if they can extend that sequence to 14 there will be nothing Liverpool, in second place, can do about it. No wonder there was such jubilation at the final whistle from the players in blue.
Have you seen...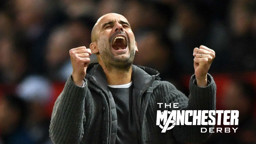 "Pep Guardiola wanted to emphasise there was still the potential for another late twist. All the same, it was difficult to leave Old Trafford without thinking City had struck a decisive blow courtesy of the second-half goals from Bernardo Silva and the substitute Leroy Sané."

The Manchester Evening News' Tyrone Marshall says we handled the game superbly, particularly given it was rearranged, and believes the consistency shown by City and Liverpool makes this a title race that will be remembered for years to come.

"For weeks this fixture has been occupying minds at City," he writes. "When the March 16 date was made impossible due to FA Cup quarter-finals for both sides it became the date with destiny. They might have expected some breathing space having put together a run of 10 straight league wins, taking 39 points from a possible 42 since Boxing Day, but Liverpool haven't dropped points themselves in over seven weeks. A title race for the ages."
That's all for this morning's Media Watch but stay with us throughout the day as we bring you all the reaction from a memorable night.