Media Watch
1
Media Watch: Sterling and De Bruyne hailed
STERLING EFFORT: Raheem Sterling was one of the stars of the Champions League thriller...
The morning after the night before…
As the dust settles on Wednesday night's action-packed, frenetic Champions League encounter, the footballing world reflects on one of the most dramatic and thrilling European clashes ever contested.
Sadly, it would end in heartbreak for City – a place in the semi-finals cruelly (but correctly) snatched away in injury time, following a VAR check – but Pep Guardiola's side deservedly earned plenty of acclaim for our part in a truly astonishing game.
READ: Pep Guardiola | 'We have to react'
WATCH: City v Tottenham | Match highlights

Mark Critchley of the Independent's description summed it up: "It was, put simply, an incredible match.
"Both teams were guilty of costly lapses in concentration. Both made amateurish missteps in defence.
"But both, at the end of it all, were responsible for the most absorbing, exhilarating all-English European meeting in this competition's storied history."
There were plenty of positives – in particular the influential performances of Raheem Sterling and Kevin De Bruyne.
As the Mirror's Matt Maltby noted: "Sterling just gets better and better doesn't he? The England superstar produced another reminder of his undoubted quality with another emphatic display.
"Fresh from his brace at Crystal Palace last weekend, which helped City to a crucial victory in their pursuit of the league title, Sterling delivered another two goals when they needed him most.
"The first was a fine finish, the winger keeping Kieran Trippier on the backfoot with his frightening pace before letting fly with a spectacular finish.

"The second was an example of how he has improved his attacking movement, the former Liverpool star sneaking in at the backpost to tap home - a proper striker's finish.
"There's not many better than him in Europe right now."
The Manchester Evening News' Simon Bajkowski agreed: "A string of late winners in the Premier League showed both the quality and character to make him a key contributor to the Centurions campaign, and his finishing and decision-making has kicked on again; 23 goals from 98 shots this season is a lethal return.
"His link-up play is so good, too, that he has created far too many brilliant partnerships to consider leaving him out.
"Be it Sergio Aguero, Bernardo Silva, Kevin De Bruyne, Leroy Sane or whoever else is playing, they know exactly what to expect from his every touch and movement and vice versa."
On our Belgian playmaker, Football 365 analysed: "De Bruyne was City's star. As fine as the run was that led to Sterling's opening goal, his cross for the forward's second was absolutely sublime.
"The Belgian started the move with a quickly-taken free-kick before finishing it by squaring for Sterling at the back post from the edge of the area after a Bernardo backheel. It was impossible to comprehend, never mind to defend.

"This was perhaps the first real sign that the 27-year-old has fully recovered from long-term injury issues.
"De Bruyne has shown glimpses of brilliance since his return but this game finally provided the bigger picture.
"He created twice as many chances as any player, ended the game with three assists.
"The sliver of a silver lining on this greyest of clouds is that an in-form De Bruyne might well win City the Premier League title."
Rio Ferdinand was also full of praise for our midfield maestro, hailing De Bruyne the world's best passer.
"No one passes the ball like De Bruyne," he told BT Sport. "The best on the planet."
Daniel Storey of iNews echoed: "De Bruyne's composure when protecting the ball in unsurpassed in English football, but most impressive of all is the timing of his passes.
"Repeatedly when watching him live you beg him to release the ball, only to apologise internally when he delays and chooses the best option.

"The best passers of the ball (Michael Laudrup was a master of this art) disguise both the destination and the timing of every pass they play, but also manage to deliver both to a player in stride.
"De Bruyne has that knack. Through it all, that same insouciance as if it all comes so damn easy."
READ THIS...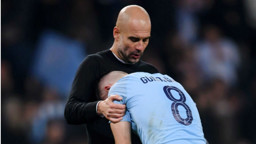 In other news, as always there are tales of transfer gossip, as Sports Mole claim City are eyeing a summer move for Neymar, while 90 Min believe Florentino is also a target.

According to Matt Law: "Manchester City are reportedly considering a summer swoop for Paris Saint-Germain attacker Neymar.
"Neymar has scored 48 goals in 53 appearances for PSG since arriving from Barcelona in 2017.
"The 27-year-old has been consistently linked with a move away from the French giants, though, and according to reports in Spain, City are lining up a move at the end of the season, with head coach Pep Guardiola said to be desperate to coach the Brazil international."
Meanwhile, Vijievan Jeevathayalan states: "A Bola claim that Guardiola has set his sights on the talent factory over at Benfica, and sees 19-year-old Florentino as the next big thing off the famed production line. But, if City fans were thinking that this deal was done and dusted, then think again.
"The report adds the Portuguese side haven't given up hope of keeping him yet, and are planning on handing him a new contract with a massive wad of cash to boot."