Media Watch
1
Media watch: City backed to shine in Europe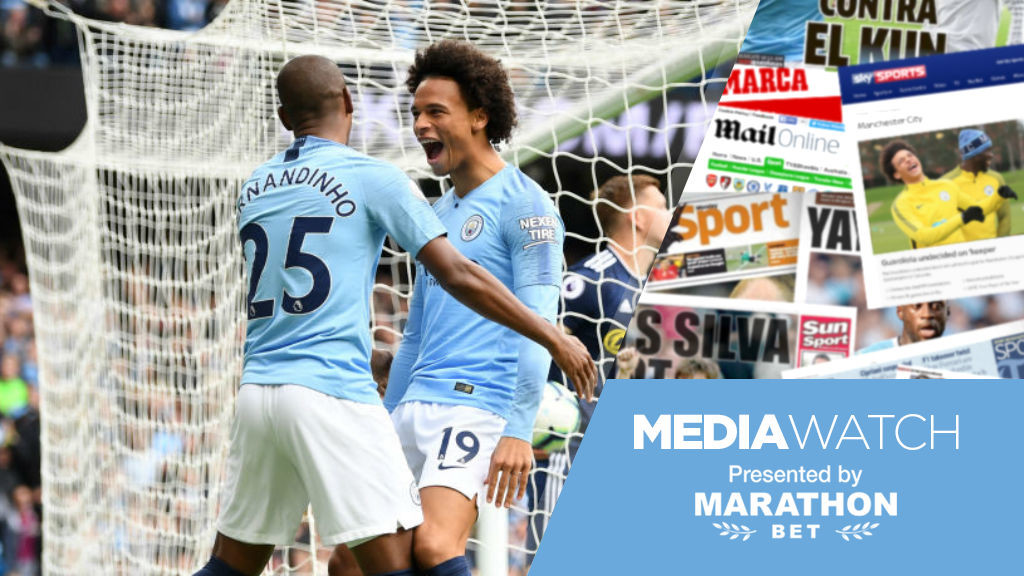 As the focus switches to the onset of the Champions League, City are tipped to thrive on the European stage by a former midfield star in Monday's media round-up.
There's also praise for Leroy Sane as well as a special tribute to Bernardo Silva from Pep Guardiola.
We begin with warm words from former Blue Steve McMananman, who believes Guardiola's side are the favourites to lift the Champions League.
City open their Champions League group stage campaign at home to Lyon on Wednesday.
And according to the Daily Mirror's Simon Mullock, McManaman believes City and another of his former clubs, Liverpool, have what it takes to succeed on the Champions League stage.
Mullock writes: "The ex-England midfielder reckons the Premier League's title rivals will also be battling for the game's most precious piece of silverware – if they are kept apart in the draw.
READ: Bernardo Silva interview
WATCH: Man City v Fulham extended highlights
GALLERY: Man City v Fulham match gallery
"McManaman feels English clubs now stand on the brink of a glorious new era that will see them dominate the Champions League.
"And while Klopp's Kop side eliminated City out at the quarter-final stage last season, he feels that Guardiola's title-winning Centurions are favourites to prevail this time.
"BT Sport pundit McManaman said: "I can't see beyond Manchester City or Liverpool for the Champions League.
"Yes, it's very hard to pick a winner at this early stage of the season, because your fate in a knock-out competition can be decided by a bit of good luck or bad fortune.
"But the best teams always find a way to come through – and in my opinion City and Liverpool are now the two teams to beat.
"City had that mental toughness in virtually every game last season – apart from the ones that mattered most when they played Liverpool in the Champions League.

"Guardiola already had the best squad in the country, but he's strengthened it further by signing Riyad Mahrez, while Benjamin Mendy is also back.
"So City are the team for me. If you look at all the big clubs in Europe, I would say that City are the all-powerful team now.
"What they have got to do is make that final step. The biggest step. They have got to move from Premier League winners to Champions League winners."
Meanwhile, in the Daily Mail, there is special praise for Bernardo Silva after another virtuoso display from the Portuguese midfielder in Saturday's 3-0 win over Fulham.
Writes Jack Gaughan: "He is fast becoming a favourite at the Etihad, and here he ran the game from midfield. At one point he carried possession on his nose like a sea lion. He looks every bit David Silva's heir.
READ: Strong presence for City in FIFA 19 Top 100
WATCH: Man City v Fulham: Pep Guardiola verdict
"'He is the most loved guy in the locker room,' Pep Guardiola said. 'Last season he played three minutes from the bench and when he plays three minutes from the bench, he plays the best he can play.
"'Sometimes there are players, and all the managers know this, that you give five minutes and they say, "Oh, now I have to play five minutes". He is not that player.
"'When he plays five minutes he plays the best possible, always a smile to help. He can fight. He is skinny, small, but he is "wow". In the beginning it was a little bit difficult. He came from France to England and needed to understand a little bit. Even for me, I needed a period to know and it is happening a little bit with Riyad (Mahrez).
"'Riyad is going to come back the same, like we saw with Leicester or with Bernardo right now.'"
Another City star to shine bright at the weekend was Leroy Sane who found the target on his return to the starting eleven.
And the Manchester Evening News reports on how former England striker Ian Wright believes Sane's display served to illustrate that he is unplayable when on top form for the Blues

Dan O'Toole writes: "Sane had barely had a look in at the Etihad during the first four games of the season but returned from the international break - and the birth of his first child - in imperious form.
"The 22-year-old broke the deadlock after just 97 seconds before goals from David Silva and Raheem Sterling maintained the Blues' 100% home record in the Premier League this season.
"And Wright believes Sane's raw attributes place him a cut above, despite his recent set-backs.
"He's 22, last season he was young player of the year but he didn't go to with the Germany team to the World Cup," Wright said.
"But when you're talking about someone with the ability he's got, the pace, the skill, the eye for goal, he was electric on Saturday.
READ: Man City v Fulham: Sergio Aguero injury update
WATCH: Inside City Episode 309
"Fulham couldn't get anywhere near him because he was so sharp, so good.
"He was either on the touchline or he'd come inside off the line and they still didn't know where to pick him up from."
Finally, there is also some transfer gossip in the MEN, with the Blues being linked with Adrien Rabiot.
Liam Corless writes: "Manchester City are one of four clubs interested in signing Rabiot from Paris Saint-Germain, according to reports.
"Rabiot's PSG contract is due to expire in June 2019 and the midfielder will be one of the most in-demand free agents next summer if he doesn't sign an extension with the French champions.
It is claimed by Paris United that Rabiot's relationship with Les Parisiens' sporting director has broken down and an end-of-season transfer for the 23-year-old, once of City's academy, is on the cards.
"Barcelona, Juventus and Spurs are also said to be keen on Rabiot, whose agent-mother is reportedly demanding a €10million signing-on fee as well as a €10m-a-year contract for her son."