Media Watch
1
Media Watch: City eye young midfielder?
MEDIA WATCH: City have been linked with a move for a 20-year-old Lyon midfielder
Pep Guardiola will face the press this afternoon ahead of Saturday's game at home to Crystal Palace – but before all that, let's take a look at this morning's back pages.
Some transfer news appears to be resurfacing, with a number of websites amplifying the Sun's report that City are monitoring the progress of Lyon midfielder Houssem Aouar.
The 20-year-old is understood to have impressed Pep Guardiola with his performance against City in November and has emerged as a target.
"Pep Guardiola is eyeing Lyon midfielder Houssem Aouar," writes Mike McGrath.
"The Manchester City boss is a massive fan of the 20-year-old after facing him in two Champions League games this season.
"He even waited in the tunnel at Lyon's Groupama Stadium last month to congratulate Aouar on his performance after their 2-2 draw.
"Etihad scouts have made enquiries about the youngster as they look for a long-term successor to Fernandinho."
WATCH: Leroy Sane | Expression makes the game beautiful!
GALLERY: Behind the scenes of KDB's Home Alone shoot
Meanwhile, Liverpool manager Jurgen Klopp has described City as "the team to beat" in this season's Premier League title race, describing us as "spot on" in every game.
"Being completely neutral about it, I look at it and say, 'Yes, the team to beat are obviously City,'" Klopp told the Star. "I don't think that way about us, to be honest with you, because I see us every day, every week, and I know we have to work on that.
"They are really, really, really good. I have to respect that. I can't say that City are lucky here and lucky there, they aren't. Every match-day, they are spot on. They were last year, when they got 100 points, and they stay in that mode.
"There's no sign of weakness. That's why I say it. They are the current champions and they still play like champions. The desire I see at City after being such clear champions last year, I think that's special."
And, finally, Burton Albion chairman Ben Robinson has reacted to the Carabao Cup semi-final draw.

The League One side beat Middlesbrough to make it through to last four, where they were drawn against City. He says it's a dream tie.
The eccentric scoreboard...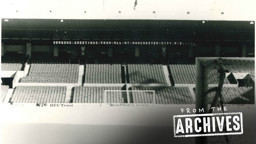 "We're absolutely delighted with the draw," he told Derbyshire Live.

"I'm sure it will create the same euphoria in time like when we played Manchester United, some 12 years ago.
"Getting to the semi-final of the Carabao Cup is up there with anything this club has done in its history."
That's all for today's Media Watch. Stay with us throughout the day here on mancity.com as we continue the buildup to this weekend's game against Palace.