Media Watch
1
Media: UWCL preview and Swansea predictions
MEDIA WATCH: The latest from the back pages...
A word from Keira Walsh, transfer gossip and predictions ahead of tomorrow's Premier League clash with Swansea City – it's your Saturday media round-up!
First up we take a look at Keira Walsh's Q&A article with the Metro.
The City midfielder spoke about last weekend's disappointing FA Cup defeat as well as giving a preview ahead of our big Champions League semi-final clash with Lyon.
We are set to take on the French-side in the opening leg of the round on Sunday 22 April, and the City midfielder has shared her thoughts on the upcoming tie and facing former Blue, Lucy Bronze.
READ: Aguero injury update
GALLERY: UWCL training
"Lucy is a world-class player and all of us know that," the Lioness told the Metro. "Lucy and I are also good friends and we'll look forward to having her back but she knows there's no friends when the whistle goes.
"Lucy will know our strengths and weaknesses and we know theirs as a team.
"We will look to put Nick's gameplan into place. Last season we beat them 1-0 at their home ground and that will be a huge factor in the tie."
City met Lyon at the same point in the competition last year, where we suffered a 3-1 loss on aggregate, despite securing a 1-0 win away.
"At home, I think we gave them too much respect and time on the ball," Walsh added. "They have great players in every single position, no doubt about that, and really you have to admire the confidence and maybe arrogance they have on the ball.
"We weren't as good a team as we are now. This season we're all close and also have a stronger squad, I think."
Be there to support the Blues at the Academy Stadium on Sunday 22 April, kick-off at 1pm! Tickets: https://tickets.mancity.com/
Beautiful Football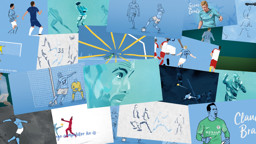 Next, we turn our attention to predictions ahead of tomorrow's Premier League game!
In his BBC column, Mark Lawrenson believes that City will seal a comfortable 3-0 win at the Etihad.
"The bunting will be out at Etihad Stadium after they sealed their title triumph last weekend, for the fans at least," Lawrenson writes. "But you know what Manchester City manager Pep Guardiola is like - he will not let any of his players take the foot off the gas, and he will have them revved up.
"I have been fortunate enough to have been in this position lots of times with Liverpool, when we had won the league with lots of games to spare and we were not quite at it for the rest of the season.
"I don't think that will be the case with Manchester City, though, because their manager is so driven.
"Swansea will come and try to stop them, but I think Pep will want Manchester City to put on a show.
"The good news for Swansea is that they have a bit of a cushion between themselves and the bottom three, and also that their final two games are at home to Southampton and Stoke - so their survival is still very much in their own hands."
READ: Pep | Evolution key to further success
We will end today's round-up with some transfer gossip – as Spanish outlet Don Balon have linked City with Bayern Munich striker Robert Lewandowski.
Known for rumours and gossip, Don Balon claim that Pep believes he can attract the striker to the club over the summer transfer window.
The Spanish media outlet writes: "Pep Guardiola has made it a priority to strengthen the front, where he currently has Sergio Agüero and Gabriel Jesús. The Catalan coach wants a world-class striker, and Lewandowski has taken a shot.
"Guardiola already trained Lewandowski at Bayern, and is convinced he can convince him to land at the Etihad Stadium and forget the Santiago Bernabéu.
"The Catalan has already asked the City to make an effort to take the Pole, and is convinced that he can leave for an affordable price and should take the opportunity."
That's all for today's media watch, but we will be back tomorrow with more of the headlines from the back pages!