Men's Team
1
Guardiola: Evolution is key to further success
PEP TALK: The boss addressed the media ahead of the game with Swansea this weekend
Pep Guardiola says he could make changes to his squad in the summer as he looks to become the first manager in a decade to defend the Premier League title.
The last time a team managed to win the trophy back-to-back was Manchester United in 2007-08 and 2008-09, a fact that underlines the depth of quality the English top flight possesses.
And Guardiola, who has now won 24 major trophies in his nine-year management career, says evolving his squad, staff and training regime will all be vitally important if we are to buck the trend.
"Yeah, now is time this week to start thinking about the squad," he said. "The same people, new people, what we have to change, thinking about new training sessions.
"We have to change things to make a step forward.
"We have a year to defend our title and we will see how we handle, how we play.
"Three Premier Leagues in seven years but the year after the wins was not good because it's difficult in the Premier League.
"I am curious how we will react next season."
READ: Otamendi breaks Premier League record
WATCH: Guardiola delivers champions speech
City have enjoyed a wonderful campaign, winning the Premier League title with five games to spare, as well as the Carabao Cup, which was secured in March after an impressive victory over Arsenal at Wembley.
And we've done it in style, scoring 130 goals in all competitions and playing an exciting attacking style of football that has seen us lauded across the media.
So, are we close to having the perfect squad?
"No, we are still young," Guardiola said.
Have you seen?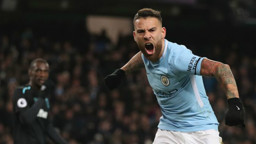 "We have a lot to do. But that's why it's nice. When we won 18 games, everyone say is it perfect and I said 'no' and then came [the defeat to] United and Anfield."
"For example, the goal we conceded against Tottenham [last weekend]. We were dominating and in 42 minutes we concede a goal."
If you want to relive the best moments from a truly memorable season, visit our Beautiful Football hub: https://www.mancity.com/beautifulfootball