Media Watch
1
Gossip: City set for double January swoop?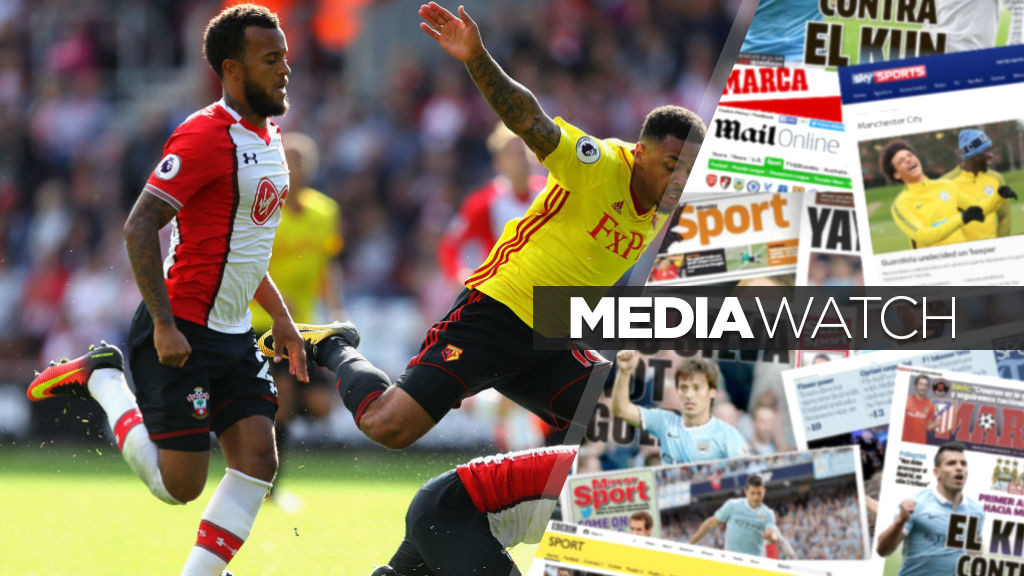 TRANSFER LATEST: City have been linked with a double January swoop
Manchester City play Burnley this weekend looking to continue their unbeaten start to the season – and according to this morning's newspapers, Pep Guardiola is planning to add to his already fine squad in the January transfer window.
The Manchester Evening News say City will renew interest in Arsenal's Alexis Sanchez - and add a left-back to their ranks in a bid to cover Benjamin Mendy's injury setback.
James Robson writes: "City will go back in for Alexis Sanchez if they fear losing the Arsenal striker to one of their European rivals.
"The Etihad hierarchy have been alerted by Arsene Wenger's willingness to cash in when the transfer window opens in January, with Sanchez resisting all attempts to get him to sign a new long-term deal.
"The 28-year-old is free to talk to teams abroad in the New Year, with Paris St Germain heavily linked with a move.
"City will be prepared to pay in the region of £20m - £40m less than they bid in the summer.
"But Guardiola's priority is to find cover for Mendy, who will be out until April.
"Napoli's Faouzi Ghoulam is on City's radar - as is Southampton's Ryan Bertrand and Aaron Martin of Espanyol."
Meanwhile, Aymeric Laporte says he had the chance to move to City from Athletic Bilbao this summer.
But, according to L'Equipe, the France under-21 international said he did not want to leave the La Liga side.
READ: Kevin De Bruyne on his own form
READ: December fixture changes announced
"I had the chance to leave but I did not feel it," Laporte said.
"Also because I was injured and did not want to leave so."
Away from transfers, City's impressive start to the season continues to garner praise across the board.

Today it's the turn of Jonathan Wilson, writing in Sports Illustrated, who describes City's football as 'mesmerising'.
"This is what was hoped for when Guardiola first joined the club. City's pace and movement are mesmerizing. The club's tally of 29 goals is more than any side has managed in its first eight games in the top flight since Everton in 1894-95, and it hasn't been because of a simple fixture list. City's run to open the season has included a 1-0 win at the champion, Chelsea; a 5-0 win over Liverpool, which admittedly had Sadio Mane sent off in the first half; and a 6-0 win at Watford, which sits fourth in the current table."
That's all for today, Blues. Stay with us throughout the day as we continue the build-up to this weekend's game at home to Burnley in the Premier League.