Media Watch
1
Man City gossip: Defender links and Pep skills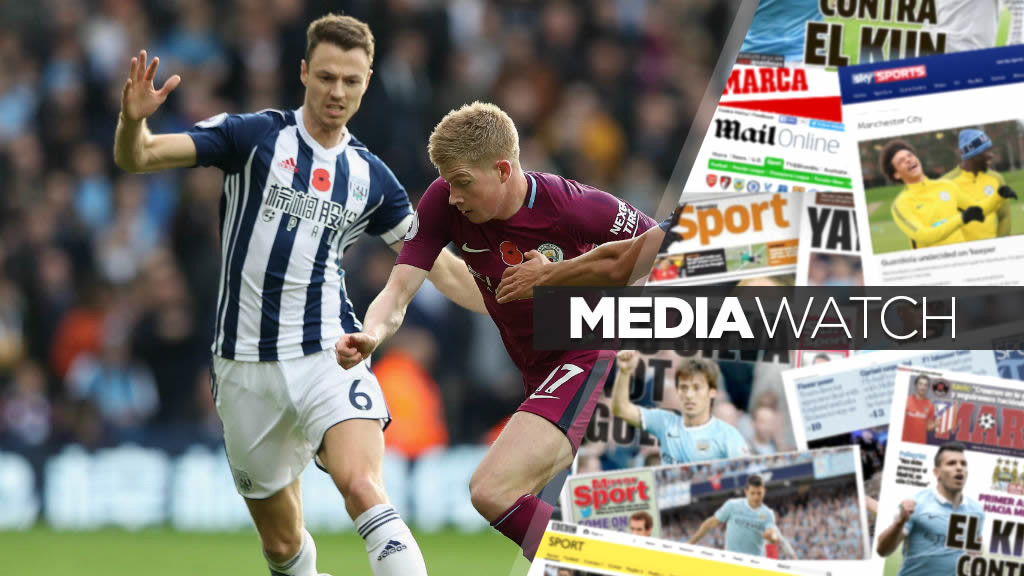 SPECULATION: Potential January targets are being discussed in the media
Welcome to the first Media Watch of December, which promises to be an extremely busy month with nine matches as well as the inevitable transfer gossip ahead of the January window.
The way City are playing the more matches the merrier – Vincent Kompany has been speaking about just what boss Pep Guardiola does behind the scenes to produce such sensational football.
There's also praise for David Silva after El Mago penned a new deal, but first to a spot of speculation and a familiar name.
The Daily Telegraph's John Percy writes: "Arsenal and Manchester City are set to move for West Bromwich Albion captain Jonny Evans in January.
"Evans will be a target for both Premier League clubs when the transfer window opens, with Albion considering whether to cash in to raise funds for new head coach Alan Pardew.
"Pep Guardiola, the City manager, is keen to add a new centre-half and failed in a bid to sign Evans in the summer as Albion stuck rigidly to a £30m+ price tag.
"The absence of John Stones with a hamstring injury has heightened City's need for defensive additions, with Real Sociedad's Inigo Martinez also believed to be on the radar."
To Guardiola and Kompany now, with the City defender revealing how Pep has an effective way of unlocking new ability in players.

He told Sky Sports: "He's a great teacher, I think that's the right word to use. I've been in football for a long time now, and I've got to be honest, it has made me realise how important it is for managers to be actual teachers, no matter what level the footballer is at.
"Sometimes it is taken for granted that top professionals know everything they need to do, but in reality it is quite the opposite. When you break it down, go back to basics, and explain all of these things to these great players, it gives them another level. And that's what has happened here I think. Being super cautious, I see progression in the team, but until we've won silverware I don't care what it is, it's not enough."
One player whose level has been consistently stunning since his arrival in 2010 is David Silva.
To prove the point FourFourTwo have crunched some El Mago shaped numbers and come up with this. Impressive.
Explore all our Silva contract content here including stats, features and videos
That's your lot for today, we'll be back at the same time, same place tomorrow