Media Watch
1
'A toast to City – resilient and brilliant'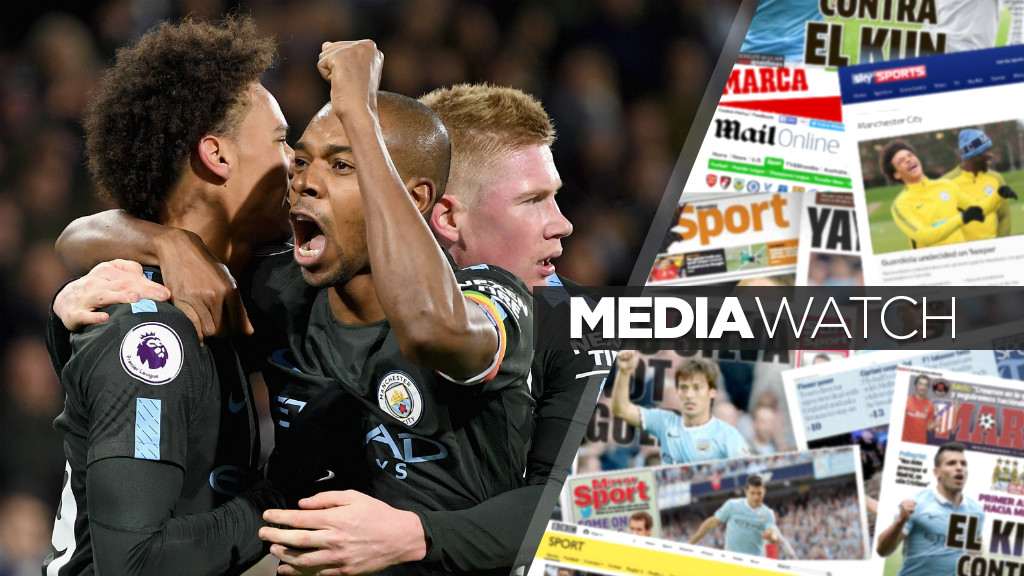 GRITTY CITY: The Blues showed their character with a hard-fought 2-1 win at Huddersfield
Plenty of praise for a dogged display, as the journalists of the footballing world reflect on City's had-fought triumph at Huddersfield.
Today's headlines once again make pleasing reading, as the Blues' spirit and resilience earns deserved acclaim.
As many have noted, it's deemed the mark of champions.
The Daily Mail's Ian Ladyman scribed: "When it was over, Pep Guardiola knew where he wanted to go: straight out on to the pitch to celebrate what felt like a significant achievement.
"As Guardiola ushered his players towards the visiting supporters, it seemed the coach simply wanted to be among his men, to congratulate them and make sure they understood how important this victory may prove to be.
"This was an afternoon when City fell below their sublime best. They were the better team but not wholly themselves. Their intentions were recognisable but their execution was not.
"When this happens it is important to find a way to win and that City did so may say as much about them as all the pretty goals we have seen previously.
"Had City faltered here, their lead over Manchester United in the table would have been six points. That would have been healthy enough but with a derby at Old Trafford to come on December 10, there may have been optimism felt across town.
"Now, thanks to the goal City found six minutes from full-time, the lead remains at eight points and in winning the game this way Guardiola's team delivered a clear message that they are prepared for the hard yards ahead. We should not be surprised if this serves to invigorate them."
Writing for Football 365, Matt Stead purred: "The recipe for a Premier League title-winning side is pretty simple.
"Start with a dash of game-changing talent: Kevin de Bruyne, Sergio Aguero and David Silva, for example.

"Next, a sprinkle of resolve, the kind that sees only Manchester United conceding fewer goals after 13 games. Finally, a teaspoon of good fortune, such as a stoppage-time winner against Bournemouth.
"That Manchester City required each ingredient on Sunday evening is testament to Huddersfield and David Wagner.
"Raheem Sterling was the game-changer, City fought from a goal down to secure a late victory, and the eventual winning goal required more than a hint of late luck.
"The hosts sought to frustrate and foil at the John Smith's Stadium, but harboured plenty of attacking threat in the first half. Nicolas Otamendi's own goal was against the run of play, but not unjustified.
"Yet while many sides would wilt after conceding on the stroke of half-time having dominated, City prospered.
"Within seconds of the restart Sterling was played in on goal but thwarted. A minute later, the same situation led to a different conclusion: the winger was fouled, and Aguero converted from the spot.
"From thereon in, it was attack against defence with strictly no interruptions. Nine City players attempted more passes than every Huddersfield outfielder, and Aguero had as many shots as the hosts combined (4). City ended the game with 71% possession.
"No side in Europe has been as punishing in attack this season, from the 7-2 win over Stoke to the 5, 6 and 5-0 victories in the space of a fortnight against Liverpool, Watford and Crystal Palace.
"But Pep Guardiola might well cherish these three points the most. This was a win to appease the pundits, an ugly win, the sort champions rely on."

Goal's Sam Lee echoed: "Even with the various different talented teams that have been moulded in this new City era, and for the trophies won against the odds, they had never quite managed to dig deep on occasions like this.
"Yet here they are, proving doubters wrong in as many ways as you can imagine.
"They reacted to Stoke scoring twice by going on to score seven. They reacted to Napoli taking the lead and then getting it back to 2-2 by becoming the first English side to win a Champions League game at the San Paolo. They have now dragged a Premier League game back from the brink to keep their winning streak alive.
"When will that streak end? If they can ride out an afternoon like this, it may not be for quite some time."
Daniel Taylor of the Guardian agreed: "The most remarkable part of Manchester City's latest victory, a club-record 11th in a row, was that it was the first time since April 1995, when Brian Horton was in the dugout and Paul Walsh supplied the decisive goal in a 3-2 win at Blackburn Rovers, they had won a Premier League match after trailing at half-time.
"They will be glad, 11 managers on, to get rid of that little piece of club trivia. It is another measure, perhaps, of how the modern City now have stoutness and resilience to go with their many other gifts."
Sky Sports' Nick Wright declared: "The records keep tumbling for Manchester City. Sunday's victory made them the first English side in top-flight history to win 11 consecutive away games, and with 37 points from a possible 39, Pep Guardiola's men have now made the best-ever start to a Premier League campaign.
"From thrashing Liverpool to outclassing Arsenal, there have been plenty of highlights along the way, but their latest victory was probably the most significant yet. David Wagner's side were dogged, disciplined and difficult to break down. But on the ground where Manchester United came unstuck a month ago, City dug deep and found a way to win.
"Sterling's performance earned him the man-of-the-match award but City's collective response to falling behind was even more impressive."