Media Watch
1
Gabriel Jesus reveals desired Man City number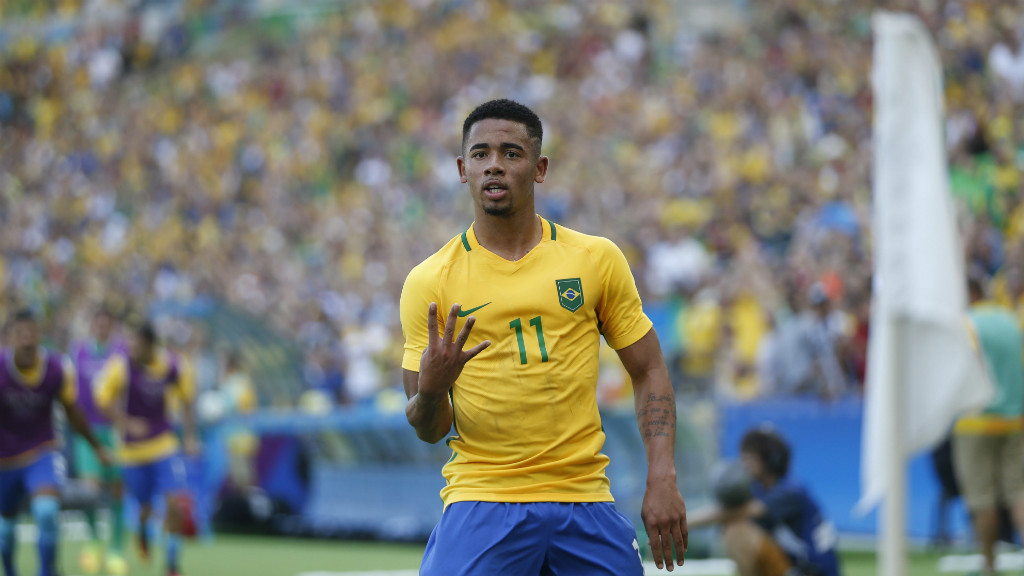 READY: Gabriel Jesus wants more title wins with Manchester City.
ESPN Brazil report Gabriel Jesus has told City he would like to continue in his favourite shirt number.
The talented Brazilian, who bids a farewell to Palmeiras this week, could make his debut for the Blues as early as the 2 January clash with Burnley if boss Pep Guardiola believes he is rested and ready.
But whether it's the Clarets or another side he faces when he does start City life, the 19-year-old is hoping he can do it in the number he feels most comfortable in.
"I had told City it's hard without the 33 shirt," Gabriel told ESPN. "I want this number because I used it since I was promoted at Palmeiras."
He added about his imminent arrival that the sizeable South American and Hispanic contingent at the Etihad will ease his integration in Manchester, saying: "Thankfully there are two Brazilians, Argentines, Spaniards, it well help me a lot.
"I'm very happy with the manager's effort to assure that I adapt myself as quickly as possible so I can show my football and keep playing. Now I'm going there, I'll enjoy it, rest, and after the moment I start wearing the shirt, show my best."
Elsewhere there is media speculation that Isco could potentially be a future team-mate for the Brazil star.
It's a link that has been made with City for more than three years, but the Express suggest if the Spaniard is allowed to leave Madrid, Chelsea and Arsenal would also be keen to sign him.
The report reads: "Real Madrid's midfielder faces an uncertain future at the Bernabeu with his playing time restricted under Zinedine Zidane.
"The 24-year-old has a big reputation despite his difficulties faced at the La Liga giants.
"And Premier League clubs are said to have approached Isco's father Paco Alarcon, who represents him.
"According to Diario Gol, the Spain international has already informed Zidane he is unsure over his future at Madrid, due to the three tempting offers from England.
"It appears Antonio Conte, Arsene Wenger and Pep Guardiola all carry a desire to sign the playmaker and bolster their respective squads.
"Isco is valued at around £34m by Madrid, but the club are looking at the possibility of renewing his contract, which expires in 2018.
"If no deal is reached, the Premier League sides may swoop, despite Isco's desire to prove himself more in Spain.
In Scotland, Patrick Roberts says he has every faith in his ability to make it at the Etihad next season.
The on-loan winger scored an excellent goal against the Blues for Celtic on Tuesday evening and in the Daily Mail he said: 'I always believe in myself and my ability and will show it whenever I get the chance.
'I want to finish the season strongly with Celtic and see where it goes from there.'
'I know what I am capable of. It is about what you do on the pitch, not how much you cost. I will just keep doing what I am doing and we will see what it says at the end of the season.'
Finally, this is how Borussia Dortmund's English website reported their Round of 16 possible opponents after an impressive 2-2 draw with Real Madrid at the Bernabeu left them as group winners last night.
They write: "Borussia Dortmund will face one of Paris St. Germain, Benfica, Manchester City, Porto or Sevilla in the last 16 of the UEFA Champions League, with the draw for the knockout stages of Europe's elite club competition taking place on Monday.
"The Black and Yellows have ended the UEFA Champions League group stages in top spot on 14 points. Juventus and Arsenal achieved the same feat, while Barcelona and Atlético Madrid picked up 15 points. Napoli, AS Monaco and Leicester City were the other group winners and will therefore not face BVB in the next round."
Given their display last night, that would be a tough one!