Men's Team
1
Bernardo: We had to fight for huge three points ​
SOLID SILVA: Bernardo looks to get City motoring once more
Bernardo Silva says Manchester City's battling qualities were key to securing the win over Liverpool on Thursday.
In a crucial game many felt City had to win in to maintain our title challenge, Pep Guardiola's side showed plenty of grit and determination in order to claim a memorable 2-1 victory and cut Liverpool's lead at the top to four points.
Bernardo was arguably the star of the show, running 13.7km – a Premier League high so far this season – and he says the result sends a message to Liverpool that the title race remains very much on.
"We know that in these games we must work a lot and that's what we tried to do," he said.
"Liverpool are a very strong team that imposes huge difficulties, therefore the only way to fight that was to be at our best in great shape, run a lot - and that's exactly want we did. We're very happy!
"This win was super important, particularly because it was against the leaders and we must show that we are chasing after the title.
"Honestly, it is three very important points."
READ: Magnificent City end Liverpool's unbeaten run
WATCH: Pep Guardiola | 'Liverpool clash was like a final!'
GALLERY: Happy Blue Year! | City down league leaders
The win over Liverpool came on the back of a run of three defeats in five Premier League matches, a run that had seen us slip to third in the table.
It was an unusual wobble for City under Guardiola, given the serene progress over the past 18 months that saw us win the Carabao Cup and Premier League title last term.
Bernardo says the experience in the squad was key in handling the situation, as well as the clear, coherent approach put forward by Guardiola.
"We're extremely happy with the win at home with our supporters," he said. "It was a very intense game between two huge teams and we're so happy for the three points.
Have you seen...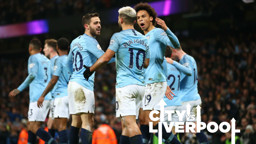 "Our team has great experience. Each one of us has won and lost games and we know how to react to defeats.

"That's why, when we're at the very top, we don't think we're the best in the world and when we're very low, we don't see that we are the worsts. We can maintain a balance and a medium term and work in the same way.
"We never doubt the process, because he is part of our evolution. That's what I have been doing in the last year and a half.

"That same process we've been following, has gave us a lot of victories and trophies and that's what we must keep doing.
"Every game is important, but obviously, when we play against one of our rivals, we not only play to conquer three points but also to steal them from the opponents. So maybe, yes, it was one of the most important games but that doesn't mean anything, if we aren't able to win the next one.
"We are certainly going to give our best, in order to keep the higher level. Unfortunately, at the start of December, we couldn't maintain the same level we had at the beginning of the season, but after this amazing game, we are extremely happy."