Men's Team
1
Stoke v Man City: Talking Points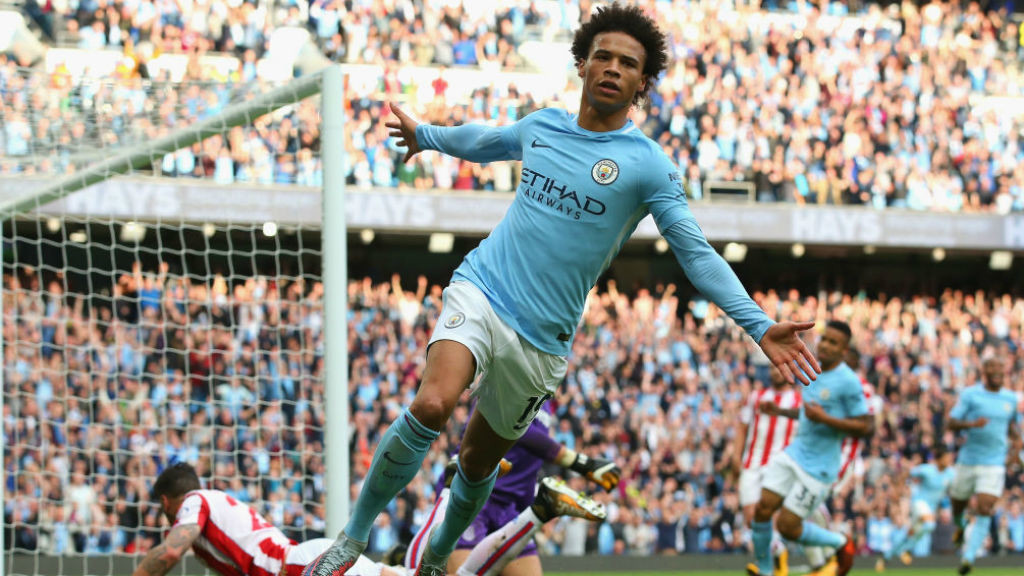 SIX OF THE BEST: Leroy Sane wheels away in triumph after making it 6-2
Ahead of City's trip to Stoke we take a look at four topics for discussion, including squad selection, motivation and THAT performance at the Etihad Stadium...
1

Seven star

I know it's hard given we are still in the cold and steely grip of the 17/18 winter... but cast your mind back what was a balmy October day when City produced arguably their best performance of this stellar season. City scored seven and could have had more as Kevin De Bruyne's passing range left the Potters shattered on the Etihad turf. KDB's part in the second and fourth goal in particular was of the jaw dropping variety.
"Always you can do better but I cannot deny today was the best performance since I arrived here," said Pep Guardiola afterwards.
2

Wet, windy night in Stoke

"...But can they do it on a wet, windy Monday night in Stoke?" So goes the familiar question of sides and players who like to play dazzling football like that witnessed in the first match between the sides this season. I guess we will find out later on, but Guardiola's men have shown on many occasions this season we are made of strong stuff, digging in deep for late goals, winning penalty shoot-outs, and working hard whatever the occasion.

READ: Stoke v City - TV info

WATCH: Stoke v City last 10 goals
3

Top flight fight

More dangerous than any inclement Staffordshire weather will be Stoke's motivation to stay in the Premier League. A win for Paul Lambert's side against City tonight would lift them out of the relegation zone with eight games remaining and their form of late is solid. Stoke have lost just once in six matches, drawing their last two games at Leicester and Stoke. You can guarantee the Potters will be running and tackling as if their lives depend on it - City must match that effort.
4

Squad shuffle?

Guardiola could opt to tweak his starting XI with players returning to fitness. Raheem Sterling and Fernandinho are pushing for recalls, although striker Sergio Aguero will miss out with a knee injury sustained over the weekend in training. The boss will also have his usual decision to make at centre-back, where John Stones, Vincent Kompany, Nicolas Otamendi and Aymeric Laporte vie for two spots.