Men's Team
1
Things we love: Lionel Messi's visit and Salt Bae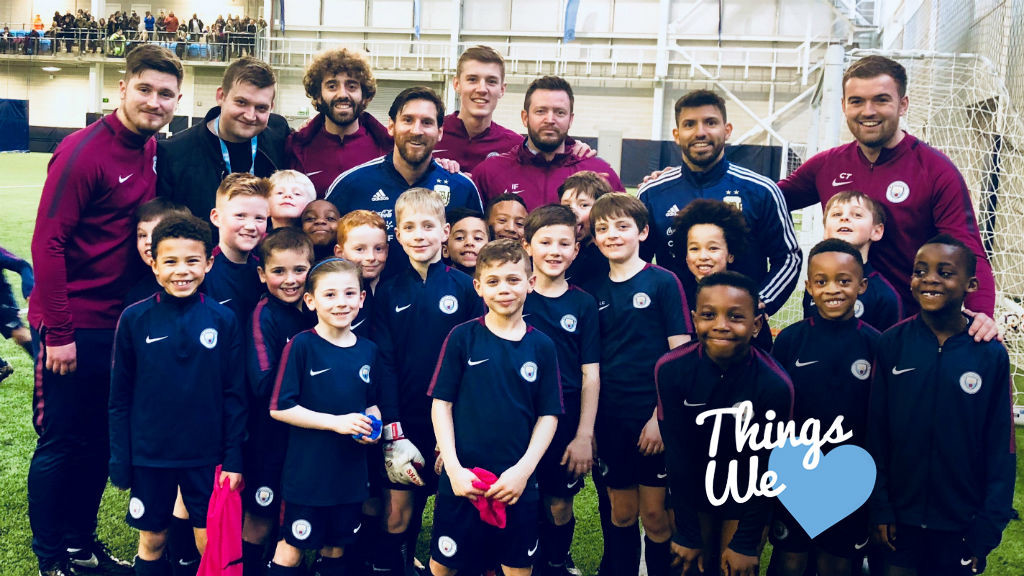 THINGS WE LOVE: Lionel Messi made a surprise visit our the City Academy this week.
Surprises for our Academy players, holiday photographs and Champions League wins are just some of the things we're loving at Manchester City this week.
There's been a shortage of first team players at the City Football Academy, but plenty has caught our eye over the last seven days, including Lionel Messi, Salt Bae and Uwe Rosler.
Surprise!
For any youngster, there's nothing better than meeting your footballing heroes and our U7 and U8 Academy players had the chance to do just that this week.
With Sergio Aguero welcoming his Argentina teammates to the CFA, he and Lionel Messi surprised our youngsters at their training session.
A day they're unlikely to forget!
When Leo #Messi and @aguerosergiokun turn up at your U7 and U8 Academy training sessions... 🤩 #ManCity pic.twitter.com/fH4ZDJBYTI

— Man City Academy (@ManCityAcademy) March 22, 2018
Meme royalty
It's a double hit from Aguero in our latest edition of Things We Love, who earns a second inclusion for the good company he kept at the close of our Abu Dhabi training camp.
The Argentine striker dined with Roberto Mancini at chef Nusret Gökçe's restaurant.
You may know him better as Salt Bae!
Uwe's story
Uwe Rosler also makes the list this week for a must-read piece on the Coaches Voice.
Offering revealing insights into his coaching and playing career, as well as his battle with illness, the former City striker speaks glowingly of his relationship with the Maine Road faithful.
Here's a taster: "I flew to Manchester for a reserve game against Burnley at Maine Road.
"When I walked on to the pitch I couldn't believe how many people were there – it must have been around 5,000. For a reserve game! And they were singing.
"I was unbelievably impressed."
Read the full article, here.
Advantage City
Nick Cushing's women's first team made a fine start in the Champions League quarter-final against Linkoping.
Nikita Parris and Jane Ross were on target in a 2-0 victory to put us in a commanding position ahead of the second leg in Sweden and there was more reason to celebrate as Tessel Middag returned from a 10 month injury lay off.
Read Tessel's reaction, here.
A win at home, now let's get a win on the road! #mancity pic.twitter.com/87OV59fa9S

— Manchester City (@ManCity) March 22, 2018
Sharp-shooting Sterling
Raheem Sterling has certainly been showcasing his skills while away with England.
The City winger shared a montage of his best bits earlier in the week before this clip of a quick-thinking, improvised goal.
Bonus points for checking it was on camera, too!