Men's Team
1
City 100: Oasis anthems and goals galore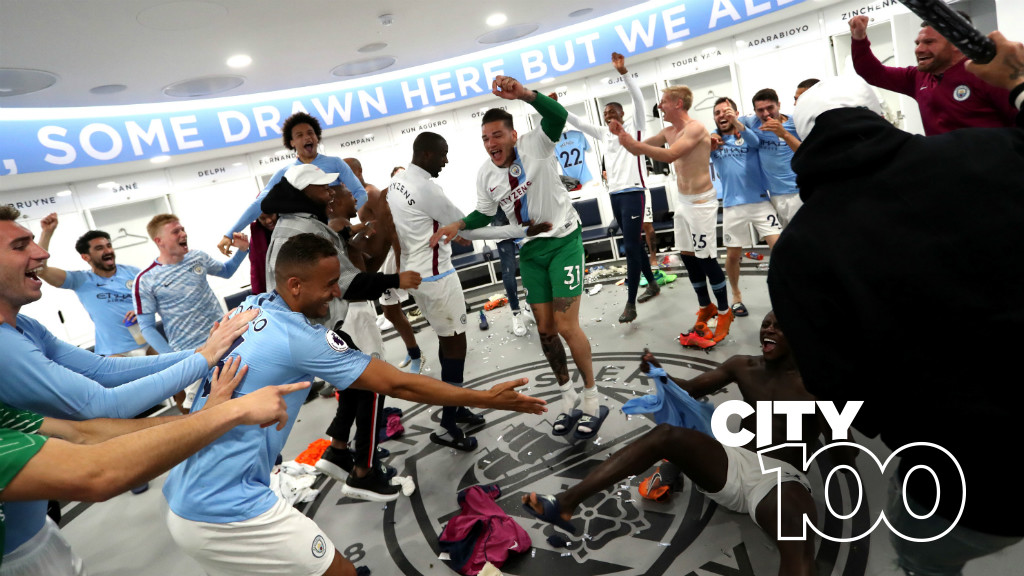 CHAMPAGNE SUPERNOVA: City listen to Oasis in the dressing room before games...
Ton up! In celebration of our City Centurions' remarkable, record-smashing season, we are running a 100-themed summer feature...
With your help, we fondly recall '100 reasons to smile' from our sensational 2017/18 campaign, which ended in spectacular fashion as the Blues clinched an unprecedented 100 Premier League points.
Share your favourite memories from an incredible season - the awesome, the eye-catching; the heart-warming and pride-inducing - on Twitter @ManCity, no matter how big or small... and yours could be featured over the next few weeks.
29

Oasis anthems

"The thing about Manchester is… it all comes from here."

Pointing to his heart, these were the words of the legendary Noel Gallagher – former Oasis star and lifelong City fan.

And what could set your heart beating with true Manchester pride better than listening to arguably the biggest band of the '90s belting out some rock 'n' roll tunes? (In my opinion anyway!)

READ: World Cup player focus | Nicolas Otamendi


READ: World Cup Gold | Nigel de Jong

It's no secret we Mancunians are proud of our roots and Pep Guardiola moved to draw inspiration from the city's spirit with an idea that has since become tradition.

Around October time, with City well on song on the pitch, it was revealed the manager encourages the players to listen to one of Manchester's finest in the dressing room before each game.

John Stones explained the team 'always walk into Wonderwall' and that everyone loves it.

So, is it a secret to the Blues' success? Definitely maybe…
30

Goals galore

Goals, goals, goals!

City's remarkable, record-smashing season was full of 'em!

With 7-2 wins and 5-0 thrashings, the Blues' had little trouble finding the target. Guardiola's men were the quickest Premier League side to reach a century of goals with 102 in 35 games, beating our own record from 2013/14 amongst others.

In total, City bagged 106 goals – three more than Chelsea managed in the 2009/10 campaign – and completed the season with an astonishing goal difference of +79 – eight better than the previous record (also set by Chelsea in the 2009/10 season).

Further cause for celebration!