Men's Team
1
Things We Love: Mendy's return, UWCL and Champions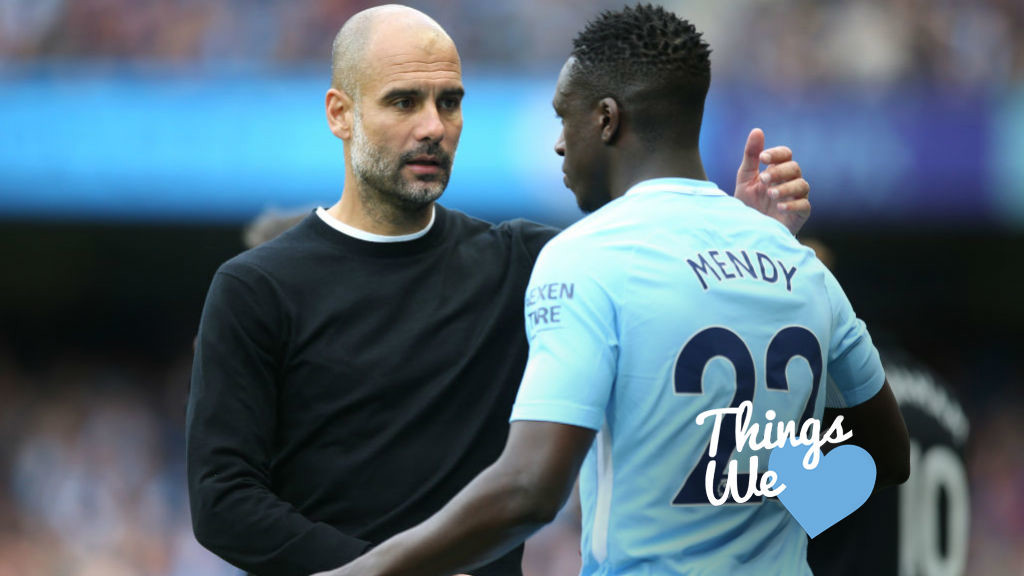 THINGS WE LOVE: IT's been a busy few weeks here at City!
Wow – it's certainly been a few weeks to remember here at Manchester City – and with that comes plenty of things to love…
From Academy success to becoming the Champions of England, here are just a few things that have caught our eye over recent weeks!
Young guns
First up, we turn our attention to a number of successes in our academy!
Firstly, big congratulations go to our Development Squad and Under-16s who recently clinched the Development League Cup and Girls FA Youth Cup at St George's Park.
The Young Blues defeated Birmingham and Reading respectively, as Jess Park (two) and Esme Morgan netted for the Dev Squad, while Maria Edwards bagged a hat-trick for the U16s.
Such a huge achievement – and if that wasn't enough, the development squad have the chance to secure the League title on Sunday 29 April against Durham! Good luck, girls!
READ: Double delight for Academy aces
Simon Davies' Under-19s were also in action last week in the semi-final of the Uefa Youth League.
Although we bowed out to Barcelona, the U19s' performances throughout not only the game, but the competition, served the club with distinction.
PFA success
We absolutely loved that eight of our City stars were recently named in the shortlist for individual player awards by the PFA.

Georgia Stanway, Keira Walsh and Ellie Roebuck were all listed for Women's Young Player of the year, while Leroy Sane, Ederson and Raheem Sterling were all put forward for the Young Player of the Year.
While all of our young talents were worthy of the prize, Sane was the only City starlet to be crowned winner. Leroy posted a 'thank you' picture on his social media accounts with his trophy in tow!
Big honour 🔥🏆🔥 Thanks a lot for all your support during our amazing @premierleague season! #PFAyoungPlayerOfTheYear #inSané #LS19 @ManCity pic.twitter.com/2cJMuSeaEK

— Leroy Sané (@LeroySane19) April 22, 2018
In the senior category, Kevin De Bruyne was up for PFA Player of the Year and Jill Scott was nominated for Women's Players' Player of the Year.
Congratulations to all of our players up for nomination!
Across the globe
We want to send a huge congratulations and good luck to a fellow City Football Group team – Melbourne City!
The Australian-side are just one step away from reaching their first Grand Final as they prepare to take on the Newcastle Jets in the semi-final of the A-League.
Melbourne will face Newcastle on Friday 27 April, and with a place in the final up for grabs it's bound to be a tough contest!
#OneCity #OneGoal. Bring on Friday night! 💪💪💪 #NEWvMCY #ALeagueFinals pic.twitter.com/qeRH8uRaRB

— Melbourne City FC (@MelbourneCity) April 26, 2018
Good luck, City!
Return of the Shark!
Our Premier League game against Swansea was definitely one to remember – five goals, a guard of honour and a comeback from a very special player…
Damn I missed you, Football 😍 thank you all for the incredible support through this long & difficult journey, I'm soooo happy to be back 💙 pic.twitter.com/DVI3Eo7H1Q

— Benjamin Mendy (@benmendy23) April 22, 2018
Benjamin Mendy stepped out onto the pitch in the 75th minute to replace Fabian Delph at the Etihad for the first time since injuring the cruciate ligament in his knee at the start of the season.
The social media king received huge applause and warm welcome back from fans and fellow team mates and it was so good to see him in the blue and white strip once again.
Déjà vu
City moved one step closer to the Uefa Women's Champions League final last weekend after earning a goalless draw with current Champions, Lyon, in the opening leg of the semi-finals.

The Blues produced a superb, battling performance which sees Nick Cushing's side take a precious clean sheet to France this weekend for the second-leg.
Some of you may have a sense of déjà vu as we met the French-side at exactly the same stage in the competition last year. We may have missed out last time round but the team are focused on making Club history!
A place in the final is well and truly up for grabs, and you can follow the game on our matchday commentary Twitter account: @ManCityWomen on Sunday 29 April, kick-off at 1.45pm.
CHAMPIONS!
Finally, it would be crazy not to include our Premier League title win in things we love! It's been somewhat of a whirlwind since being named Champions, but we've loved every minute of it.
A victory against Spurs at Wembley combined with United's recent defeat to West Brom means we are now in an unassailable position at the top-flight summit.
We loved Kyle Walker and Mendy's correspondence following the news that we'd won the League - including a remake of a film you may have watched!
We lost Delph! pic.twitter.com/XwZcFkcMEJ

— Kyle Walker (@kylewalker2) April 16, 2018
But our favourite response to the win has to be from David Silva. It's been a difficult year for the Spaniard, but the midfield magician has continued to produce exceptional performances on the pitch.
Silva posted a picture on his Twitter account to show just why this title win is extra special...
My 3rd league but this one is the most special.Thanks to everyone for supporting me in this tough year!🏆🏆🏆 pic.twitter.com/kKslE189uu

— David Silva (@21LVA) April 15, 2018
That smile says it all...