Women's Team
1
Double delight for Academy aces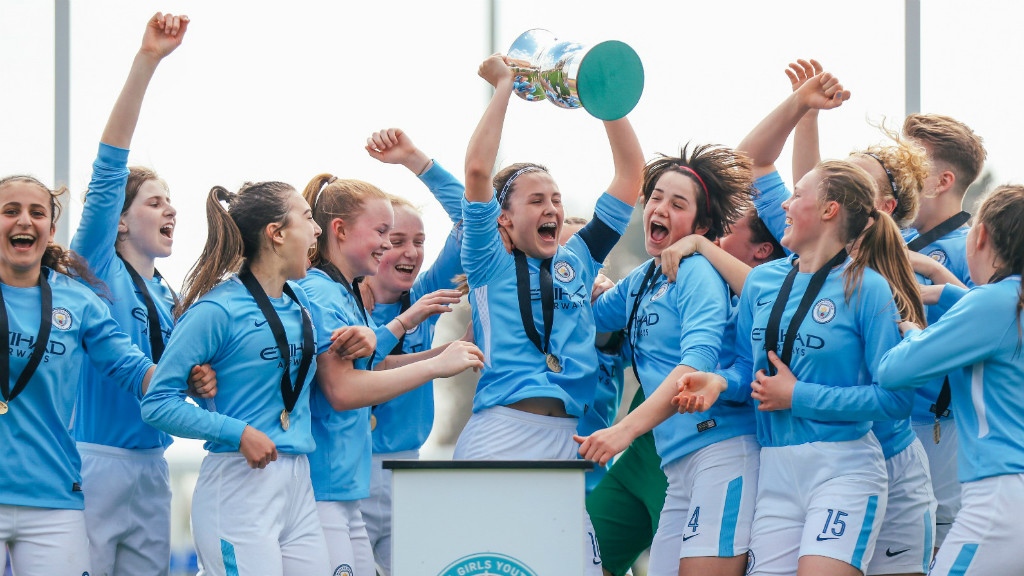 CHAMPIONS: A fantastic day for City's women's academy sides
City's Academy sides enjoyed a day to remember, as our Development Squad and Under-16s clinched the Development League Cup and Girls FA Youth Cup at St George's Park.
The Young Blues defeated Birmingham and Reading respectively, as Jess Park (2) and Esme Morgan netted for the Dev Squad, while Maria Edwards bagged a hat-trick for the U16s.

Kevin Murphy's side raced into a 3-0 lead over Birmingham, courtesy of Park's double and Morgan's effort.
Park opened the scoring, cutting in on the left wing and firing into the bottom corner, before doubling her tally with a similar goal, converting the rebound after her initial shot was saved. Morgan added the third from close range.
Emily Joyce pulled one back for the Solihull outfit before the break but City held strong to maintain the advantage and were unfortunate not to extend the lead through Ella Toone and Alethea Paul.
Technical Director Murphy reflected: "The team played so well in the first half. Obviously, to get into a position where we're 3-0 up was fantastic for us.
"Credit to Birmingham - they scored just before the break and made a real game of it in the second half, making life really tough for us.
"The pleasing thing for us was that the girls dug deep and found a way to win. When you go on these journeys to winning trophies, that's what you have to do.
"I'm immensely proud of them all. We showed our attacking flair in the first half with the three goals but then we had to show a lot of resolve with some emergency defending and we did that.

"The players really found an extra reserve from somewhere to ensure Birmingham never got back into the game."
Brenna McPartlan, who captained the side, added: "It's an amazing feeling.
"The girls dug in deep and gave everything to hold on to our lead. We got off to a great start - Jess scored two goals early on and Esme Morgan scored another to push us on. Unfortunately, we conceded before half-time but we defended well in tough, warm conditions.
"It's been a brilliant day for the Club."
Double goalscorer Park could not contain her delight. She smiled: "I feel fantastic. It's been a great experience and it's a great feeling to have scored and won the cup. There's no feeling quite like it!
"We had an incredible start and gave ourselves a good lead; then we showed some great resilience to keep going. It was a tough second half but we kept fighting."
The U16s had to come from behind to claim victory, after Olivia Gaffney had opened the scoring for Reading. The young Blues responded well as Edwards scored her first before the break, completing her treble in the second half.
Murphy continued: "The U16s also had a really tough game - Reading were fantastic opponents - but the girls took their opportunities well when they arose.
"Reading threw everything at us in the final moments but again, we dug deep and managed to get them on the break to seal a 3-1 victory.
"It's a little bit of history - neither side has ever won the trophy so for us, it's a special achievement and we're really proud.
"Hopefully, now, our Development team can take it forward because we're in a really good position to win the league. We have to use the momentum and get over the line to cap an incredible season.

"It's important that the players are able to experience days like this at a young age. I'd like to make a special mention for the Academy kids, who attended the games. We had Under-10s to Under-14s down there watching and you can see on their faces what it means for them to watch their role models.
"Like we look up to the first team, it's important for them have role models too. In terms of the experience, if you want to play for City, you have to be used to big occasions and dealing with pressure and both sets of teams proved they're well-equipped for that.
"Hopefully, it bodes well for the future."
Congratulations to all involved!
City Development Squad: Fran Bentley, Serena Fletcher, Esme Morgan, Charlotte Newsham, Poppy Pattinson, Brenna McPartlan, Maria Figueiredo, Issie Spray, Jess Parks, Ella Toone, Alethea Paul, Meesha Dudley-Jones, Lauren Brogan, Darsey Faulkner, Autumn Housley, Ellie Bohannan, Sadie Mitchell.
City U16s: Amelia Booth, Annabell Veryard, Anna Phillips, Beau Studholme, Lara Miller, Emma Bissell, Dominique Cooper, Emma Bradley, Maria Edwards, Katie Bradley, Millie Davies, Isabella Montierdo, Grace Burke, Alicia Window, Millie Ravening, Leoni Price.