Men's Team
1
What TV channel is City v Feyenoord on?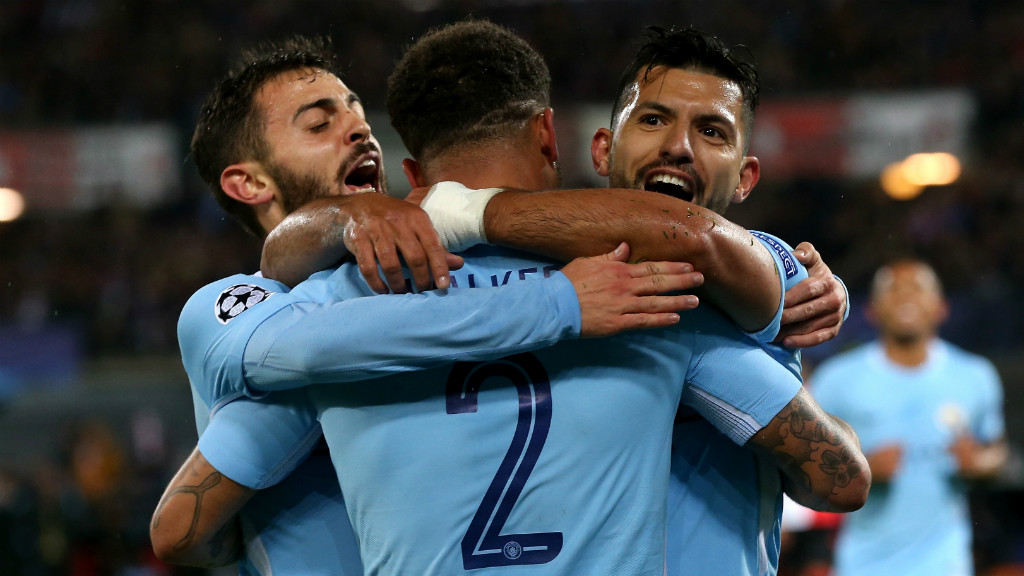 WALKER WONDERLAND: Sergio Aguero thanks Kyle Walker for the assist
Find out how you can watch City v Feyenoord on TV, wherever you are in the world.
City return to Champions League action against Feyenoord on Tuesday evening.
The game kicks-off at 7.45pm and is being shown live on TV in the UK on BT Sport.
You can also follow the game live via our Matchday Centre on mancity.com, on Twitter or on our CityMatchdayApp.
Check out the list below to see where you can watch the game around the globe, courtesy of livesoccerTV.com.
| | |
| --- | --- |
| Algeria | beIN Sports Arabia 2 HD,beIN SPORTS CONNECT Arabia |
| Angola | SuperSport 2 Africa |
| Argentina | ESPN2 Argentina,ESPN Play Latin America,ESPN 2 Latin America,ESPN Play Argentina,ESPN Cono Norte |
| Australia | beIN Sports Connect Australia |
| Austria | Sky Sport 1 HD,Sky Go Deutschland,Sky Sport 7/HD |
| Bahrain | beIN SPORTS CONNECT Arabia,beIN Sports Arabia 2 HD |
| Bangladesh | Sony LIV |
| Belgium | Proximus 11+ |
| Belize | ESPN Play Argentina |
| Benin | SuperSport 2 Africa |
| Bhutan | Sony LIV |
| Bolivia | ESPN 2 Latin America,ESPN Cono Norte,ESPN Play Latin America,ESPN Play Argentina |
| Bosnia and Herzegovina | Klik SPORT,Arena Sport 1 |
| Botswana | SuperSport 2 Africa |
| Brunei | Astro Go |
| Burkina Faso | SuperSport 2 Africa |
| Burundi | SuperSport 2 Africa |
| Cameroon | SuperSport 2 Africa |
| Canada | TSN GO,TSN1 |
| Cape Verde | SuperSport 2 Africa |
| Central African Republic | SuperSport 2 Africa |
| Chad | SuperSport 2 Africa,beIN SPORTS CONNECT Arabia,beIN Sports Arabia 2 HD |
| Chile | ESPN 2 Latin America,ESPN Play Latin America,ESPN Cono Norte,ESPN Play Argentina |
| Colombia | ESPN Play Latin America,ESPN2 Colombia,ESPN Cono Norte |
| Comoros | SuperSport 2 Africa |
| Congo | SuperSport 2 Africa |
| Congo DR | SuperSport 2 Africa |
| Costa Rica | ESPN Play Argentina,ESPN 2 Latin America |
| Cote D'Ivoire | SuperSport 2 Africa |
| Croatia | Arena Sport 1,Klik SPORT |
| Cyprus | Cytavision Sports 4,Cytavision Live |
| Denmark | Viaplay Denmark,Viasat Xtra 5 |
| Djibouti | SuperSport 2 Africa,beIN Sports Arabia 2 HD,beIN SPORTS CONNECT Arabia |
| Dominican Republic | ESPN 2 Latin America |
| Ecuador | ESPN Play Latin America,ESPN Cono Norte,ESPN 2 Latin America |
| Egypt | beIN Sports Arabia 2 HD,beIN SPORTS CONNECT Arabia |
| El Salvador | ESPN Cono Norte,ESPN 2 Latin America |
| Equatorial Guinea | SuperSport 2 Africa |
| Eritrea | SuperSport 2 Africa |
| Estonia | Viasat Xtra 5 |
| Ethiopia | SuperSport 2 Africa |
| Finland | Viasat Xtra 5,Viaplay Finland,Viasat Hockey |
| France | beIN Sports MAX 5 |
| Gabon | SuperSport 2 Africa |
| Gambia | SuperSport 2 Africa |
| Germany | Sky Sport 1 HD,Sky Sport 7/HD,Sky Go Deutschland,TeleClub Sport Live |
| Ghana | SuperSport 2 Africa |
| Greece | Cosmote Sport 6 HD |
| Guatemala | ESPN 2 Latin America |
| Guinea | SuperSport 2 Africa |
| Guinea-Bissau | SuperSport 2 Africa |
| Honduras | ESPN 2 Latin America |
| Hong Kong | Cable TV Channel 202 HD,Super Soccer Channel 62 |
| India | Sony LIV |
| Indonesia | beIN Sports 3 Indonesia,beIN Sports Connect Indonesia |
| International | UEFA Champions League App |
| Iran | beIN SPORTS CONNECT Arabia,beIN Sports Arabia 2 HD |
| Iraq | beIN Sports Arabia 2 HD,beIN SPORTS CONNECT Arabia |
| Ireland | BT Sport Live,BT Sport ESPN,Eir Sport 1 |
| Italy | Premium Calcio 1 HD,Premium Play |
| Jordan | beIN SPORTS CONNECT Arabia,beIN Sports Arabia 2 HD |
| Kenya | SuperSport 2 Africa |
| Kuwait | beIN Sports Arabia 2 HD,beIN SPORTS CONNECT Arabia |
| Latvia | Viasat Xtra 5 |
| Lebanon | beIN Sports Arabia 2 HD,beIN SPORTS CONNECT Arabia |
| Lesotho | SuperSport 2 Africa |
| Liberia | SuperSport 2 Africa |
| Libya | beIN Sports Arabia 2 HD,beIN SPORTS CONNECT Arabia |
| Macedonia | Klik SPORT |
| Madagascar | SuperSport 2 Africa |
| Malawi | SuperSport 2 Africa |
| Malaysia | Astro Go,Astro Supersport |
| Maldives | Sony LIV |
| Mali | SuperSport 2 Africa |
| Mauritania | beIN Sports Arabia 2 HD,beIN SPORTS CONNECT Arabia |
| Mauritius | SuperSport 2 Africa |
| Mexico | ESPN 2 Latin America,ESPN Mexico,ESPN Play Latin America |
| Montenegro | Arena Sport 1,Arena Sport 5 Serbia,Klik SPORT |
| Morocco | beIN SPORTS CONNECT Arabia,beIN Sports Arabia 2 HD |
| Mozambique | SuperSport 2 Africa |
| Namibia | SuperSport 2 Africa |
| Nepal | Sony LIV |
| Netherlands | Ziggo Sport Voetbal |
| Nicaragua | ESPN 2 Latin America |
| Niger | SuperSport 2 Africa |
| Nigeria | SuperSport 2 Africa |
| Norway | Viaplay Norway,Viasport 3 |
| Oman | beIN SPORTS CONNECT Arabia,beIN Sports Arabia 2 HD |
| Pakistan | Sony LIV |
| Palestinian Territory | beIN SPORTS CONNECT Arabia,beIN Sports Arabia 2 HD |
| Panama | ESPN 2 Latin America,ESPN Play Latin America |
| Paraguay | ESPN Play Latin America,ESPN 2 Latin America,ESPN Cono Norte |
| Peru | ESPN Cono Norte,ESPN Play Latin America,ESPN 2 Latin America |
| Philippines | beIN Sports 3 |
| Poland | Canal+ Sport Online |
| Portugal | Sport TV3 |
| Qatar | beIN Sports Arabia 2 HD,beIN SPORTS CONNECT Arabia |
| Romania | Telekom TV Live |
| Rwanda | SuperSport 2 Africa |
| Sao Tome And Principe | SuperSport 2 Africa |
| Saudi Arabia | beIN SPORTS CONNECT Arabia,beIN Sports Arabia 2 HD |
| Senegal | SuperSport 2 Africa |
| Serbia | Arena Sport 5 Serbia,Arena Sport 1,Klik SPORT |
| Seychelles | SuperSport 2 Africa |
| Sierra Leone | SuperSport 2 Africa |
| Slovenia | SportKlub 4 Slovenia |
| Somalia | beIN Sports Arabia 2 HD,beIN SPORTS CONNECT Arabia |
| South Africa | SuperSport 2,SuperSport 2 Africa |
| South Sudan | beIN SPORTS CONNECT Arabia,SuperSport 2 Africa,beIN Sports Arabia 2 HD |
| Spain | Movistar+,beIN Sports Connect España |
| Sri Lanka | Sony LIV |
| Sudan | beIN Sports Arabia 2 HD,beIN SPORTS CONNECT Arabia |
| Swaziland | SuperSport 2 Africa |
| Sweden | Viasat Hockey,Viasat Xtra 5,Viaplay Sweden |
| Switzerland | TeleClub Sport Live,Sky Sport 1 Switzerland |
| Syria | beIN Sports Arabia 2 HD,beIN SPORTS CONNECT Arabia |
| Tanzania | SuperSport 2 Africa |
| Togo | SuperSport 2 Africa |
| Tunisia | beIN Sports Arabia 2 HD,beIN SPORTS CONNECT Arabia |
| Uganda | SuperSport 2 Africa |
| United Arab Emirates | beIN SPORTS CONNECT Arabia,beIN Sports Arabia 2 HD |
| United Kingdom | BBC Radio Manchester,BT Sport 4K UHD,BT Sport Live,BT Sport ESPN |
| United States | FOX Soccer Match Pass,AT&T SportsNet Pittsburgh,MSG GO,Fox Sports Arizona,fuboTV,Fox Sports Midwest,Fox Sports Ohio,Fox Sports West,MSG Plus,Fox Soccer Plus,ESPN Deportes+ USA,FOX Sports GO,Fox Sports South,Fox Sports Detroit,MASN2,Fox Sports Ohio 2,Fox Sports Southwest,Fox Sports Carolinas,MASN,Fox Sports Tennessee |
| Uruguay | ESPN Cono Norte,ESPN Play Latin America,ESPN 2 Latin America |
| Venezuela | ESPN Play Latin America,ESPN 2 Latin America,ESPN Cono Norte,ESPN Dos Venezuela |
| Yemen | beIN Sports Arabia 2 HD,beIN SPORTS CONNECT Arabia |
| Zambia | SuperSport 2 Africa |
| Zimbabwe | SuperSport 2 Africa |