Men's Team
1
Leicester v City: Expert View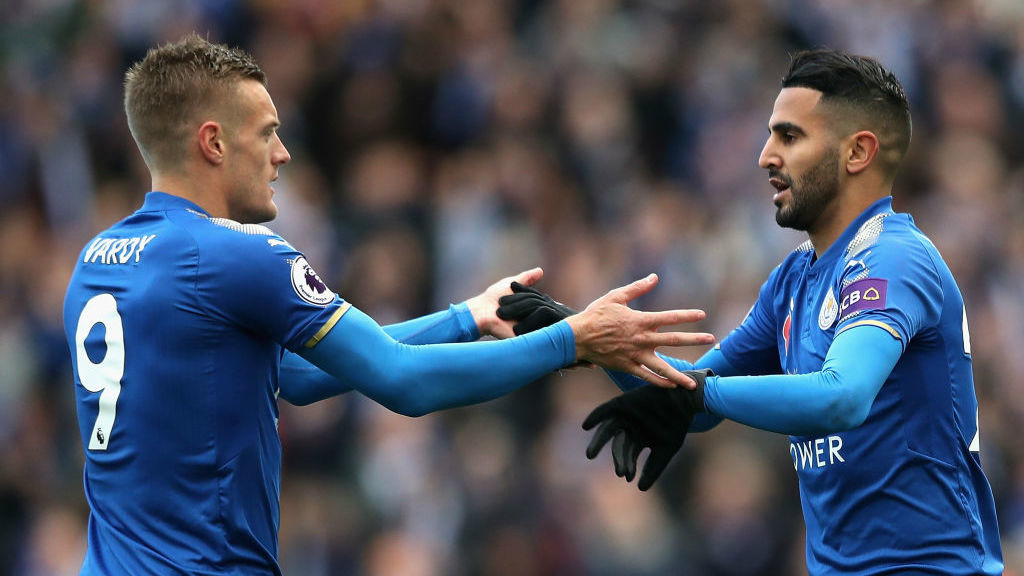 EXPERT VIEW: We get the lowdown on Leicester from BBC Sport's John Bennett
City travel to Leicester on Saturday looking to maintain their unbeaten start to the Premier League season.
Ahead of the game, we spoke to the BBC Sport's John Bennett to get the inside track on the Foxes.
John, thanks for joining us. What have you made of Leicester's season? It seems to have been somewhat up and down.
Yeah, I think up and down is a good way to describe it. The Leicester fans probably expected better but the fixture list didn't help at all and I actually feel sorry for Craig Shakespeare being given such a tough opening. They had to play four of last season's top six in the first six games, so it was always going to be very difficult.
They were never outplayed in those games but they just couldn't quite get over the line. First game of the season against Arsenal, when they were leading, it was looking good but they lost 4-3.There were defeats to Chelsea and Manchester United, so it wasn't a great start to the season but there were extenuating factors.
There were some decent moments in games but they didn't really convince over the 90 minutes and I think the fans were hoping that Craig Shakespeare would change something - formation or personnel – but it never really happened.
Interestingly, though, Claude Puel, in his first game in charge, made changes straight away and I think the fans have a bit more optimism now.
With hindsight, was it perhaps the wrong decision to get rid of Claudio Ranieri?
From and outsider's view it was a bizarre decision, but if you speak to a vast majority of Leicester City fans they will tell you that towards the end of the Ranieri era the performances were really poor and something wasn't quite right with the team – something needed to change.
It seems awful to get rid of Ranieri so soon after his title win; he will always be a legend and hero to fans. I hope one day he comes back to the King Power Stadium for that emotional reunion and to see how much the fans appreciate him.
A vast majority will agree that there needed to be a change. The intensity had gone from the title-winning season, the performances had dropped off and it was looking precarious, so I think a lot of Leicester fans thought if Ranieri stayed and things had continued as they were in that second season then there was a possibility that they would've gone down.
So with Puel, then, what was the thinking from the board's perspective and what do you make of the very early stages of his time in charge?

I think there was a negative media reaction to his appointment. I think people have forgotten what he's done in his career – he's had an 18-year managerial career. He was an excellent player and won the title with Monaco, he got to the Champions League final with Lyon, did really good work at Lille, and Nice as well.
I think people have judged him on what he did at Southampton and even with Southampton there were some positives.
The Leicester fans gave him a chance and were really impressed with their performance against Everton. I know Everton are in poor form at the moment but there were signs he can be successful at Leicester. There's a rumour that players at Leicester were resistant to change in the formation since that title winning season – since then they've played 4-4-2 and that's how they always play.
But in Puel's first game in charge he changed it up and went with a 4-3-2-1. He put Mahrez at No.10 and it was an excellent performance. He trusted two young players, Gray and Chilwell, which is important. Particularly Gray, people want him to be a first-team player.
In the last few seasons, Leicester have found a way to trouble City, but obviously we are seeing a new City at the moment… what have you made of the recent games between the two teams?

Last season's game at King Power was bizarre. Leicester went into the game not playing well and there was a crazy first half where it seemed like City were playing into Leicester's hands by giving Jamie Vardy loads of space. I doubt Manchester City will make that mistake again, but City might find a different type of Leicester, too.
Puel has made some changes to the tactics – with Ranieri and Shakespeare the full backs never got forward. Ranieri discovered about 10 games into the title-winning season that he had to have defensive full-backs to allow the likes of Mahrez to play at their best, but now Danny Simpson is moving forward more, Fuchs as well who's at left-back.
Mahrez is trying to find space more in a central role as well. So, maybe it'll be a different game. Manchester City are a different proposition for Leicester, and maybe Leicester are a different proposition for City as well.
Mahrez was absolutely brilliant in the title-winning year - the best player in the Premier League. Do you see him as a big threat?
Yeah, and we are seeing him get back to his best. He's certainly finding more space in past games and is more confident. Certainly not the Mahrez we saw last season that was missing from games and he was frustrating fans with some of his performances.
He failed to reach the heights of the title-winning season and set himself to such a high mark in that season it was always going to be difficult to reach that level, but we are now seeing signs of him returning near to that level.
Puel will be a great head coach for him. After his first game in charge there was a picture of Puel with his arm round Mahrez and they were having a chat after the game. Puel has actually got a really good record with Mahrez-type players – Hatem Ben Arfa at Nice - he brought the best out of him. Leicester fans are hoping that he can do the same and bring the best out of Mahrez.
Kasper Schmeichel started life at City and has gone on to have an excellent career, hasn't he?
I still think he's underrated as well. For me he's one of the best keepers in the Premier League and hardly ever puts a foot wrong. When he does make a mistake it's highlighted because it's so rare.
Some of his performances in the title-winning season were extraordinary, and in the Champions League as well he always delivered. I think it was against Copenhagen when he pulled off an excellent save in the final minute which meant Leicester held on to the win.
It's not just his saves but the way he organises the defence and his communication, he's so passionate as well – he has a great relationship with the Leicester fans. He's a real winner and is one of those personalities in the dressing room which drives the team, so he's important on and off the pitch. He's a leader in that dressing room.
As an outsider, what have you made of City this season?

I've loved watching every second of Manchester City – particularly the games in the Champions League against Napoli, which were absolutely sensational.
I'm enjoying that Pep is proving a lot of people wrong – people who said it would be difficult for him to play his style of play in the Premier League.
But it's just been incredible to watch. It's fantastic for the Premier League to have this Barcelona style and Pep Guardiola style in the Premier League.
They've been delivering fantastic performances and winning as well. What's not been highlighted as much is how City are defending as well, the amount of clean sheets so it's not just the forward but the back as well. As a neutral, it's great and I hope your run can continue because for an attacking team to win the title would be fantastic for the Premier League.
Predicted Leicester line up?
If Ben Chilwell is fit then I think he will be back in the team. Schmeichel in goal, back four of Simpson, Morgan, Maguire, Fuchs. Midfield of Iborra and Ndidi – Iborra is someone for City to keep their eye on, he makes Leicester tick. Chilwell left wing, Mahrez as 10 and Gray on the right with Vardy up front.
You can follow John on Twitter @JohnBennettBBC