First Team News
1
Middlesbrough v Man City: Where to watch on TV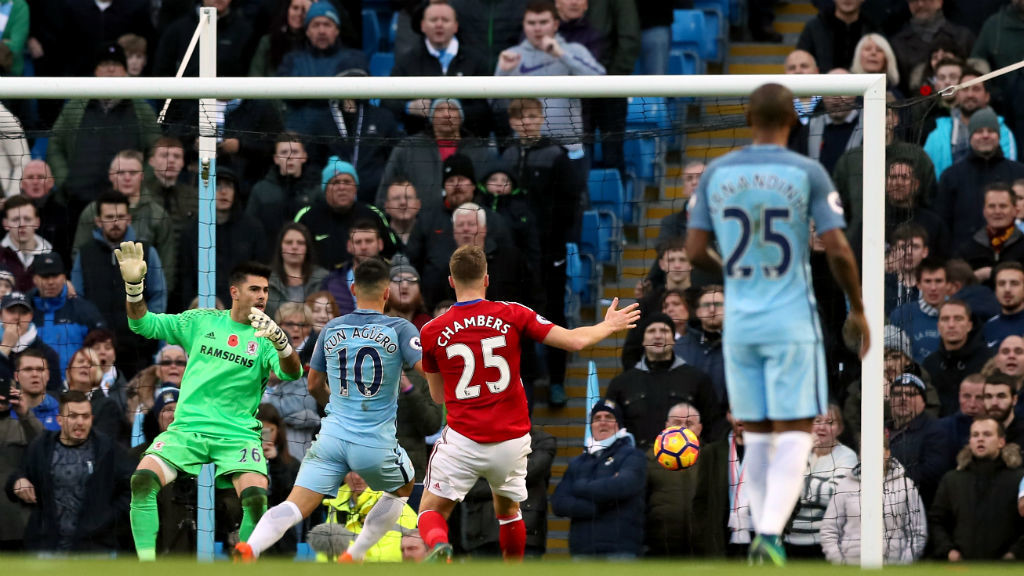 TUCKS IT HOME: Aguero scores his 150th goal for City just before the half-time whistle
Find out how you can tune in to watch Middlesbrough v Manchester City on TV this Saturday afternoon.
The game kicks off at 12:15pm as Pep Guardiola's men travel to the Riverside Stadium to face Middlesbrough, looking to reach their first FA Cup semi-final since 2012/13.
Blues living in the UK can catch all the action live on BT Sport 2, while our fans around the world can find out how they can watch the game courtesy of livesoccertv.com...
| | |
| --- | --- |
| Albania | SuperSport 4 Digitalb |
| Algeria | beIN Sports Arabia 11 HD,beIN Sports Arabia 2 HD |
| Angola | SuperSport 5 Africa,SuperSport Select 2,SuperSport Select 2 Go |
| Argentina | ESPN 2 Latin America,ESPN Play Argentina,ESPN2 Argentina,ESPN Play Latin America |
| Australia | ESPN Australia |
| Austria | EuroSport Deutschland |
| Bahrain | beIN Sports Arabia 11 HD,beIN Sports Arabia 2 HD |
| Belgium | Eleven Sports Belgium |
| Belize | ESPN Play Argentina |
| Benin | SuperSport Select 2,SuperSport Select 2 Go,SuperSport 5 Africa |
| Bolivia | ESPN 2 Latin America,ESPN Play Latin America,ESPN Play Argentina |
| Bosnia and Herzegovina | SportKlub 2 Serbia |
| Botswana | SuperSport Select 2,SuperSport 5 Africa,SuperSport Select 2 Go |
| Brazil | ESPN Brasil |
| Brunei | Astro On The Go |
| Bulgaria | Diema Sport 2 |
| Burkina Faso | SuperSport 5 Africa,SuperSport Select 2,SuperSport Select 2 Go |
| Burundi | SuperSport Select 2 Go,SuperSport Select 2,SuperSport 5 Africa |
| Cameroon | SuperSport Select 2,SuperSport 5 Africa,SuperSport Select 2 Go |
| Canada | Sportsnet World,Sportsnet World Now |
| Cape Verde | SuperSport Select 2,SuperSport Select 2 Go,SuperSport 5 Africa |
| Central African Republic | SuperSport Select 2 Go,SuperSport Select 2,SuperSport 5 Africa |
| Chad | beIN Sports Arabia 11 HD,beIN Sports Arabia 2 HD,SuperSport 5 Africa,SuperSport Select 2 Go,SuperSport Select 2 |
| Chile | ESPN 2 Latin America,ESPN Play Latin America,ESPN Play Argentina |
| China | LeTV |
| Colombia | ESPN2 Colombia,ESPN Play Latin America |
| Comoros | SuperSport Select 2 Go,SuperSport Select 2,SuperSport 5 Africa |
| Congo | SuperSport 5 Africa,SuperSport Select 2,SuperSport Select 2 Go |
| Congo DR | SuperSport Select 2 Go,SuperSport Select 2,SuperSport 5 Africa |
| Costa Rica | ESPN Play Argentina,ESPN 2 Latin America |
| Cote D'Ivoire | SuperSport 5 Africa,SuperSport Select 2 Go,SuperSport Select 2 |
| Croatia | Sportklub 2 Croatia |
| Czech Republic | Nova Sport |
| Denmark | 6'eren |
| Djibouti | SuperSport Select 2,SuperSport 5 Africa,beIN Sports Arabia 2 HD,SuperSport Select 2 Go,beIN Sports Arabia 11 HD |
| Dominican Republic | ESPN 2 Latin America |
| Ecuador | ESPN Play Latin America,ESPN 2 Latin America |
| Egypt | beIN Sports Arabia 11 HD,beIN Sports Arabia 2 HD |
| El Salvador | ESPN 2 Latin America |
| Equatorial Guinea | SuperSport 5 Africa,SuperSport Select 2 Go,SuperSport Select 2 |
| Eritrea | SuperSport Select 2,SuperSport 5 Africa,SuperSport Select 2 Go |
| Estonia | Viasat Sport Baltic |
| Ethiopia | SuperSport Select 2,SuperSport Select 2 Go,SuperSport 5 Africa |
| Finland | Viaplay Finland,Viasat Football HD |
| France | beIN Sports 2 |
| Gabon | SuperSport 5 Africa,SuperSport Select 2 Go,SuperSport Select 2 |
| Gambia | SuperSport Select 2,SuperSport Select 2 Go,SuperSport 5 Africa |
| Germany | EuroSport Deutschland |
| Ghana | SuperSport Select 2 Go,SuperSport 5 Africa,SuperSport Select 2 |
| Guatemala | ESPN 2 Latin America |
| Guinea | SuperSport Select 2 Go,SuperSport 5 Africa,SuperSport Select 2 |
| Guinea-Bissau | SuperSport Select 2,SuperSport Select 2 Go,SuperSport 5 Africa |
| Honduras | ESPN 2 Latin America |
| Hong Kong | LeTV |
| Hungary | Sport 2 Hungary |
| International | Bet365 |
| Iran | beIN Sports Arabia 11 HD,beIN Sports Arabia 2 HD |
| Iraq | beIN Sports Arabia 2 HD,beIN Sports Arabia 11 HD |
| Ireland | BT Sport Live Streaming,BBC Radio,BBC Radio 5 Live,BT Sport 2 |
| Italy | Sky Sport Plus HD |
| Jordan | beIN Sports Arabia 2 HD,beIN Sports Arabia 11 HD |
| Kenya | SuperSport 5 Africa,SuperSport Select 2 Go,SuperSport Select 2 |
| Korea Republic | SBS ESPN Korea |
| Kuwait | beIN Sports Arabia 11 HD,beIN Sports Arabia 2 HD |
| Latvia | Viasat Sport Baltic |
| Lebanon | beIN Sports Arabia 11 HD,beIN Sports Arabia 2 HD |
| Lesotho | SuperSport 5 Africa,SuperSport Select 2,SuperSport Select 2 Go |
| Liberia | SuperSport 5 Africa,SuperSport Select 2 Go,SuperSport Select 2 |
| Libya | beIN Sports Arabia 2 HD,beIN Sports Arabia 11 HD |
| Lithuania | Viasat Sport Baltic |
| Macedonia | SportKlub 2 Serbia |
| Madagascar | SuperSport 5 Africa,SuperSport Select 2,SuperSport Select 2 Go |
| Malawi | SuperSport 5 Africa,SuperSport Select 2,SuperSport Select 2 Go |
| Malaysia | Astro On The Go,Astro SuperSport 3,Astro SuperSport 2 |
| Mali | SuperSport Select 2 Go,SuperSport Select 2,SuperSport 5 Africa |
| Malta | GO Sports |
| Mauritania | beIN Sports Arabia 11 HD,beIN Sports Arabia 2 HD |
| Mauritius | SuperSport Select 2,SuperSport Select 2 Go,SuperSport 5 Africa |
| Mexico | ESPN Play Latin America,ESPN 2 Latin America |
| Montenegro | SportKlub 2 Serbia |
| Morocco | beIN Sports Arabia 11 HD,beIN Sports Arabia 2 HD |
| Mozambique | SuperSport 5 Africa,SuperSport Select 2 Go,SuperSport Select 2 |
| Namibia | SuperSport 5 Africa,SuperSport Select 2 Go,SuperSport Select 2 |
| Netherlands | Fox Sports 2 |
| New Zealand | ESPN Pacific Rim,ESPN Australia |
| Nicaragua | ESPN 2 Latin America |
| Niger | SuperSport 5 Africa,SuperSport Select 2,SuperSport Select 2 Go |
| Nigeria | SuperSport Select 2 Go,SuperSport 5 Nigeria,SuperSport 5 Africa,SuperSport Select 2 |
| Oman | beIN Sports Arabia 11 HD,beIN Sports Arabia 2 HD |
| Palestinian Territory | beIN Sports Arabia 2 HD,beIN Sports Arabia 11 HD |
| Panama | ESPN Play Latin America,ESPN 2 Latin America |
| Paraguay | ESPN Play Latin America,ESPN 2 Latin America |
| Peru | ESPN Play Latin America,ESPN 2 Latin America |
| Portugal | Sport TV3 |
| Qatar | beIN Sports Arabia 11 HD,beIN Sports Arabia 2 HD |
| Romania | Digi Sport 1 Romania |
| Rwanda | SuperSport Select 2,SuperSport 5 Africa,SuperSport Select 2 Go |
| Sao Tome And Principe | SuperSport Select 2,SuperSport Select 2 Go,SuperSport 5 Africa |
| Saudi Arabia | beIN Sports Arabia 2 HD,beIN Sports Arabia 11 HD |
| Senegal | SuperSport 5 Africa,SuperSport Select 2 Go,SuperSport Select 2 |
| Serbia | SportKlub 2 Serbia |
| Seychelles | SuperSport Select 2,SuperSport Select 2 Go,SuperSport 5 Africa |
| Sierra Leone | SuperSport 5 Africa,SuperSport Select 2 Go,SuperSport Select 2 |
| Singapore | Eleven Singapore |
| Slovakia | Nova Sport |
| Slovenia | Sportklub 2 Slovenia |
| Somalia | beIN Sports Arabia 2 HD,beIN Sports Arabia 11 HD |
| South Africa | SuperSport Select 2 Go,SuperSport Select 2,SuperSport 5 Africa,Maximo 360,SuperSport Maximo,SuperSport 5 |
| South Sudan | SuperSport 5 Africa,SuperSport Select 2,beIN Sports Arabia 11 HD,beIN Sports Arabia 2 HD,SuperSport Select 2 Go |
| Spain | TDP,Movistar+ |
| Sudan | beIN Sports Arabia 11 HD,beIN Sports Arabia 2 HD |
| Swaziland | SuperSport Select 2 Go,SuperSport 5 Africa,SuperSport Select 2 |
| Sweden | Viasat Fotboll / HD,Viaplay Sweden |
| Syria | beIN Sports Arabia 11 HD,beIN Sports Arabia 2 HD |
| Tanzania | SuperSport Select 2,SuperSport Select 2 Go,SuperSport 5 Africa |
| Togo | SuperSport Select 2 Go,SuperSport 5 Africa,SuperSport Select 2 |
| Tunisia | beIN Sports Arabia 11 HD,beIN Sports Arabia 2 HD |
| Turkey | Tivibu Spor 1 |
| Uganda | SuperSport Select 2 Go,SuperSport Select 2,SuperSport 5 Africa |
| United Arab Emirates | beIN Sports Arabia 11 HD,beIN Sports Arabia 2 HD |
| United Kingdom | BT Sport 4K UHD,BBC Radio 5 Live,BT Sport Live Streaming,BBC Radio,BBC Radio Manchester,BT Sport 2 |
| United States | FOX Deportes,fuboTV,Fox Sports 1 USA,Fox Sports GO,Fox Soccer 2GO USA |
| Uruguay | ESPN Play Latin America,ESPN 2 Latin America |
| Venezuela | ESPN Dos Venezuela,ESPN 2 Latin America,ESPN Play Latin America |
| Yemen | beIN Sports Arabia 2 HD,beIN Sports Arabia 11 HD |
| Zambia | SuperSport Select 2,SuperSport 5 Africa,SuperSport Select 2 Go |
| Zimbabwe | SuperSport Select 2,SuperSport Select 2 Go,SuperSport 5 Africa |