First Team News
1
Guardiola v Klopp: Previous meetings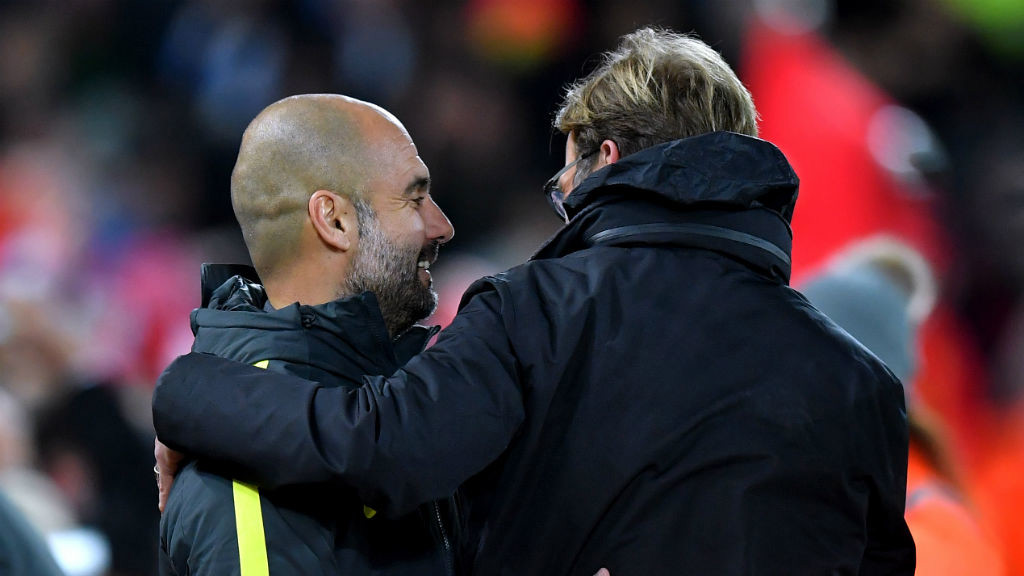 MEETING OF MINDS: Guardiola and Klopp have had many classic encounters
Pep Guardiola and Jurgen Klopp will face off in the Premier League on Sunday when Manchester City and Liverpool meet but whose record stacks up the best?
Guardiola and Klopp spent two seasons between 2013 and 2015 as direct rivals as the bosses of Bayern Munich and Borussia Dortmund respectively. With both clubs challenging for honours throughout their reigns, the two managers attracted a lot of attention.
Who came out on top?
Trophies won
Over the course of his seven full seasons as a top flight manager, Pep Guardiola has lifted an incredible 21 trophies.
Three of these – two Bundesliga titles and a DFB Pokal Cup success - came during the 2013/14 and 2014/15 seasons in which Klopp's Dortmund were a competitor.
Klopp's Dortmund won the Supercup in both seasons and the German has won a total of five trophies in his career.
Goals scored and points earned
In just the two seasons, Pep's Bayern Munich scored 266 goals across all competitions in comparison to Dortmund's 190.
Many of Bayern's goals came as the Bavarians swept away all before them and collected hauls of 90 and 79 points to lift the Bundesliga in consecutive campaigns.
Dortmund were Bayern's closest competitors in 2013/14 but still fell way behind on 71 points. After a poor start to the following Bundesliga season, Klopp's Dortmund improved but finished on just 46 points.
Goals conceded
A criticism often levelled at the behemoths of modern football is that they don't defend as well as their predecessors. However, Bayern conceded just 18 and 23 goals respectively as they romped to consecutive Bundesliga triumphs.
In comparison, the swashbuckling style of Klopp's Dortmund often led to more chances for the opposition. A theory demonstrated by the 80 goals conceded to league opponents across 2013/14 and 2014/15.
Head to head record
During their two seasons in battle, Guardiola and Klopp faced off eight times – coming away with four victories each.
Dortmund won both Supercup finals between the two as well as an end of season victory in 2013/14 after Bayern had already confirmed their Bundesliga title.
Klopp's final victory over Pep's Bayern came on penalties in the 2014/15 DFB Pokal Cup semi-final before they fell to a Kevin De Bruyne inspired Wolfsburg.
Bayern's victories came in the form of three routine Bundesliga successes and a commanding 2-0 showing in the 2013/14 final of the DFB Pokal Cup.
The two met for the ninth time in total and the first time in England on New Year's Eve as Liverpool beat City 1-0.
What have they said about each other?
There have been plenty of words exchanged between the two. Although they are regarded as two of the most innovative managers in the sport, the styles they use are worlds apart.
Guardiola's Barcelona, Bayern Munich and City have all based themselves on a possession style while Klopp's Dortmund and Liverpool sides have tended to focus on high-speed movement that can overwhelm the opposition.
Klopp on Pep
"If you go to Barcelona as a new manager they will tell you: 'By the way, don't forget, we play like Pep Guardiola played.' That's the biggest influence you can have. Bayern loved the years he was there. He is a fantastic manager.
"Guardiola has a clear philosophy and it is a pretty good idea. He has had a fantastic career until now. You always have to adapt to your players and that is what he is doing and it is what we do."
Pep on different philosophies
"Our styles are not similar but I like a lot the way they play. Maybe Klopp is the best manager in the world at creating teams who attack the back four with so many players, from almost anywhere on the pitch. They have an intensity with the ball and without the ball, and it is not easy to do that."
Pep on Klopp's Dortmund
"They're like a steamroller, unstoppable. There are other teams who counter-attack brilliantly, like Madrid for example, but Dortmund are unique. I've never seen anything like it.
"They are completely focused for 90 minutes, waiting for you to mess up a pass so that they can set their sprinters on you."
It's the tenth instalment of their head to head battle on Sunday and we'll have full coverage of Manchester City v Liverpool on mancity.com!