Men's Team
1
Pep: Converting early chances was the key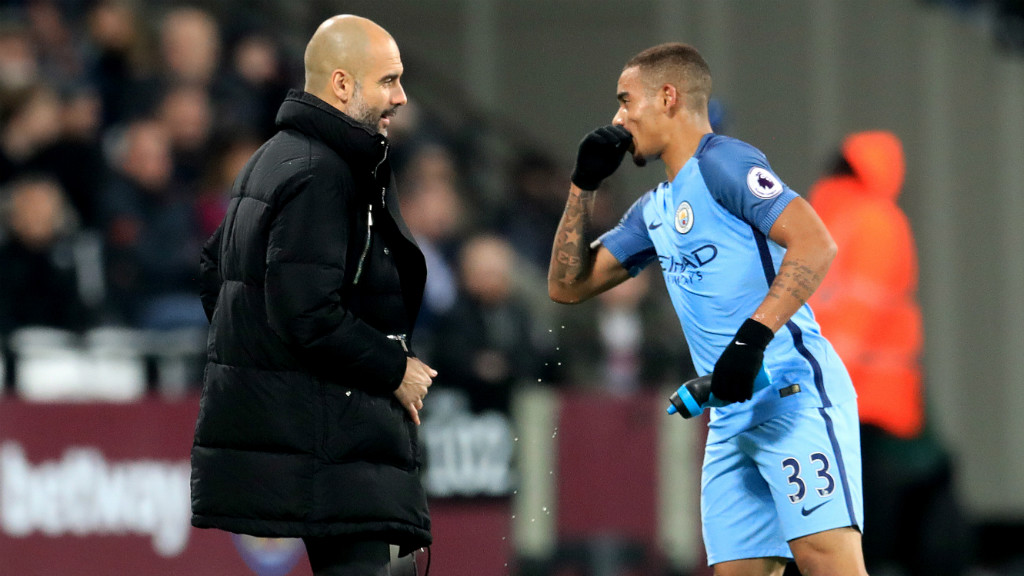 NICE WORK! The boss was impressed by Gabriel Jesus's performance
Pep Guardiola says converting the early chances against West Ham was the reason his team ran out comfortable winners..
The Blues' boss has lamented the numerous occasions his side have failed to turn dominance into goals this season, often proving costly, but that wasn't the case at the London Stadium where City have now scored nine goals in the space of a month.
"The main difference in this game was the first time we had a chance to score, we took it and the second time we had a chance to score, we took it," said Pep.
"After that the game wasn't over, but it was easier. We are still far away from the perfect, perfect performance.
"West Ham arrived today in a good moment so of course, we're very happy. We won 3-0 on Saturday and 4-0 tonight away from home and we were quite solid.
"Of course, we still need to improve many things but we worked well with and without the ball and our three guys up front are so, so quick. We created a lot of chances, too so I am happy."
Guardiola also praised his quicksilver front three, adding: "The average for our three strikers tonight was 20-years-old and I don't know of many big teams who have an average age that is so young.
"Gabriel Jesus's input for 10 minutes against Spurs was good, then he played well against Crystal Palace and again tonight – he is a fighter and is helped a lot with the press, he is clever with the ball and has a great instinct in the box."
With more than 70 changes to his personnel throughout the cause of the season, Guardiola admitted it is the amount of games that is dictating his team selection as he bids to keep his players as fresh as possible.
"The schedule of games is crazy," he said. "I try to involve as many players as possible so nobody can complain because they are playing a lot of games – and that's what I like to do.
"Today we had two completely different central defenders than we had against Crystal Palace and against Swansea, it could be different again. The season is so long that if you play with just 11 players, it is impossible."
And despite the Blues shaving two points off Chelsea's sizeable lead at the top, Pep said: "The gap is too big. Only Chelsea can lose the Premier League, but we will be fighting until the last day to qualify for the Champions League – all the teams around us are so strong but we want to be up there with them."