First Team News
1
How wounded Huddersfield clawed their pride back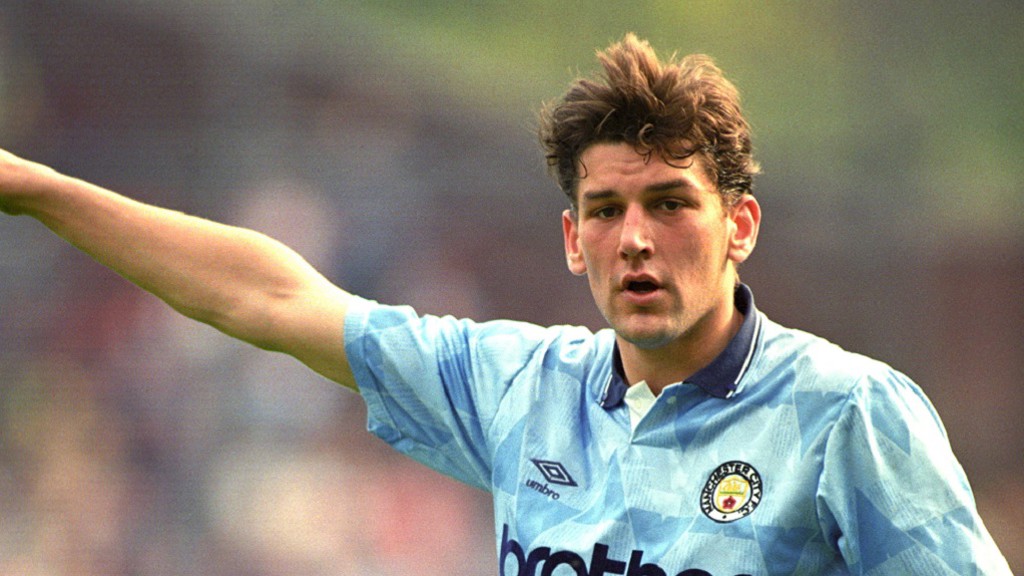 DAVID WHITE: One of three hat-trick heroes against Huddersfield
It was to be a season of extremities and one that had more than a few seasoned Blues muttering 'typical City…'
Mel Machin's side were both exciting and frustrating in equal measure and by early November, were in tenth in Division Two (the second tier, better known now as the Championship) and unable to find the consistency needed to match runaway leaders Bradford City who were already 14 points clear of the pre-season promotion favourites.
When the Blues were good, they were very good – Millwall, Leicester, Swindon and pacesetters Bradford had all seen City put four goals past them, but it seemed a good result would be followed by a disappointing one with Machin's young side often containing as many as nine home-grown players.
By the time Huddersfield Town arrived at Maine Road on a blustery, dark and cold afternoon, most of those in attendance weren't expecting anything in particular – The Great Unpredictables were capable of winning handsomely or losing miserably – it was just a matter of which team turned up. The fact the Terriers were bottom of Division Two with just two points from a possible 24 on the road mattered little.
Huddersfield's 'bruised banana' kit was the source of some amusement on the Kippax as the teams ran out, with former Blue Andy May amongst their starting XI.
Managed by former Arsenal legend Malcolm MacDonald, the Terriers were already eight points from safety, but still hopeful of turning things around.
'SuperMac' had only been in charge for a month, overseeing the only win of the season so far a week earlier - as well as four losses.
A win at Maine Road could be the start of a mini-revival for the West Yorkshire side and it was the visitors who started brighter, creating at least a couple of good scoring chances in the opening 20 minutes – but it was City who went ahead when Neil McNab rifled a low shot home from 18 yards – the first shot the Blues had had at that stage.
The Terriers soon found themselves two goals down as Tony Adcock slipped Paul Stewart clear and the City striker buried a low shot home from close range.
Suddenly, everything the Blues were attempting was coming off – the flicks, tricks and risky passes - so when Andy Hinchcliffe's cross was planted home by the Adcock not long after, there was just the suggestion that something special might be on the cards.
Paul Simpson then raced clear on 41 minutes, but his cross was blocked and came back to him – he held the ball – too long for the more impatient members of the home crowd, before dashing for the bye-line again and whipping in a low cross that David White couldn't miss from just inside the six-yard box.
The Blues went in at the break leading 4-0 – a handsome score-line in itself, but there was much more to come.
As Bovril, pies and various 'liquid lunches' were consumed around the ground and the roof lamps swayed in the breeze above the Kippax terrace, the half-time chatter was whether City would add more to their tally or declare at four.
So often teams build healthy leads in the first-half and then take their foot off the gas, but there would be none of that on this afternoon. This was different.
Not long after the restart City had bagged a fifth and it again involved Simpson who was tormenting an already porous Terriers' defence.
The City winger cleverly spotted Adcock in the box as he carried the ball forward and his clever cross picked out the former Colchester striker who thumped home his second of the afternoon with glee.
Then Simpson sent in another superb cross not long after for Stewart to rise majestically and head home number six – there was still plenty of time left and the Blues were looking as rampant as Huddersfield were shambolic.
Adcock then won possession on the left, cut inside and finished smartly to complete his hat-trick – not bad for a striker who was only making his third start of the campaign and he made the most of the moment, running towards the North Stand to celebrate before planting his feet in the ground and slipping on his back.
So 7-0 and each goal celebrated a little more feverishly as those in attendance realised something special was indeed on the cards.
The Huddersfield players were on the ropes, in a stupor and just hoping the Blues would have mercy, but there was little chance of that happening.
City were cutting the Terriers to shreds and their high defensive line was all over the place – so when Hinchcliffe raced clear and into the box his pinpoint low cross found Stewart who had the simplest of tasks to tap the ball home for his third and the Blues' eight of the afternoon.
But there was still time left. Not much, but maybe enough…
McNab was running the show in midfield and he spotted Adcock's clever run down the right flank long before the Huddersfield players did and though his low cross was initially cleared, White followed up to slam the ball home with just a few minutes remaining.
Now 9-0, the home fans were baying for a tenth, but when the Terriers were awarded a penalty, it was Andy May who scored from the spot to send the small band of visiting fans delirious in the Platt Lane - the irony, clearly not lost on our Yorkshire cousins. May saluted the Kippax who were applauding generously (as you do when your team are 9-1 to the good) and that, it appeared, was that.
Time was just about up – so close, yet so far it seemed – then, a long punt into the City half was headed to the halfway line where a sliced half-volley by Paul Lake (or Paul Simpson) set White clear with just the keeper to beat.
It couldn't happen, could it?
He knocked it to the side and around the hapless Terriers custodian and despite a defender's sliding attempt, made no mistake from 10 yards to send Maine Road wild. Ten goals scored in one game – there was a season in 2006/07 when we scored ten goals at home all season over 19 games!
It was incredible and definitely an 'I was there moment', which this writer is happy to be among.
What's often forgotten is that City played a Full Members' Cup game three days later and beat Plymouth Argyle 6-2 – 16 goals in just two games - and Adcock bagged another hat-trick.
He played a handful of games thereafter, but his moment to shine had come and gone in a flash, though it was something to tell the grandkids.
But the story doesn't quite end there.
There were a few wry smiles when just two months later, City were drawn away to Huddersfield in the FA Cup third round.
Played at the Terriers' former Leeds Road ground, a cavernous old stadium with a pitch-side terrace not dissimilar to the Kippax, City took in the region of 10,000 fans across the Pennines.
Huddersfield had improved and at one stage moved within four points of 16th placed Leicester – they were thirsty for revenge over the Blues, too.
Yet it was Ian Brightwell who put City ahead early on, only for the Terriers to respond after the break with two goals in a couple of minutes around the hour-mark.
It looked as though pride had been restored, the home fans were in celebratory mood when perhaps as many as eight minutes into added time, the Blues, still trailed 2-1 down, were awarded – free-kick. John Gidman stepped up from fully 30 yards and his shot somehow found its way into the net to send the travelling fans crazy.
Programmes, pies and a pair of crutches were thrown into the air and City had again broken Huddersfield's hearts.
A 2-2 draw and a replay to look forward to – but Huddersfield were organised and focused on their return to Maine Road and were unlucky not to win in a tightly contested 0-0 draw watched by 6,000 more fans than had seen the league meeting.
The second replay saw another 10,000-plus travelling army journey to Leeds Road and this time the Blues eased home 3-0 with goals from Hinchcliffe, White and Imre Varadi earning a fourth round tie at Blackpool.
City had plundered 15 goals against Huddersfield already during the 1986/87 season and there was still a return league meeting to come.
By April, the Terriers were doomed to relegation, but it was they who would have the last laugh, finally ending the Blues' outside promotion chances with a 1-0 home win – their only success in their final 12 matches.
Only City, it seemed, could win the home game 10-1 and lose the return 1-0…