You won't find these gongs at any club end-of-season awards ceremony!
@markbooth_mcfc continues his sideways glance back at the 2015/16 season that was…
The Mario Balotelli "Original Prankster" award…
Fabian Delph, probably not on Nicola McCarthy's Christmas card list this year…
The David Attenborough award…
Aleksandar Kolarov is one person who won't be happy to hear that Manchester's first "cat café" (yes, it's a thing), is set to open in June 2016…
Skip to 05:58 for his thoughts on felines...
The "I Am Zlatan" award…
Eliaquim Mangala's training ground tribute to the Swedish superstar a few weeks back…
The Instant Tinnitus award...
Ouch...
Pundit of the Year…
Former City favourites are something of an uncommon sight in TV studios up and down the land but one man who has got a bit of airtime and always has a kind word to say about the Blues is Trevor Sinclair.
A lifelong City fan, Trevor is always articulate and fair when it comes to analysing our matches and his Match of the Day appearances have supporters reaching for the remote control to turn up the volume rather than hit mute.
Good ol' Trev.
The "beat the first man" award…
Our inability to score from corners was one of 2014/15's unfunniest jokes but we put that one to bed this season, netting from a number of them.
Nicolas Otamendi's thumping header against Norwich was arguably the best of the lot and the celebration from "The General" wasn't too shabby either…
Comeback of the season…
There weren't too many contenders for this one as we didn't come from behind to win a single Premier League game.
However, we did in the Champions League and who can forget that memorable last 15 minutes against Borussia Monchengladbach which sealed top spot in our group?
The "say what?" award…
Haters gon' hate, but Sergio Aguero shows us the perfect way to respond to your critics after netting the winning goal at Vicarage Road in January…
You'd like to think that young man learned a thing or two about "hubris" that night...
Worst set piece…
A pretty miserable evening at the Emirates summed up in one Vine… sorry again, KDB…
The Kun Aguero Debut of the season award…
Former EDS boss Patrick Vieira described this as his proudest moment at the club and we're not about to argue with the great man…
Manu Garcia made his first-team bow against Crystal Palace in the Capital One Cup and marked it with a goal...
The Sixth Sense Award...
Another one for Fab who channels his inner-Haley Joel Osment, shocking CityTV with these revelations in April: "I see ghosts all the time. Genuinely. I think I've seen four. When I first signed for Villa I stayed in a hotel and there were a lot of things moving in the room.
"A lot of bangs – it made the hair on the back of my neck stand up. And about four months ago in my house I saw two ghosts in the bedroom. I haven't got a clue (who they are). I don't think they're there to harm me but I've definitely seen them."
Putt of the season…
"All you gotta do is just taaaaaap it in, just taaaaaaap it in now…"
Fernando. Better at tackling than golf it's fair to say…
The "why England are going to win Euro 2016" award…
Joe Hart has saved the last three penalties he's faced in the UEFA Champions League, including stops from Lionel Messi and Zlatan Ibrahimovic. Bodes well for England's inevitable shootout this summer – probably against Portugal…
The Pride of Manchester award…
Manuel Pellegrini leaves City as the first manager to finish above United for three successive seasons in the Premier League era.
Stat of the season…
Kelechi Iheanacho scored a goal every 93.88 minutes in his first Premier League season, making him the deadliest striker in the league.
Iheanacho - 93.88
Aguero - 98.88
Sturridge - 122.38
Vardy - 130.79
The Fred Astaire award…
Nobody does it quite like Daddy Cool…
The Blue Moon prize…
We say sad farewells to a number of things this summer – Manuel Pellegrini, our crest and, of course, our beloved "ghost green" kit.
It will live on in the images from some of our most famous victories this season and in the hearts of all those who came up with this on a cold night in Sunderland...
"We are Man City, We glow in the dark..."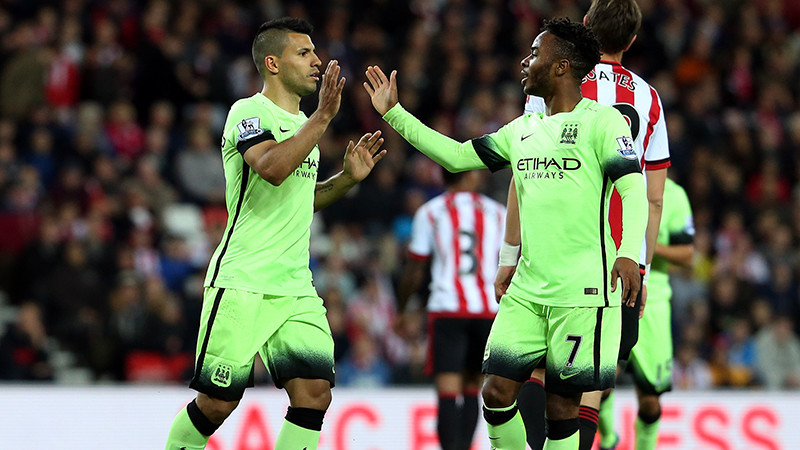 That's yer lot – congratulations (or commiserations) to all the winners – see you again for more nonsense in 2016/17.