First Team News
1
Stats focus: City and United's seasons so far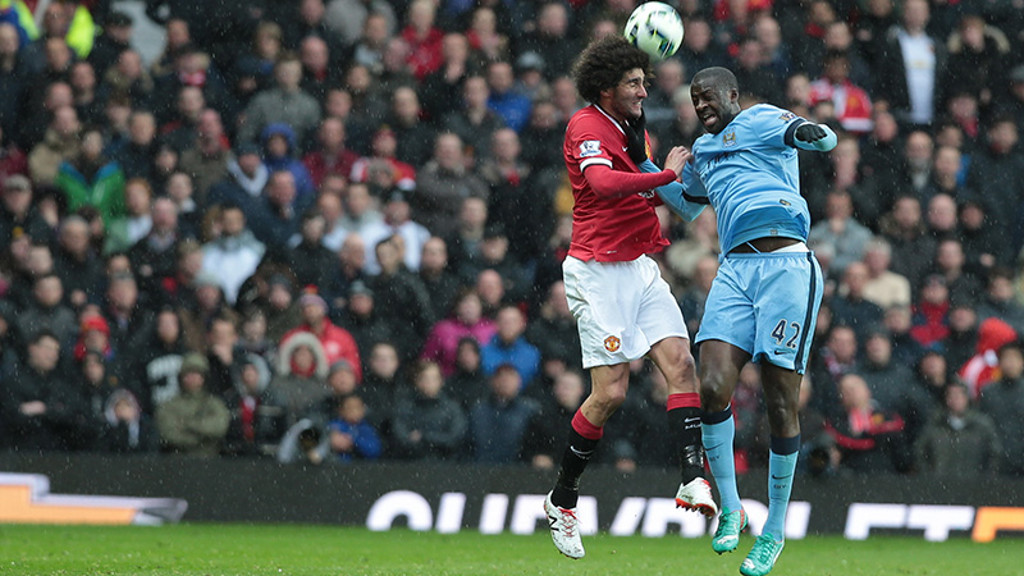 yaya midair.jpg
There are key battles set to play out all over the field in Sunday's 170th Manchester derby.
We've teamed up with Opta to have a look at the season so far in numbers, to try to find out where the game might be won and lost.
How many City or United players make up the top five for the key statistical Premier League metrics? Let's take a look…
Goals
Following his five-goal blitz against Newcastle, Aguero is unsurprisingly the top dog when it comes to goals scored.
With Kun missing for the derby, will Raheem Sterling, hat-trick hero last Saturday, be able to fire in the Argentine ace's absence?
Anthony Martial and Juan Mata have both chipped in with three goals for Sunday's hosts so far this season, as well as Kevin De Bruyne who is in red hot form going into his first derby.
Aguero – 6 goals
Sterling – 4 goals
De Bruyne, Martial, Mata – 3 goals
Assists
City's chief architect is also missing out on Sunday but City dominate this metric when it comes to direct assists.
Yaya Toure has set up four Premier League goals so far, while only Juan Mata breaks up the City assist monopoly with his three.
Silva – 6 assists
Toure – 4 assists
De Bruyne, Mata – 3 assists
Bony, Navas – 2 assists
Chances created
Another category dominated by Manuel Pellegrini's men is the chances created metric.
Jesus Navas has set up a whopping 20 chances and, again, only Mata stops it from being all-City top five with his 17.
Most impressively, Kevin De Bruyne is there at number three with 15 despite playing less games than the rest of the top five.
Navas – 20 chances
Silva, Toure, Mata – 17 chances
De Bruyne, Kolarov, Sterling – 15 chances
Passes
For the first time in our stats focus, United have more players than City in the top five of this category.
Fernandinho tops the chart, however, having played a pass every 72 seconds he's been on the pitch.
Fernandinho – 592 passes
Schweinsteiger – 493 passes
Toure – 491 passes
Blind – 485 passes
Schneiderlin – 471 passes
Passing accuracy
Samir Nasri is officially the most accurate passer in Manchester, according to Opta's data, having completed 93% of his passes.
The rest of the top five (minimum 100 passes) is dominated by Louis Van Gaal's side.
Nasri – 93%
Schneiderlin – 91.9%
Blind – 91.1%
Mata – 90.5%
Carrick – 89.9%
Tackles
Again, Fernandinho tops the charts with a phenomenal 34 tackles spread across his nine Premier League appearance.
Elsewhere, it's a United 2-5 when it comes to the most successful tackles put in by those who'll be involved on Sunday's game.
Fernandinho – 34 tackles
Darmian – 29 tackles
Scheiderlin - 26 tackles
Smalling – 22 tackles
Schweinsteiger – 16 tackles