First Team News
1
My favourite game: David Silva
In the second of our a new series of players' favourite matches for City, here is David Silva's most memorable game...
Like Joe Hart before him, David Silva is spoilt for choice when choosing his favourite game for City - in truth, he's had so many that anyone of 50 or so would have been readily acknowledged.
El Mago has been one of the greatest players to ever pull on a sky blue shirt with the Spanish play-maker pulling the strings in midfield for the past five seasons and it's no coincidence that the Blues began winning trophies after his arrival.
In a straw poll on Twitter, most City fans were split on what they felt was David's finest moment. Many selected the 2-0 win at Hull where 10-man City had to hold out for 80 minutes with Silva scoring a superb goal and turning in a fine performance.
Some went for City's 3-0 win over United in March 2014, but the game he selected himself was the 6-1 victory over the Reds in October 2011

...My Favourite Game...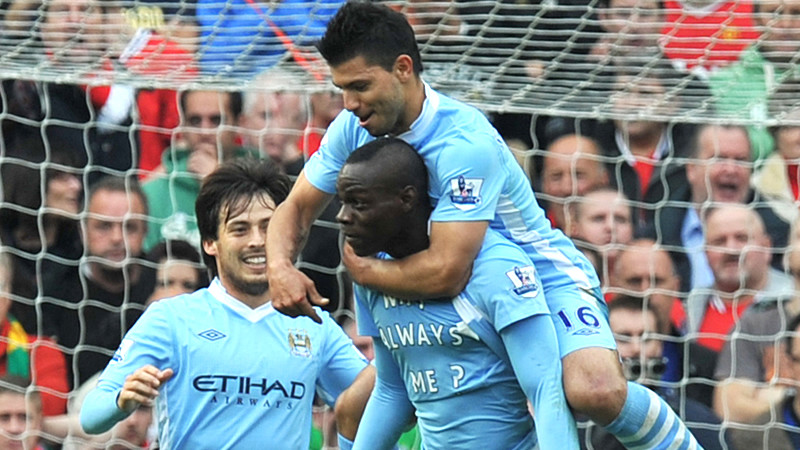 The game: United 1 City 6, 23 October 2011
An incredible day no City fan will ever forget, it was a day when everything went the Blues' way - and deservedly so.
It was the first derby the two Manchester rivals had gone into as the Premier League's top two teams and a win for either would surely prove crucial in the months to come.
Silva began by beating off six challenges in the United box before finding a team-mate, but the truth was, nothing was going to stop him or the rest of the City side that day.
Silva began the move that ended with the ball finding its way to Mario Balotelli on 21 minutes to open the scoring and shortly after the break, it was his pass that put Mario clear until he was tugged back by Evans who was shown a red card.
Silva then found space in the box, fed Milner and Balotelli made it 2-0 shortly after, but the Magician was far from finished tormenting the Reds. Though he didn't have a direct hand in goals three and four, it was Silva who bagged the fifth as Edin Dzeko out him clear on the right and his low shot went through David de Gea to put the Blues in dreamland.
There was still one more piece of magic to come, however as Silva picked up the ball with a sublime piece of control, then volleyed it 30 yards into the path of Dzeko who raced through to make it 6-1. It was one of the best passes you could ever wish to see and it topped a fantastic performance by the Spaniard who was, at time, on another planet.
Now watch and enjoy..
Silva's thoughts: "Choosing my favourite game was actually quite easy. To go to Old Trafford, beat United 6-1 in front of their own fans and play the way we did means that this game will always be hard to top. Like everyone else, QPR will always be an amazing memory, but from a performance point of view, this was the game I enjoyed the most."
Social response:

@MCFC @21LVA surely it must be the 6-1 win over United at Old Trafford? Best I've ever seen the magician play

— Tom Neville (@TNevillee) June 25, 2015
Media reaction: "David Silva was the best player on the pitch, demonstrating why Roberto Mancini considers him among the finest in the world. But there were others who excelled. Richards and James Milner were marvellous, as were Balotelli, Joleon Lescott and Vincent Kompany.

"Silva exposed a weakness in United we have seen before, most memorably in those two Champions League final meetings against Barcelona; a crucial lack of quality in central midfield and someone capable of providing proper protection to the back four against a player of Silva's kind.

"No sooner had the game restarted, seemingly, than Silva was scoring, accelerating on to a ball from Dzeko before guiding his shot through the legs of the advancing De Gea.
"But Silva saved his best until last. The ball that split the United defence and invited Dzeko to make it six was just magical." Matt Lawton, Daily Mail