First Team News
1
City A to Z: G is for...?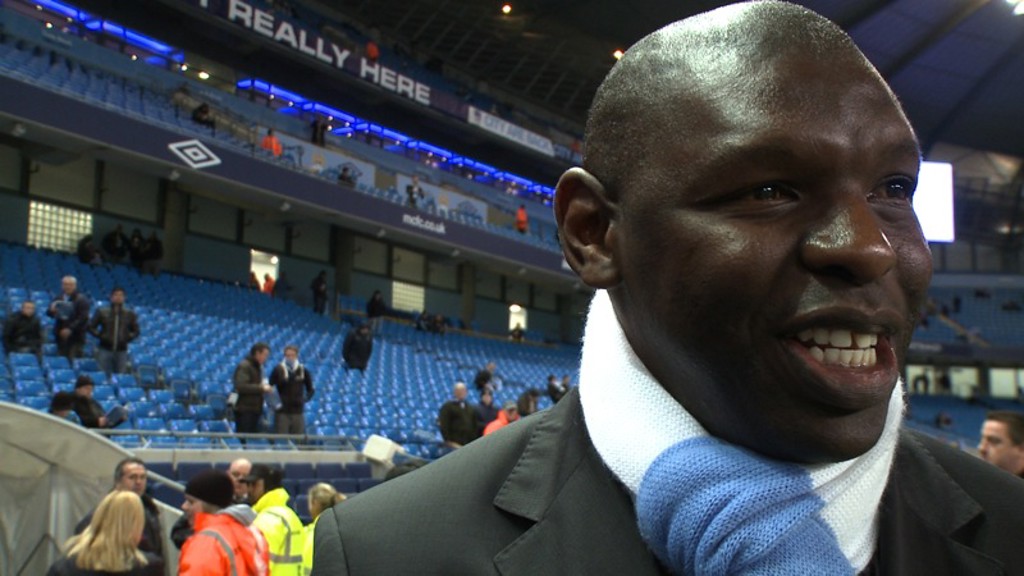 Shaun Goater
It ain't nothin' but a 'G' thang… but what does the letter mean in the history of MCFC? Let's see now…
G is for Georgia
Once home of the now defunct Tbilisi City Supporters Branch, Georgia proved a happy hunting ground for the scouts of Manchester City during the mid-1990s.
Gio Kinkladze became the first player from there to play in England and also became the darling of the City fans almost from his first touch of the ball in 1995.
Fellow countryman Mikhail Kavelashvili arrived in the latter half of the 1995–96 campaign and made an instant impact by scoring against Manchester United on his home debut.
Kakhaber Tskhadadze was the third Georgian player to join City in 1998 and the player nicknamed 'Peepo' and known in his homeland as 'The King of the Air', looked set for a long and successful stay at Maine Road until he landed awkwardly in a Division Two clash with Fulham and tore his knee ligaments.
Sadly, he never played for the Blues again.
Murtaz Shelia was the final acquisition from Georgia. His most impressive displays were as centre-back but he was forced to play full-back for much of his time with the Blues. His departure in 1999 brought an end to a four-year spell of transfer activity involving City and Georgian players.
Kinkladze v Southampton: 1996
G is for Goater
With 103 goals in 189 games, Goater became an iconic figure over the course of his five year association with the club and can be considered one of greatest goalscorers to ever wear the sky blue shirt.
But it isn't just goals that make Shaun's legacy so enduring with supporters, but also his fun-loving personality, generosity and passion for the game.
These qualities and his commitment to raising footballing standards across the board in his home country earned Shaun an MBE for services to sport and young people in 2003.
Now a pundit for BBC Radio Manchester's City coverage, Shaun's name is still occasionally sung inside the Etihad Stadium.
Shaun Goater's top ten City goals
G is for Golden Goal
Long before certain cup competitions were settled by the Golden Goal rule (or "next goal wins!" as every schoolkid used to shout as the playtime bell rang), City used to have their own version of the Golden Goal.
A stamped four-figure number would be inside the matchday programme and when the first goal was scored, the number of seconds was calculated and so it was: the Golden Goal.
It was easy to identify the winner after a 0–0 draw because there was always one time printed as '0000'.
The winner won something like £100 or lunch with Peter Swales but I never won it and I don't know anybody who did!
Still, I reckon it's high time we brought it back at the Etihad… what say you?
G is for Gibson
Stan Gibson, head groundsman at Maine Road since August 1960, passed away at his home close to the ground on Christmas Eve, 2001.
Stan was a legendary figure at Maine Road and was quite simply, one of the finest groundsmen that this country has ever produced.
Coveted by a whole host of clubs including Manchester United and indeed by England, Stan had blue blood running through his veins and was totally committed to giving Maine Road into the best playing surface in the country – a feat he managed comfortably, year after year.
Club secretary Bernard Halford said: "Stan could grow grass on concrete" and that just about summed up his magical abilities with the pitch.
His friendly face and generous personality are greatly missed but his name is still used on a daily basis at City Football Academy… one of the meeting rooms in the new facility is named in his honour.
Additionally, in 2014, Gibson was honoured with a special tribute on the site of the Maine Road centre spot.
Gibson's Green
G is for Gaudino
Few loan players have managed to make the lasting impression German star Maurizio Gaudino did during his six-month spell with the Blues.
A firm favourite with the supporters, he was an archetypal Manchester City midfield maverick and the only question most fans had when his loan spell ended was why he hadn't been signed on a permanent basis.
Gaudino was initially loaned to add creativity in the midfield engine room that included the industrious talents of Garry Flitcroft and Steve Lomas.
After an impressive season with the Blues, Gaudino's chance of becoming a City player evaporated due to Brian Horton's exit and he moved on to Mexico, leaving behind thousands of disappointed fans.
He went on to play for FC Basel, VFL Bochum, Antlyaspor and SV Walhof Mannheim before retirement in 2003.
The Gaudino name lives on in the game though... his son Gianluca played eight Bundesliga games for German champions Bayern Munich in the 2014/15 season.
Our alphabetic odyssey continues tomorrow with, you guessed it… the letter 'H'.