First Team News
1
Talking Points: Was 3-0 really a 'fake result'?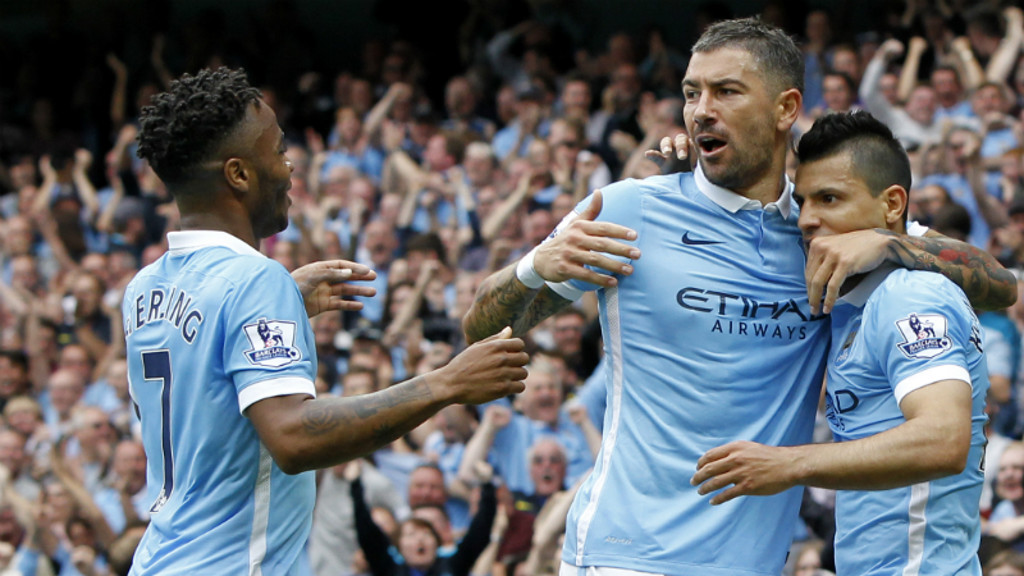 Group celebration for the opening goal against Chelsea
A day to savour at the Etihad Stadium as City ran out emphatic victors over Chelsea.
Here are five things we learned from the 3-0 win…
Was it really a fake result?
"If the 1-0 result was doubtful after 75 minutes then the 3-0 is completely fake," said Jose Mourinho following Sunday's game.
Goals do change games and there's no doubt that against a team of Chelsea's quality, our first half profligacy might have come back to haunt us on another day.
However, such was City's obvious dominance throughout the game, perhaps Mourinho's comments were designed to alleviate the pressure from his players rather than a measured reflection on the balance of play.
In the same fixture last season, City were perhaps guilty playing into Chelsea's hands by attempting to bring death to the opposition via a thousand cuts and bottle-necking on entry into the final third but this time the ball was moved quickly and decisively from back to front, puncturing the Londoners' shape in definitive lacerations.
Although Chelsea just edged the possession count, Manuel Pellegrini's side dominated all of the other significant statistical metrics, including shots on goal (14 to the visitors' 7) and it's not a stretch to say that we could have been 4 or 5-0 up and completely out of sight at half-time.
The fact that Asmir Begovic was considered Chelsea's best player in all of the newspaper player ratings sidebars probably tells its own story…
Watch: Extended Highlights
A show of strength…
Sergio Aguero made the breakthrough and took the MOTM honours but it could have gone to any one of the ten outfielders yesterday.
As far back as our very first friendly of pre-season against Adelaide United, you could see that the senior members of the squad looked fired up and ready to answer their critics and, on the evidence of the first two matches of 15/16, that's certainly the case.
There were 8 and 9/10 performances all over the pitch, rendering picking our individuals for praises as a near-redundant exercise but, probably most impressive and vital of all were the contributions from our two full-backs.
Bacary Sagna almost single-handedly marked Footballer of the Year Eden Hazard out of the game, while Aleksandar Kolarov's overlapping runs past Raheem Sterling caused overload after overload, stretching the Chelsea defence to breaking point.
Both Aguero and Pellegrini played down talk that the five-point gap could be significant at this early stage of the season but it was at the very least an early statement of intent from last season's runners-up.
Read: Manuel Pellegrini's verdict
Gritty City…
City have pretty much always played fluent, attractive, attacking football in recent years but when we've added a healthy dose of aggression into the mix, we've looked unbeatable.
Perhaps it's a reaction to being deposed by Chelsea last season but Pellegrini's men are playing angry with the bit between their teeth in these early weeks of 2015/16 and they're all the more convincing as a result.
There's a fine line but against West Brom and Chelsea, City have straddled it with aplomb, pressing keenly and being firm in the tackle which, when blended with the artistry of our front four, is quite the proposition.
It was often said that Chelsea "bullied" teams into submission last season but that particular boot was on the other foot yesterday.
Read: Vincent Kompany and Sergio Aguero's thoughts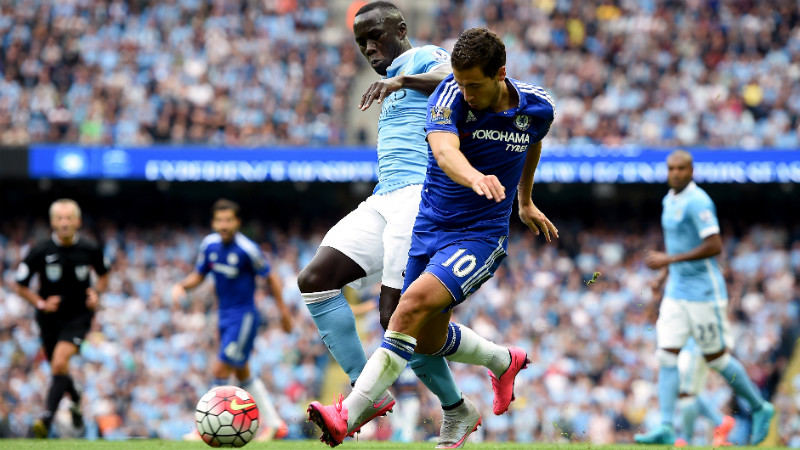 Was Toure v Matic the key duel?
In our pre-match Talking Points, we signposted Toure v Matic as the crucial individual duel City had to come out on top in for victory against Chelsea.
Yaya undoubtedly won this battle, taking his tally from his last four league games to two assists and three goals but his midfield partner made an equally significant contribution.
Somewhat surprisingly, Cesc Fabregas was the player dispatched at the base of Mourinho's midfield alongside Matic and Fernandinho ensured a day to forget for the Spaniard.
His late goal was the icing on the cake of a world class performance from the Brazilian as he put out fires all over the pitch and moved the ball intelligently in all three thirds of the field.
Fernandinho: Post-match interview
A new era…
A record capacity at the Etihad Stadium thanks to the opening of the new third tier on the South Stand but did it make a difference to the atmosphere?
The answer is overwhelmingly "yes" with noise levels reaching the kind of decibels usually reserved for title-winning days.
Helped by a new singing section in block 115 and awesome displays from the 1894 Group, it was deafening at times inside the Etihad on Sunday afternoon.
You have to take into account that it was the first home game and it was a match against last season's champions but it really did bode well for the rest of the campaign.
View: Best pictures of the day