Men's Team
1
Fernandinho targets double to complete dream week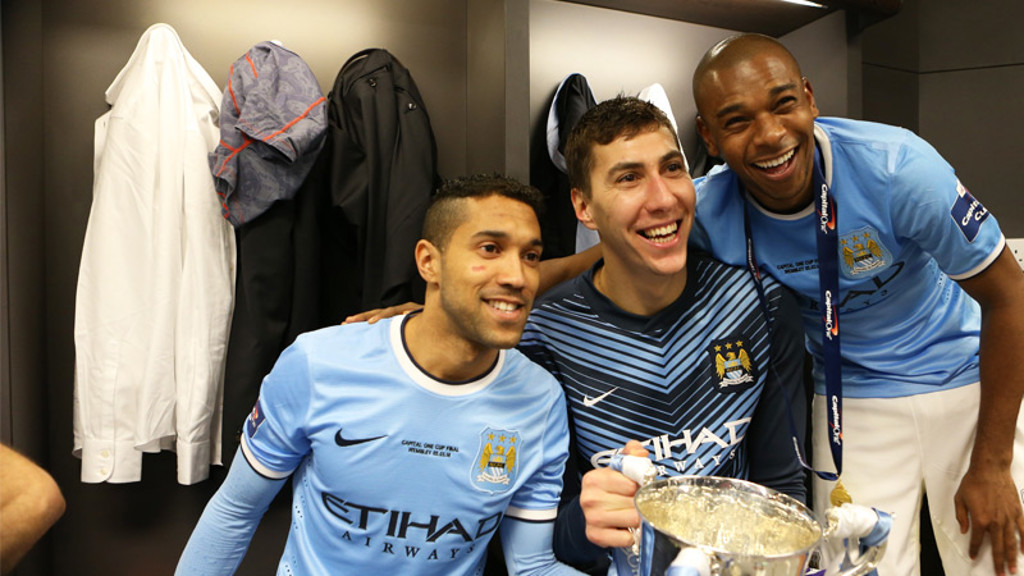 Some people are never satisfied.
Fernandinho has had plenty of cause for celebration since his birthday on Sunday but still, he wants more.
The now-29-year old clinched a place in Luiz Felipe Scolari's squad for the 2014 World Cup on Wednesday but he's quickly turned his attentions to the prospect of completing a Capital One Cup and Barclays Premier League double on Sunday afternoon.
West Ham United stand in the way of this monumental denouement to the midfielder's first season in English football.
"Wednesday was a great day," Fernandinho told mcfc.co.uk.
"I was in the team hotel when the squad was announced. There was no telephone call, I looked on the internet and I saw what I was looking for.
"Of course being called up for the World Cup is a big thing for me but I cannot start thinking about it until after Sunday.
"That's when I may start to feel emotional about it. Maybe on Sunday night or Monday will be the time for me to celebrate my call up and the league title. For now I need to be calm and concentrate on Sunday's game. After that I can do anything.
"We still have one match to go and we need to get something from that one - but the win over Aston Villa was massive for us - a massive result."
There's no lengthy list of permutations or equations clouding the collective thinking at Carrington in the build-up to the game.
For Fernandinho and company, it's a case of one more home win and the title is assured.
With the stakes so high and the unpredictability of this Premier League season there for all to see in recent weeks, one may expect a degree of pressure on the shoulders of the Brazilian and his teammates.
Not so, says the Londrina-born star.
"A lot has been changing at the top of the table over the last few weeks," he declared.
"A lot of results have been good for us - but bad for the other two. This was our first chance to go to the top of the table.
Now we just have one game to make sure we stay there and end the season as champions.

...Fernandinho...
"The whole squad is calm - every training session is about doing what we do and keeping calm.
"Maybe there was a few nerves in the first half against Aston Villa but in the second half we changed slightly the way we play - and scored four goals.
"That's great for us. In the next couple of days we'll be just the same, we'll keep calm and hope that we play a very good game on Sunday."
Finally, the midfielder took provided an update on his physical condition going into the final game.
Fernandinho has not started the last three games, though he has come off the bench in each.
He added: "I have a little problem with my leg - a small injury, so we've been trying to manage it so I play in the right situations.
"We'll see how we get on in the next couple of days and if I can start on Sunday."