Men's Team
1
Stoke v City: James Milner preview
James Milner knows Saturday's trip to the Potteries won't be easy but he's confident City can progress to the last 16 of the FA Cup.
The Blues are looking for a second triumph in the competition in three years having dispatched Watford comfortably in the third round and the in-form James Milner believes if you want to win the cup, it doesn't matter who you come up against.
"I didn't see the names come out of a hat but it's a pretty good draw for us, even though it's not the easiest of places to go," he said.
"Our thinking is, if you want to win the FA Cup, you have to beat everyone anyway. The fact that we're taking more than 4,000 fans is really important because the Stoke fans make a lot of noise, but our supporters are brilliant and will give as good as they get when it comes to creating an atmosphere.
"As I say, the Britannia Stadium is not the easiest of venues to go to but if we can quieten the home crowd early on then so much the better.
It should be a really good old fashioned FA Cup tie but we're confident, going there on the back of five straight wins."

...James Milner...
With a number of recent FA Cup clashes between the Blues and the Potters, Milner says there is no ill-feeling between the two clubs – particularly from his point-of-view.
"No, there's no needle from our side – I can't speak for Stoke but I'm sure they'd like to get one over us for the 2011 final," he said.
"We'll just treat it like any other match and what's happened in the past shouldn't affect this game too much."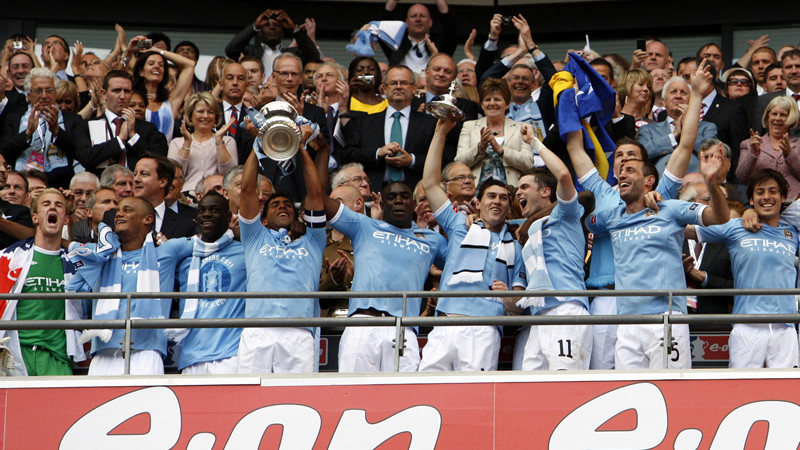 Now a firm crowd favourite with a growing list of admirers, Milner also paid tribute to the City fans who, he feels, are the best in the business.
He added: "I've always enjoyed playing for this club since the first day I joined – we have unbelievable fans and a great stadium so it's always been a pleasure for me to be a City player.
"The only thing that's been frustrating for me this season has been that I feel I've being playing well but there have been several interruptions due to injury and suspension, but hopefully that's all over with now.
"I just want to stay fit and play as well as I can each week. Like I say, our fans have always been brilliant towards me and I already knew what they were like after coming here and playing against City for other teams.
"It's great when you hear the fans shout your name because it shows you must be doing something right and it can give you a real lift.

...James Milner...
I'll always give 100% whether I'm having a good day or a bad day and that's something they clearly appreciate.
"We'll be doing our best to give them another day out at Wembley next May, that's for certain."