First Team News
1
Title race alive and kicking says Mancini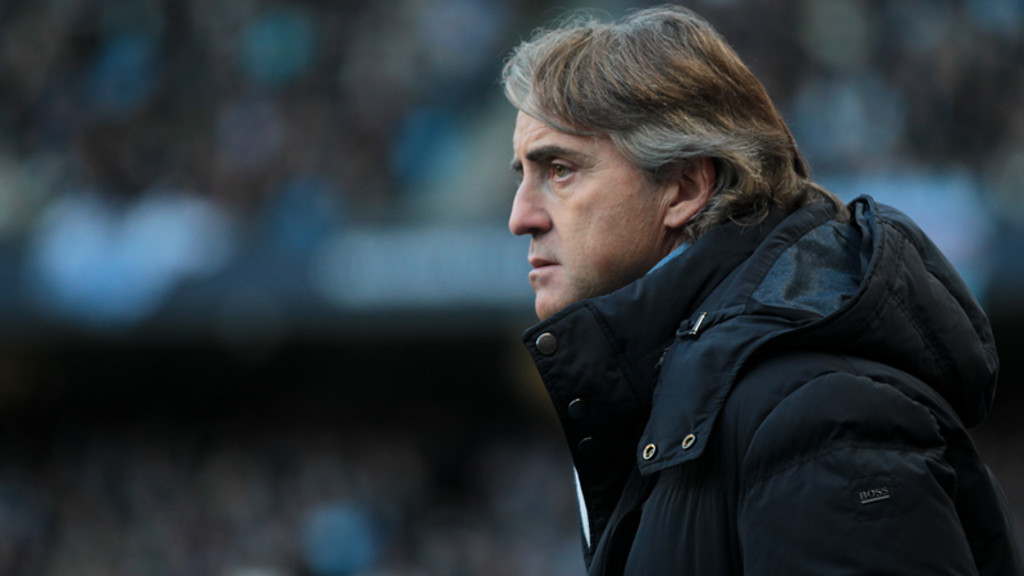 Mancnini
Roberto Mancini believes City can still close the gap on Manchester United.
Two more points dropped against Liverpool – on the back of two dropped points in midweek against QPR – have dented the Blues' hopes of retaining the title the Club waited 44 years to win, but the boss is still confident it can be done.
When asked in the after-match Press conference if the draw with Liverpool meant the race was as good as over, Mancini said: "Not at all. We may need to win most of our remaining games to have a chance but it is not impossible.
There have been plenty of times in the past when gaps like this have been made up and we probably have to win 11 or 12 matches of our remaining games, but it is possible – as we proved last year

...Roberto Mancini...
"There is still a long way to go and there is the Champions League and FA Cup to take into account plus 13 games to go so a lot can happen during that time – we are still confident we can close the gap on United and our target is to go into the Manchester derby in April just two or three points behind.
"I think the draw was the right result because Liverpool played very well, especially in the first half. We didn't play well today but one or two decisions didn't go our way. There was a tackle by Daniel Agger made that Vincent Kompany would have been sent off for but that's how it goes sometimes."
Responding to Liverpool's opening goal and whether play should have been stopped while Edin Dzeko lay injured, Mancini said: "Probably because about 15 seconds passed while Edin was still on the floor and we didn't know if he was badly injured or not, but there is nothing we can do about that.
"Liverpool played on but it is up to the referee to stop play."
Meanwhile, Liverpool boss Brendan Rodgers were delighted with his team's display, though felt the Reds should have been heading back up the East Lancs Road with more than just one point.
"It was an outstanding performance and we absolutely brilliant today – not many teams get anything from here and even fewer score more than one goal so I'm delighted.
"I feel we should have won the game but this performance typifies our season where we have been excellent at times."