First Team News
1
Pellegrini hails professional win
Manuel
Manuel Pellegrini has hailed his team's professional performance after cruising to the semi-finals of the Capital One Cup in the East Midlands.
Already boasting victories over the champions of Europe and Premier League leaders in the past seven days, the Blues continued their rich vein of form with a 3-1 win over the Championship side.
"It was a very professional win, because it is not easy in one week to play Bayern Munich, Arsenal and then finish here playing in the Capital One Cup away," he asserted.
"It's normal that for Leicester they were very motivated for the game and so it was difficult to play this team at their home stadium.
"I think that the team played a very serious game and it is important to continue in this cup."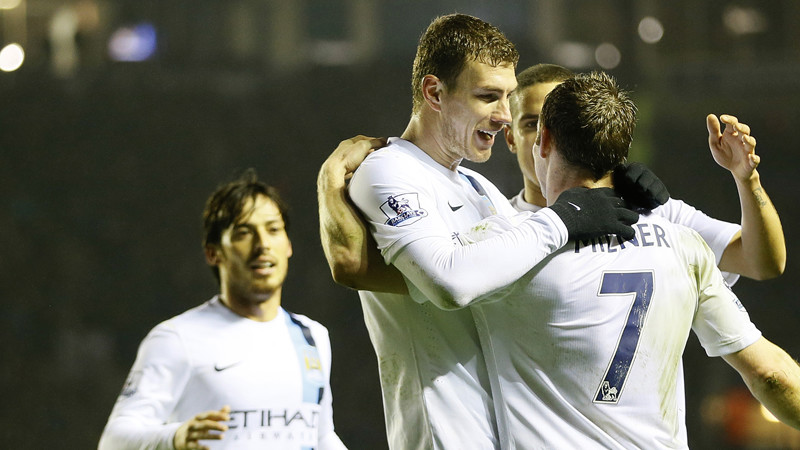 The Chilean made wholesale changes for the quarter final fixture with only three players retained in the line-up from Saturday's Premier League clash with Arsenal.
"That's why I always say that we have a squad and it's important to change the team, but to try and play exactly the same," he declared.
"It is important to improve in the way we are playing. It doesn't matter if we are playing in Capital One, if we are playing in the Premier League or Champions League. We try to play in the same way, changing names, but trying to continue with one style.
"It's also important that all the players of the squad know that they are important. Maybe one is playing more than the other, but we have so many games to play during the year."
The only disappointing element of the night was losing Pablo Zabaleta after 12 minutes as the Argentine limped off with a hamstring injury.
"It's a pity for Pablo because he felt a little problem in his hamstring and we'll see tomorrow how damaging it is," Pellegrini revealed.
City's last appearance in a League Cup final came back in 1976 when Tony Book's side recorded a 2-1 win over Newcastle.
The manager admits he would relish the opportunity for a day out in the English capital.
"This is an important competition because always to play a final at Wembley is a very beautiful thing," he smiled.
"Also, I think it is important to win all the competitions that you are playing, why not if you have to play?
"A final in Wembley is a big game and it's important for a team to be used to trying to win all the games we are playing, it's good for us.
"I think it could be a very beautiful game for the final."