EDS News
1
Davies: Arsenal draw taught us a lot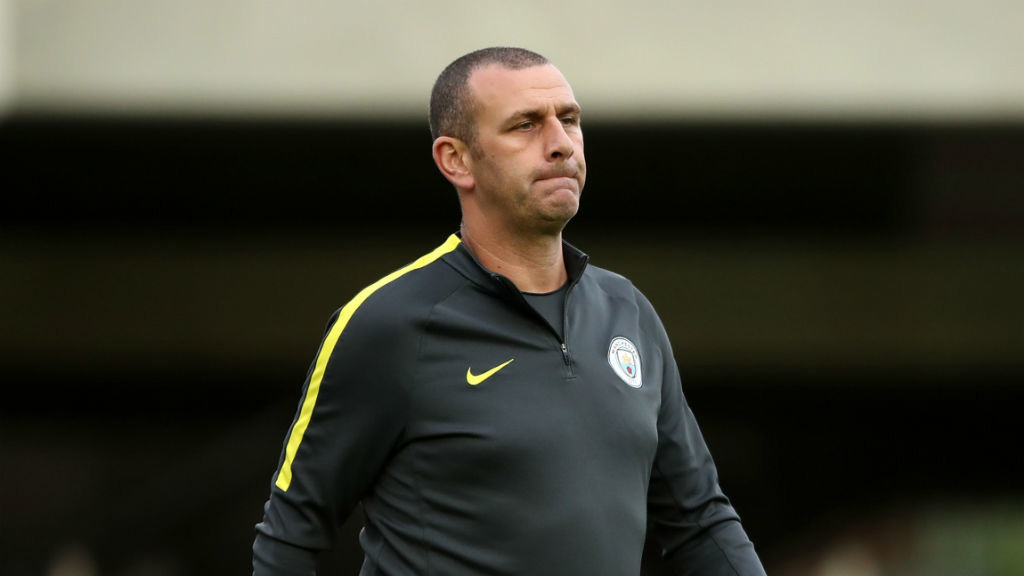 DAVIES: City's Premier League 2 boss can't wait to see his players tested against Arsenal
Manchester City EDS boss Simon Davies believes his side's draw with Arsenal was their most beneficial match of the season so far.
Davies saw his side take the lead twice – first through a Thierry Ambrose brace and then from Lukas Nmecha's penalty – but they were repeatedly pegged back with Arsenal first teamer Carl Jenkinson scoring the final goal in the dying seconds.
Having pushed an Arsenal side, comprising of 110 first team appearances between them, to the limit inside the Emirates Stadium is something that Davies believes his players will only benefit from.
He said: "To concede in that manner is going to irritate and frustrate at any level but I thought it was a very good game. They had a couple of first team players which was a real good test for us and something we should strive for in this league.
"It's a crucial part of the players' development to play in this arena, in front of a fair crowd and get punished when you get sloppy.
"That's going to happen at the top level but you have to be clinical and defend for however many minutes come. Of course it's disappointing but in terms of a learning experience, I think it's best we've had this season.
"If every night could be like tonight, I wouldn't be too bothered about the league. That's not to dismiss it because of the result but it's more important that these boys are ready for professional careers and nights like tonight will prepare them for that more than a 5-0 win."
Watch highlights of City's FA Youth Cup rout over Stoke City below...
Not only were City up against an experienced Gunners side, they also selected several in-form U18s stars.
"Jadon was a 16-year-old playing against someone who has played for the full national team. Ed Francis, Aro Muric and Matt Smith are all playing at a level that's going to test them and take them to another level quickly," said Davies.
"I've spoken to them all in the changing room and accepted it's frustrating but as long as we learn from these little errors we can look back on a wonderful night of football."
Davies and his Premier League 2 team will welcome Derby County to the Academy Stadium on Friday 7 April.
Want to keep up with all the latest EDS and academy news? Follow the official Twitter account, @ManCityAcademy.