Enzo Maresca has urged his players to dig deep in Friday's derby against Manchester United, which could secure our Elite Development Squad's (EDS) first Premier League 2 title.
Three points for our Young Blues could see us crowned champions as soon as Monday depending on other results across the weekend.
City sit eight points clear with four games to play, meaning a combination of a victory over United, plus Tottenham and Blackburn dropping points against Chelsea and Liverpool respectively would guarantee top spot.
But while Maresca admits the title is tantalisingly within our grasp, he encouraged his players to avoid getting caught up in the occasion when we battle it out with our local rivals.
He also hopes the players will show the same kind of desire and work ethic that they have demonstrated in getting us to this position in the first instance.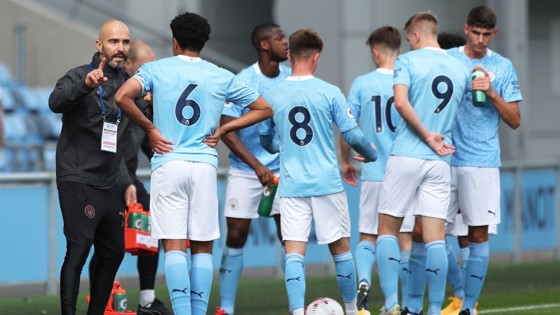 "To be honest I think we are very close to reaching a big achievement for the club and the players," he admitted ahead of Friday's clash.
"Now we need just that last effort.
"It's a big game for many reasons, first of all because it's a derby and of course because if we win, we can probably say the title is even closer.
"It's an important game for many reasons."
With the potential of clinching our first Premier League 2 crown and simultaneously securing local bragging rights, there is much at stake under the Academy Stadium lights for our EDS.
Maresca revealed that the players can't wait to get stuck in and that there is a good atmosphere around the camp.
The City boss also paid tribute to the relentless application and standards that each and every member of the squad is demanding of themselves, which has been key in our quest for silverware.
He said: "They are very excited, they are demanding a lot of themselves too.
"All the guys, the lads, the players, they are giving everything.
"In the way they are playing, they are making an effort and showing that they are excited to win this title also because as we've said it could be the first time for the club.
"As we always said, the way we arrive here also has been important, they are always trying to win the game, trying to control the game and that's also important."
All four of our remaining Premier League 2 games will be broadcast live on CITY+, meaning you can follow every minute of the title race.
CITY+ provides unrivalled access to new and exclusive City content, including full-match replays as well as CityTV documentaries and features.
After the free 30-day trial, the subscription costs just £1.99GBP / month.
If you sign up on Friday 16 April, you will be able to watch the EDS' final four fixtures during the trial period:
Manchester Utd (H) – Friday 16 April, 19:00.
West Ham (A) – Friday 23 April, 16:00.
Tottenham Hotspur (H) – Friday 30 April, 16:00.
Tottenham Hotspur (A) – Friday 7 May, 17:00.
For more information, sign up here.
You can also follow the best of the action as it unfolds via our Twitter: @ManCityAcademy.
A comprehensive match report will also be available to view on mancity.com and our official app after the final whistle, and you can report back for post-match thoughts from Enzo Maresca and a player on Saturday morning.