Don't miss the chance to take part in this year's #SameGoals campaign!
Aiming to inspire the next generation of female footballers, #SameGoals pledges to deliver a special limited-edition football provided by PUMA to every girl who shares a video showing them scoring – or saving – a goal to grow her passion and help her focus on achieving her dreams.
CITY+ | WATCH EXCLUSIVE DOCUMENTARIES AND FEATURES
But time is running out to enter... so make sure to submit your entries today!
As part of our 2021 initiative, Fernandinho, Steph Houghton, Abby Dahlkemper and Ellen White have expressed their delight and shared their advice for the increasing number of girls playing the beautiful game around the world. Hear their thoughts in the video below!
"Football is for everyone," Fernandinho said. "In Brazil, more girls are playing football and getting the opportunity to play, which is important.
"The difference now to 25 years ago is huge and I'm so glad it's changing."
City and England captain Houghton shared her most valuable lesson of her career, declaring: "Growing up, it's about enjoyment - be yourself, express yourself and work hard.
"Nobody can ever take hard work away from you and you're the only one who can control that - whether that's on the pitch, in meetings, or in the gym, give as much effort as you can."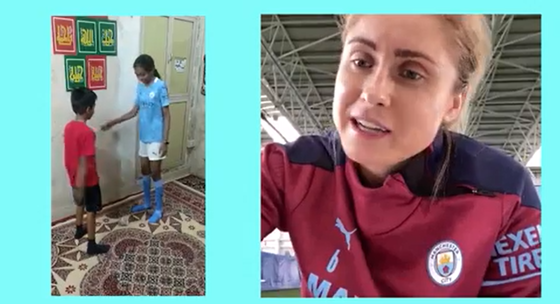 World Cup winner Dahlkemper also spoke of the importance of equality opportunities for girls, while White expressed her pride for playing for a Club that strives to raise the profile of the game.
To receive their free ball, girls need to post a video on Twitter, Instagram or TikTok that shows them scoring – or saving – a goal using #SameGoals.
The goal can be scored, or saved, anywhere using any kind of ball; the more creative, the better.*
Alternatively, participants can upload their video at mancity.com/samegoals.