Manchester City are proud to support the Rainbow Laces campaign, with each of our teams as well as City in the Community promoting equality for all in football through educational activities and visual content across the week.
This year's initiative – which celebrates the LGBTQ+ community through football - kicked-off on Thursday 25 November, with Sunday's Premier League win against West Ham United and Wednesday's upcoming clash at Aston Villa both dedicated to the campaign.
And our first team reiterated the message that football is for everyone ahead of our fixture with the Hammers by showing their commitment as part of a video montage shared in the stadium.
The overriding theme of this year's campaign is 'Lace Up, Speak Up', centring on the concept of 'allyship' and supporting the LGBTQ+ community, with the players' messages demonstrating our ongoing support for the initiative broadcast to supporters ahead of kick-off.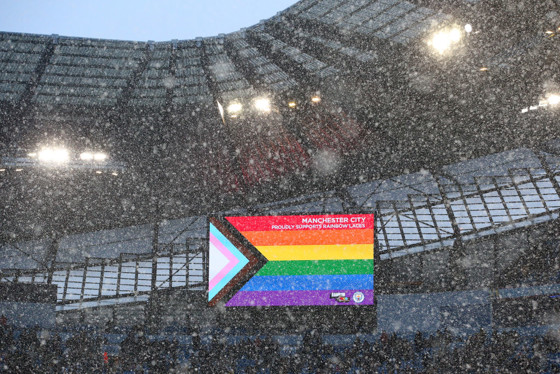 The matchday programme featured a fascinating interview with City Matters' LGBTQ+ rep, Francesca Lever, who explained what her work involved, why Rainbow Laces was important and ways in which fans can be good allies themselves.
The Etihad Stadium was also daubed with Rainbow Laces branding and colour, including a Manchester City branded progress pride flag shown on the LED screen during the match.
Once the action got underway, City skipper Ilkay Gundogan wore the rainbow captain's armbands, which will be donated to Canal Street Blues, the Club's official LGBTQ+ branch, for auction.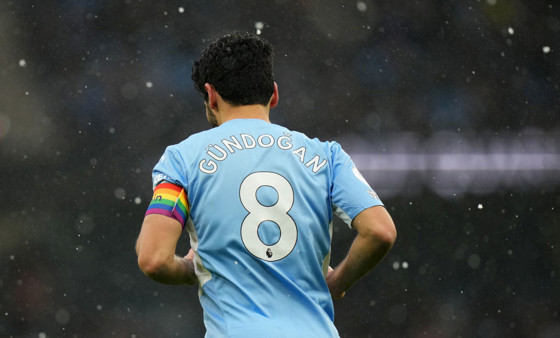 Elite Development Squad captain CJ Egan-Riley and his Leeds counterpart Sam Greenwood followed suit in Monday's Premier League 2 clash at the Academy Stadium, as well our Under-18s side in their Premier League Cup tie away to Liverpool on Saturday.
Elsewhere, Gareth Taylor's side were tasked with painting the Manchester City badge using the colours of the rainbow before they set off for the current Women's international break.
The players picked up the paintbrush and tried their hand at some artistry, which came naturally to some more than others!
While they got to work on the project, our City stars also described the power that sport can have in bringing people from all walks of life together.
They also explained why it's important to be considered an LGBTQ+ ally even if you don't identify with the community yourself as part of 'Lace Up, Speak Up'.
City winger Janine Beckie was one of the players proudly supporting the campaign: "I think love is such a powerful thing and if you're someone who is having a hard time and being discriminated against because of who you choose to love, I can't imagine what that's like.
"So for me, as someone who's not part of that community, it's so important for that community to feel my support.
"That's me saying 'I don't know what it's like to be in your shoes and I'll try as hard as I can to put myself in your shoes, but I love you and I support you (regardless)'."
And there's plenty of Rainbow Laces-themed activities still to come, with City in the Community also supporting the campaign within its projects across the week.
Participants across Premier League Primary Stars, Inspires (High Schools), City Careers and our Young Leaders will be taking part in engaging workshops around allyship, in line with the 'Lace Up, Speak Up' initiative.
The charity's BTEC teams will also be dedicating their fixtures on Wednesday 1st December to the campaign, with rainbow laces worn in sessions across the week.
CITC staff are also taking part in discussions around how to best support our LGBTQ+ participants as part of the charity's week-long activities.