It's a well-known fact: supporting City brings a rollercoaster of drama, comedy and plenty of entertainment.
Once dubbed 'the ultimate soap opera' club, it is true that the most mortifying mishaps and marvellous merits entrenched within City's 126-year history would beforehand have proven too unrealistic to even the most imaginative and fanciful scriptwriter.
It is fitting therefore that one scriptwriter acknowledged the trials and tribulations of City fandom and decided to produce a film of football fantasy appropriately named There's Only One Jimmy Grimble.
*SPOILER ALERT*
(If you're planning to watch the film for the first time, don't read on!)
Filmed in Manchester and soundtracked by a sensational playlist featuring the Stone Roses, Echo and the Bunnymen and the Charlatans (amongst other stellar names), the tale tells the story of a teenage City fan, who dreams of becoming a footballer but must overcome adversity to achieve his goal with the help of… magic football boots.
Typical 'Roy of the Rovers' stuff but relatable to every single football fan who fantasises of donning their team colours, stepping out onto the hallowed turf and playing the beautiful game for the beloved badge.
Jimmy (Lewis McKenzie) has endured much hardship in his life. Brought up in a rough Manchester neighbourhood by his hard-working single mother (Gina McKee), he tries to muddle through school life but lives in constant fear of United-adoring bullies 'Gorgeous' Gordon Burley (Bobby Power) and 'Psycho' (Cieran Griffiths).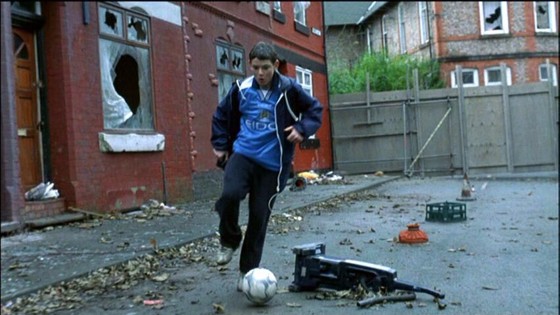 Mirroring United's dominance on the pitch and City's bleak inferiority (the Blues would actually be relegated in the season of the film's release), Gordon and Psycho lord over the few brave and long-suffering City souls, subjecting them to a life of misery – something several City fans of a certain age (myself included) can relate to.
The bullying (emotional and physical) continues as Jimmy makes the school football team, alongside his tormentors – much to their distain. Consequently, Gordon's reign of terror continues as he steals Jimmy's boots and launches them into a passing bin truck with the aim of ending the Blue's involvement in the squad.
However, in a twist of fate, Jimmy's elderly 'fairy godmother' neighbour Alice had gifted the lad some 'magic' boots the previous day, belonging to a 'Robbie Brewer' who she alleges played for City. Jimmy recovers the boots and is able to play in the Manchester Schools Cup clash – an amusingly bad-tempered encounter against Wreckingham – in which he is introduced from the bench and scores with his first touch from inside his own half!
Believing the magic boots were responsible, Jimmy gains the confidence boost he needs, quashing his anxieties, allowing the teenager to play with freedom in the knowledge the boots will guide him to glory. He stars as the team progress, earning interest from on-watching talent scouts and the respect of his fellow peers, including Psycho, and his P.E. teacher Eric Wirrall (the superb Robert Carlyle) – a former City star struggling to rekindle his passion after hanging up his boots due to tragedy.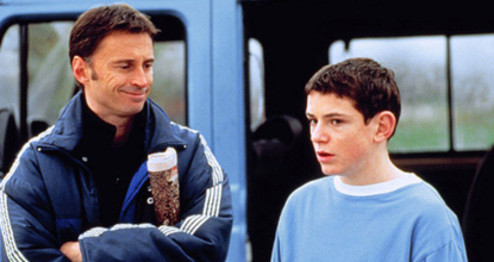 In contrast, Jimmy struggles to come to terms with his mum's new boyfriend Johnny Two Dogs (Ben Miller), following a messy break-up with his stepfather Harry (Ray Winstone), while his low self-esteem also thwarts a relationship with Sara (Samia Longchambon née Ghadie – now of Coronation Street fame).
As Jimmy's impressive displays outshine those of his son Gordon, Ken Burley (played by the hilarious John Henshaw – a die-hard Blue in real life, of course) looks to put 'Gorgeous' in the limelight, insisting the team pass to Burley Jr. at every opportunity, when asked to coach the team against Northmoor. ("Give it to bloody Gordon!")
Needless to say, the 'tactic' proves unsuccessful and Ken is 'sacked' at half-time, leaving the newly-inspired Carlyle to take real charge and ignite a change in the team's fortunes, as they sail through to the Final for only the second time.
CITY+ | Free to Cityzens until football resumes
Snubbed and worried for his son's future, Ken then pressures Headteacher (John McArdle) to leave Jimmy on the bench, threatening to pull out of a deal in which he would fund a new sports hall roof should the school team achieve footballing success. Equally desperate to impress the United scout in the Final (which gloriously, is to be held at Maine Road), Gordon also once again steals Jimmy's boots, launching them into the canal.
Despite a show of unity in which the rest of the squad refuse to play without Jimmy, the Blue's confidence is shot – of the belief he has lost his talent with the loss of his 'magic' boots and the emergence of other setbacks in all areas of his life.
As a result, Jimmy produces a terrible first-half performance, gifting Huntingdon a 2-0 lead at the break.
However, repaying the inspiration Jimmy awarded him, teacher teacher Eric (and stepfather Harry, who introduced his stepson to the beautiful game) provide the motivation Jimmy needs to realise the magic "isn't in his boots but in his feet!", whilst also discovering the identity of the elusive 'Robbie Brewer.'
Roused and with his confidence restored, Jimmy shines in the second half, guiding City to a (naturally dramatic) 3-2 victory with a Georgi Kinkladze-style solo run and two dazzling assists for Gordon. The match proves life-changing in all aspects of Jimmy's life as he lives out his dream of playing and scoring at Maine Road (in sky blue, of course), carves out a career in professional football, celebrates the reunion of his mother and stepfather and finally plucks up the courage to date Sara.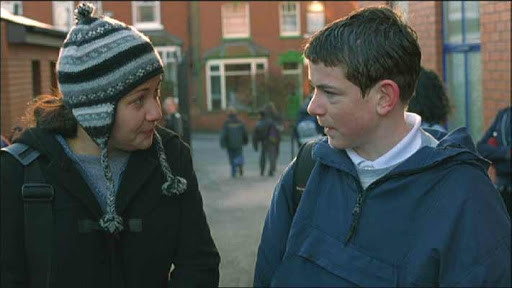 A true City fairytale, glittered with some iconic names, an awesome soundtrack and some hilarious lines.
For the nostalgia junkies, the film features some amazing footage of Maine Road – on the pitch and behind-the-scenes; under the lights and in rare Manchester sunshine – and the two Finalists even step out to the spine-tingling 'Right Here, Right Now' by Fatboy Slim, just as our boys in Blue did back in the day.
For Henshaw, who also starred in The Keeper, featuring the story of City legend Bert Trautmann, amongst other beloved football films, the chance to partake in those with a City connection was "a thrill."
"I was in When Saturday Comes, Second Coming and then There's Only One Jimmy Grimble which all had tenuous links to City and I even got on the pitch at Maine Road filming a couple of them," he said.
"But then I had to play a big FC United fan in Looking for Eric – so I can get away with that a little bit – but to be associated with Bert Trautmann and City is fantastic and I loved it."
SHOP | 'El Mago - David Silva: A decade of magic'
Meanwhile, Carlyle – a Rangers fan at heart – took advice from City hero Peter Barnes to soak up the background of the Club when researching his part.
"I spent a lot of time speaking to ex-players like Peter Barnes – an England international who played for Man City and Man United," he told the BBC at the time.
"He told me a story about one particular player, which was poignant. When he talked about how he couldn't play again, it broke his heart.
"Imagine being 19-years-old and playing in front of 40,000 every week and having it taken away from you. It was very easy to find that sadness; very easy to find that sense of a life lost."
On the subject of quotes, the film is best remembered for a truly brilliant line in its final scene.
Having impressed the United scout with his scintillating second half display, Jimmy is offered the chance to join the Reds but (thankfully) politely declines.
Shocked and unimpressed, the scout asks: "What can be better than Man United, son?"
You already know the answer!